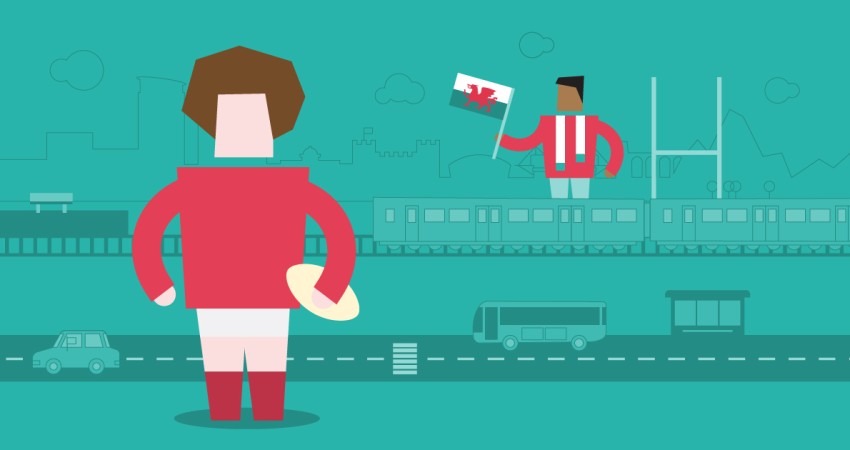 6 Tips for your Six Nations 2023 Public Transport Journey
30 January 2023
---
The 24th annual Six Nations championships is right around the corner! With Wales facing Ireland and England at the Principality Stadium this year, thousands of fans from across the UK and beyond will descend upon the streets of Cardiff.
Full city centre road closers and busier than usual public transport services will have an impact on journeys across the city. To help you plan ahead we've pulled together a list of our top tips for travelling safely in and around Cardiff on game days.
1. What's your game plan?
There will be 2 games at the Principality Stadium during the Six Nations this year.
Wales vs Ireland – Saturday 4th February (Kick-off: 14:15)
Wales vs England – Saturday 25th February (Kick-off: 16:45)
On each of these days, full city centre road closure will be in place to help keep rugby-goers and others joining in the celebrations as safe as possible. This means that a number of bus operators will be running a different to normal service (using different bus stops and diversion routes). Queuing systems will be in place at train stations with some stations being closed during and after the games.
To help make your travels in and around Cardiff as smooth as possible, it is best to plan your journey in advance. We will be updating our Six Nations Disruptions page as and when we receive information from operators in the lead up to these games, please continue to check this page regularly for any last-minute alterations.  
If these or any other disruptions affect your journey, a ransp warning triangle will appear on your Journey Planner results or Timetable page.
Don't forget any short notice changes to timetables we receive from operators will be added to our 'Short Notice Service Updates' disruption.
Traveling from Llanelli, Abergavenny, Cwmbran, Caerphilly, Pontypridd, Ebbw Vale Town or Gloucester? Take a look at TfW's brand new coach transport available for fans on game days here.
2. Follows us on Twitter for the latest travel updates.
We will be retweeting any updates from operators notifying customers of last-minute disruptions, delays or changes to transport services on our Twitter page @TravelineCymru from 7am until 8pm.
This means you can keep up to date with any additional route diversions, traffic delays or service alterations that couldn't be anticipated in advance.
Whether you're going to the game, watching it at a pub or just making your way around Cardiff, we also advise leaving plenty of time for your public transport journey. There is likely to be heavy congestion in and around Cardiff, as well as busier than usual public transport services.
3. Any questions on the go? We've got you covered.
If you need any help planning your public transport journey before the game (or even whilst making your way around Cardiff on the day), one of our friendly advisors will be on hand to help. You can give us a call on 0800 464 00 00 from 7am until 8pm daily for free!

Our advisors can let you know what route options are available for your journey, what diversions are in place and any other information you need to make your journey with ease.
With so many people expected to be in Cardiff on the day, it's also a good idea to save our number in case you have any difficulty accessing public Wi-Fi or your mobile data.
4. Stay close and stay safe!
Cardiff will be extremely busy on match days, with thousands of people expected to join the celebrations at the stadium and in surrounding pubs and bars.
Bus stops and train stations will be busier than usual, so make sure you stick with friends and family throughout the day to help ensure everyone has a safe and fun experience, consider allocating a meeting point in case anyone in your rans does get lost.
5. Keep an eye on your personal belongings.
When making your way through large crowds on your way to and from the game, it's important to keep your personal belongings with you at all times. Always remember to check the area where you have been stood or sat for your phone, bag, keys and any other personal belongings (including your match tickets!) before leaving a bus or train service.
If you do lose any belongings, your best option is to contact the transport operator of that bus or train service directly. We have a list of operators and links to their website (with all the transport information you need) on our Useful Links page.
6. Stay aware of your surroundings.
It's always important to stay aware of what's happening around you, particularly on train services which are often bigger and busier (especially on game days).
If you see anything suspicious or concerning whilst travelling, you can discretely send the British Transport Police a message on 61016. Simply let them know what's happening, where you are, and they will be on hand to offer advice and help. If it is an emergency situation, you should call 999.
If you would like to report a non-emergency crime at a later date, you can fill out a report on the British Transport Police website.
We hope you have a brilliant time celebrating the 2023 Six Nations and a safe and easy public transport journey.
Come on Wales!
All blogs
Share this post