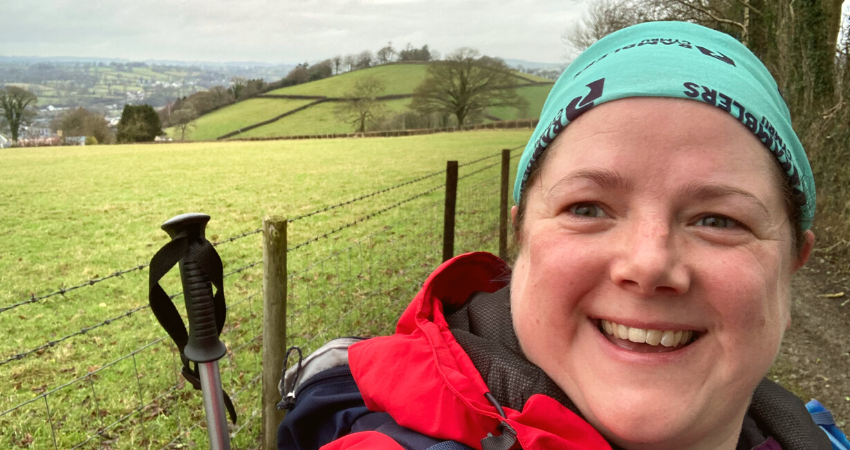 Connecting Communities by Public Transport: A day in the life of Ramblers Cymru's South West Wales Regional Officer
20 January 2022
---
Public transport plays an important role in connecting communities across Wales. At the end of last year, Ramblers Cymru's Regional Officer for South West Wales, Zoe, visited the town of Llanybydder, one of 18 communities selected to take part in their 'Paths to Wellbeing' project.
Below, Zoe recounts her experience of travelling to Llanybydder from Swansea by train and bus, highlighting the importance of accessible, affordable and convenient public transport routes.
Llanybydder is one of 18 communities across Wales that has been selected to take part in Ramblers Cymru's Paths to Wellbeing project. This project aims to put walking at the heart of communities by giving local people and volunteers the tools, skills and training needed to improve access to walking routes and green spaces in their area.
This historic market town descends from the Cambrian mountains and is situated on the River Teifi. The river, famous for its Sewin and Salmon fishing, is both a Special Area of Conservation (SAC) and Site of Special Scientific Interest (SSSI).
As regional officer for South West Wales, I'm working on the ground with the people of Llanybydder to help improve community walking routes. With the help of a team of volunteers, I have been surveying the local rights of way to assess their condition and decide what improvements each of the routes will require. With my clipboard in hand and plenty of survey sheets, I headed off to Llanybydder from my Swansea home on a grey but dry mid-December day.
The train to Carmarthen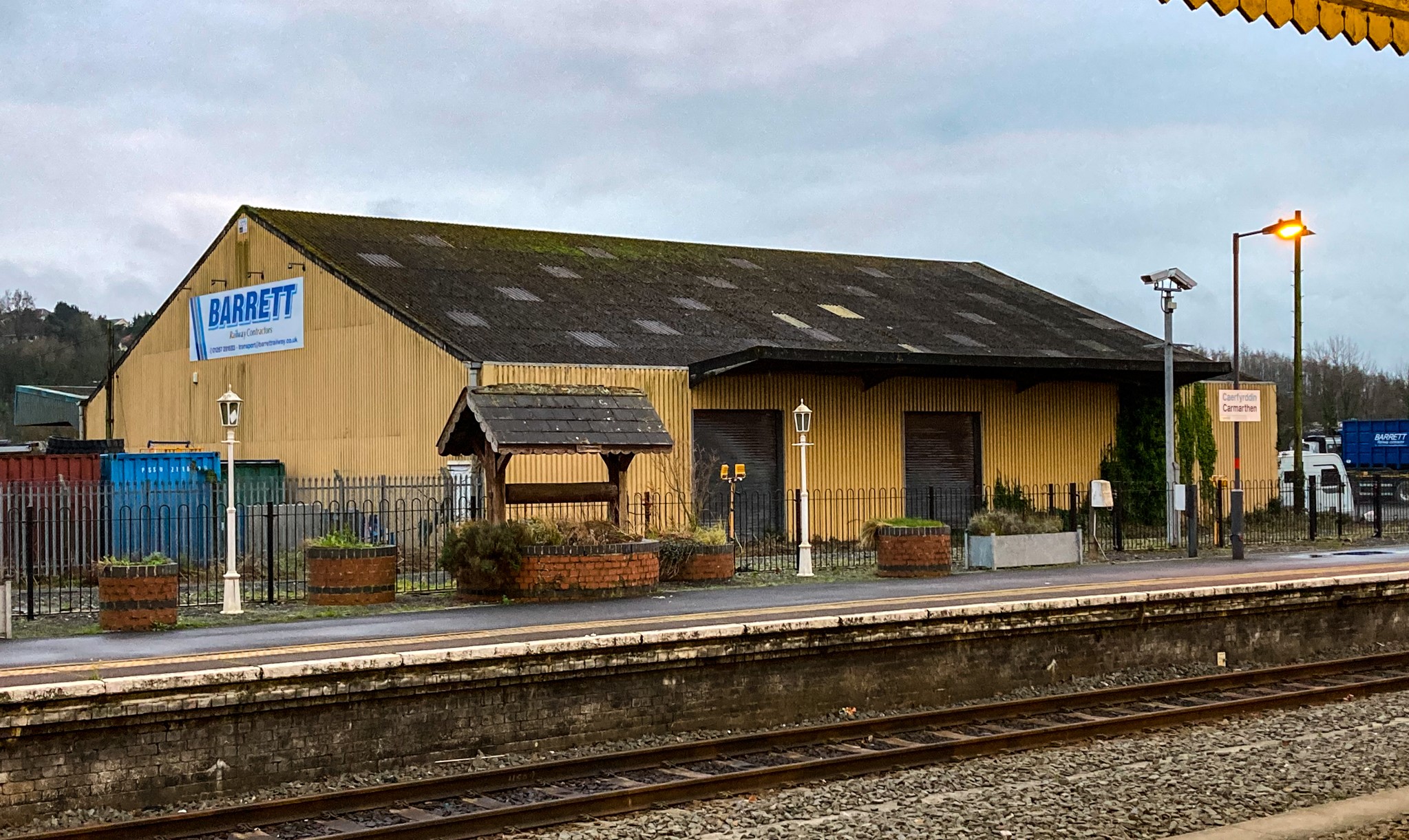 My partner and I are a single car household for both financial and environmental reasons, but this is also coupled with my significant anxiety about driving. As my partner needed the car for work, this was an excellent opportunity to test out public transport to and from Llanybydder. What better way to promote access to green spaces and the health benefits of walking than by reducing my own impact on the environment by using sustainable transport options.
My train arrived at the station early so I could sit in the warm instead of waiting on a cold platform. The staff on board the train and at the platform were very friendly, and there were regular announcements over the tannoy about the mandatory wearing of face coverings (unless medically exempt). Departing Swansea in the dark I settled down for my bargain £11 day return train journey to Carmarthen.
Even with the weather being a bit dull, the views across the Loughor estuary, Cardigan Bay and Afon Tywi/River Towy were impressive with plenty of bird spotting opportunities along the way. I enjoyed watching cattle grazing, views of Llansteffan Castle and the rolling scenery pass me by. Answering a few work emails meant the 50-minute journey flew by and I was able to keep my phone fully charged via the USB/plug charging points at every seat.
The bus to Llanybydder
We arrived on time in Carmarthen where the bus stop is situated directly across the road from the train stations entrance/exit. I had a short wait for the T1 to Aberystwyth to arrive before beginning the next leg of my journey.
The bus arrived on time, costing me £6.20 for a return to Llanybydder. Everything had been impressively easy so far, which made for a far more enjoyable experience. Catching the bus, instead of using the car, meant I could relax and enjoy the scenery, watching Buzzards and Red Kites (their recovery from only a few breeding pairs to over 400 pairs here in Wales is a conservation success story) flying overhead rather than concentrating on the road.
The day return tickets for an adult with no railcard came in at £17.20 and whilst my partner dropped me off at Swansea train station to start my journey, catching a bus home added a further £2.90, bringing my total spend to £20.10. This amounted to a saving of over £10 on the £31.82 mileage costs of the 86-mile round trip. Although, limited in what I was able to carry, as a single person travelling, for me, the benefits outweighed the negatives.
Paths to Wellbeing in Llanybydder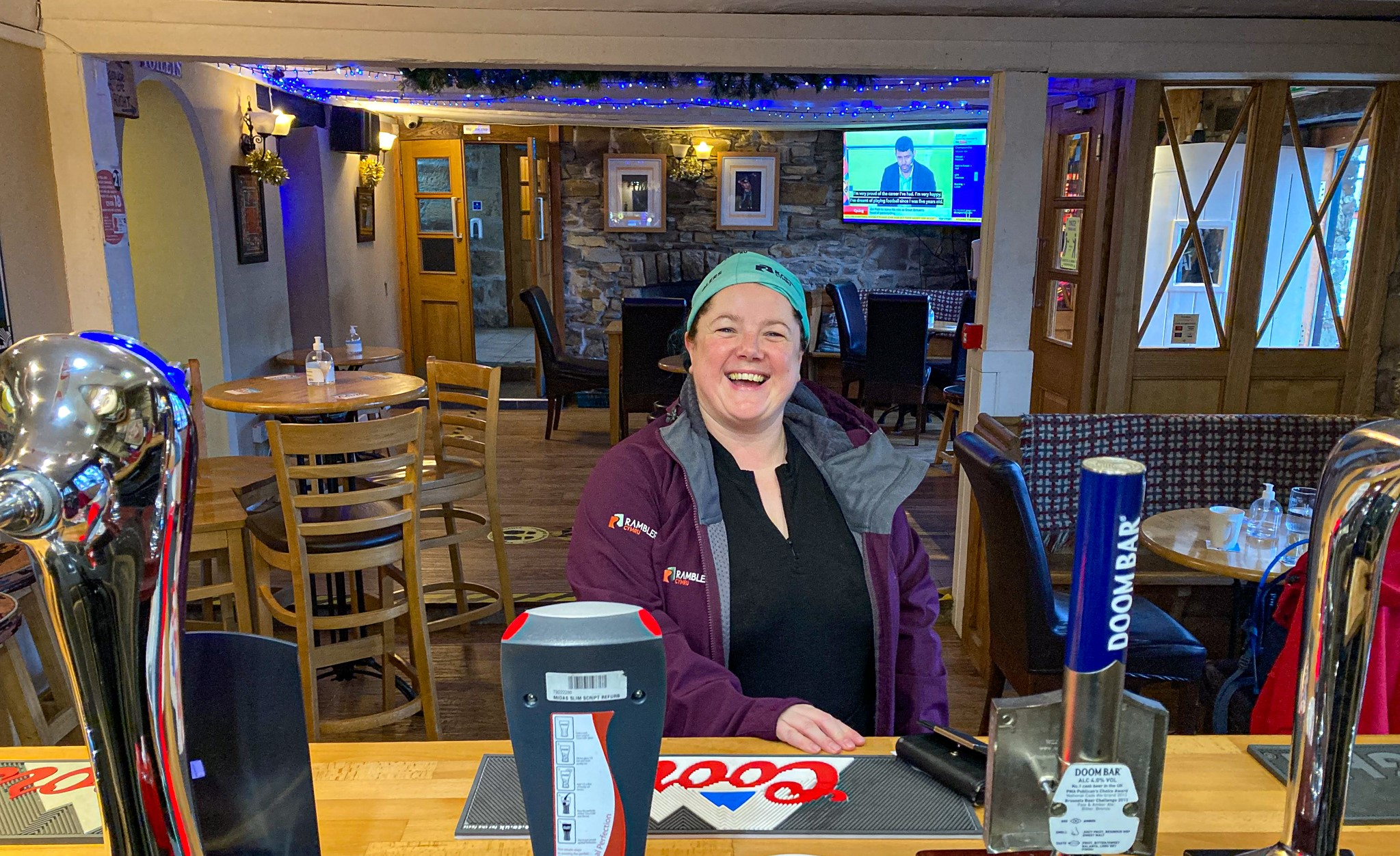 After an enjoyable day of footpath tramping and conversations with locals I met along the way about all things Paths to Wellbeing, I stopped at the Cross Hands Hotel for a hot chocolate to warm me up before the bus home. Inside this lovely Grade II listed building I was greeted by a roaring log fire and a friendly smile from the bartender working. Having recently moved to the area, she was keen to know more about the project and to get her children involved in outdoor activities too.
Ramblers Cymru's flagship £1.2m funded 'Paths to Wellbeing' project, working with 18 communities across Wales, aims to put walking at the heart of communities by improving access to green spaces. The selected communities are given the tools and free training needed to identify and design new routes and enhance and upgrade existing ones, all with the support of their local regional project officer. You can find out more about the project on the Ramblers Cymru website.
Heading home
I left the hotel where the bus stop is conveniently found just outside and waited for the return service to Carmarthen. The bus arrived bang on time with everyone aboard adhering to mask wearing guidance. Again, it was just nice to sit down, relax and watch the world go by. It was a smooth journey with the roads having recently been resurfaced in the area and very scenic with bare Winter trees and hedgerows criss-crossing the landscape.
With both the bus and trains running on time, I had just a 10-minute wait at Carmarthen. Being the return leg of the journey, the bus stop is at the station entrance, and I was straight onto the required platform. Nipping to the platform toilet they were clean, supplied with paper, soap, an effective hand dryer and I was pleasantly surprised by the hot tap dishing out lovely warm water too.
I enjoyed the very scenic journey before the darkness swept in and I was left with intermittent residential lights and festive decorations. Arriving in Swansea on time, it felt like it had been a very quick 45-minute journey. On exiting the station, I spotted my bus home at the traffic lights. A quick shuffle across the road and I was at the stop in plenty of time to jump on the bus home. My journey could not have been smoother. With everything arriving on time and the weather staying dry it made for a very enjoyable and relaxing day, I almost forgot I was working.
This blog is courtesy of Zoe Richards from Ramblers Cymru.
If you need any help planning your public transport journeys, please use the Traveline Cymru Journey Planner or ring our contact centre team for free on 0800 464 00 00 from 7am to 8pm daily. We also have a dedicated Walking Planner and Cycling Planner to help you plan your active travel routes in and around Wales.
All blogs
Share this post