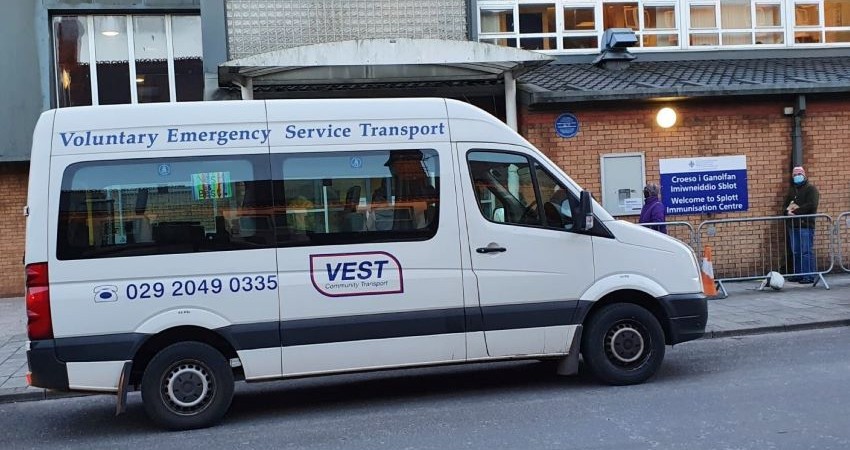 How to travel to your COVID-19 vaccination appointment using community transport
17 February 2021
---
Community transport puts the community at the heart of all it does, filling the gaps in mainstream public transport systems and offering accessible and inclusive transport services.
With the rollout of the national COVID-19 vaccination programme, many community transport providers are stepping up to ensure members of their community can access the vaccine. Whether it is by offering community bus services, volunteer car schemes, or bookable 'dial-a-ride' minibus journeys, many Welsh residents have used their local community transport scheme to get themselves or their loved ones to the nearest GPs or mass vaccination hub.
What is community transport?
Community transport puts the community at the heart of all it does, filling the gaps in mainstream public transport systems and offering accessible and inclusive transport services.
Community Transport typically supports:
Those in rural areas where transport services are either infrequent or non-existent. 
People who face barriers to accessing other transport services, e.g. older people, disabled people.
Those whose travel needs fall outside of peak hours e.g. hospital visitors, shift workers.
Services are run by an army of staff and volunteers with a passion for making a difference to peoples' lives. Based in the community, operators have the local knowledge required to provide a reliable service.

How can community transport help me get my vaccination?
Many people struggle to use mainstream public transport. Maybe the bus stop is too far from your home, or you worry about being able to move from the kerb to the bus itself. Perhaps you live in an area with no/very few buses. Maybe you use a wheelchair and worry about the accessible space already being taken, or perhaps your vision or hearing isn't as good as it used to be and you worry about missing your stop. Or maybe you just can't manage a journey with bus changes and long waits.
Whatever the reason, community transport operators are often able to help, even if you only need assistance to get to your vaccination appointment. Community transport offers a door-to-door service in a vehicle which has been thoroughly cleaned before picking you up, with staff and volunteers who have been trained to support you, including risk assessments and the right PPE. You can rest assured that your safety and comfort are their top priority and you can get to and from your vaccination appointment safely and in good time.
By calling your local community transport provider, they can book you a lift in a COVID-19 secure vehicle, with a trained driver. And because community transport is not for profit, journeys can often be significantly cheaper than a taxi, with some operators able to offer vaccination transport free of charge.
It's important to only travel to your local vaccination centre if you have an appointment.
How can I find my local community transport operator?
The Community Transport Association (CTA) have worked with Traveline Cymru to offer a full list of community transport operators across Wales. You can find details of your local provider here.*
Case Study/Example
East Vale Community Transport (EVCT) deliver accessible and inclusive transport services to residents in the Vale of Glamorgan, many of whom are now being called to attend vaccination appointments in Splott and Barry. With very few public buses in the area and a large number of vaccine-eligible residents, the EVCT bus has been very busy taking people for their appointments. As front-line volunteers, drivers have been able to get vaccinated themselves and have stringent cleaning, risk assessment, and PPE procedures in place to protect their passengers, meaning that if you live in East Vale, EVCT can offer you a safe, secure and low cost transport option to get to your vaccination appointment (suggested donation £5).
This blog is courtesy of the Community Transport Association.
*Community transport operators are organisations independent of CTA and Traveline Cymru.
All blogs
Share this post