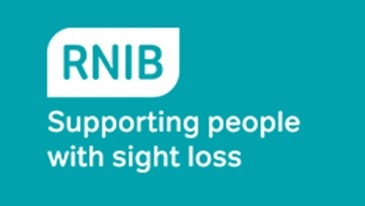 Get on Board Launch
26 January 2015
---
On Tuesday 15th February, we went along to the launch of the 'Get on Board' guide at the Senedd in Cardiff, which spread light on the issues people who are visually impaired experience when using public transport.
Transport Minister Edwina Hart has launched the new 'Get on Board' guide, which was written by two leading sight loss charities RNIB Cymru and Guide Dogs Cymru. Its aim is to provide guidance for service commissioners and bus companies to meet the needs of blind and partially sighted people when they travel on buses and to ultimately improve bus travel in Wales for people with sight loss.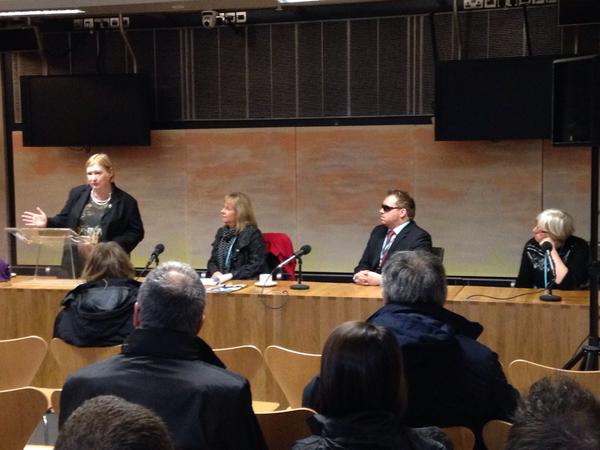 Transport Minister Edwina Hart speaks at the Get on Board Launch. Photo at @RNIBCymru
The guide covers a breadth of issues that people who are visually impaired face on a regular basis, along with stories and first-hand experiences from those affected. Public transport plays a huge role in the lives of people with sight loss, particularly as many are not able to drive. As their main means of getting around, it is therefore extremely important that people are made to feel safe and confident that they can make their journey without cause for concern.
One of the biggest issues experienced by passengers is the situation of not being aware where they are whilst travelling on the bus. Last year, 89% of blind and partially sighted people missed their stop because they didn't know when to get off their bus. Knowing which bus stop you are at is crucial and if there is a lack of information, it can sometimes lead to a frightening situation for many. It's often vital for people who are visually impaired to need assistance from bus drivers to help them with any information. In this case, introducing audio announcements on buses has been extremely helpful for many. It lets people know exactly where they are and where they're going, without having to rely on the good nature of bus drivers or other passengers to inform them.
Jonathan Mudd, Head of Services for Guide Dogs Cymru said "There are over 115,000 people with sight loss in Wales and they need buses to maintain their independence. We hope this guide will reinforce the importance of training drivers to offer support to people with sight loss and encourage bus operators to install next stop audio visual announcements on all their buses."
There was a fantastic turnout at the launch, with insightful talks from those directly involved in project and from those with first-hand experience of the issues partially sighted people are currently dealing with.
Transport Minister Edwina Hart attended the launch and talked us through her passion and goal to making bus travel more accessible. She said "In Wales, the bus network is of particular importance in rural areas and parts of the country not served by rail. I am confident that this guidance will make a valuable contribution to improving access to public transport and meeting our wider objectives to improve opportunities for independent living across Wales."
Sian Healey also spoke about her experiences travelling on the bus with her guide dog Archie as well as Nathan from Guide Dogs about his experience travelling on buses.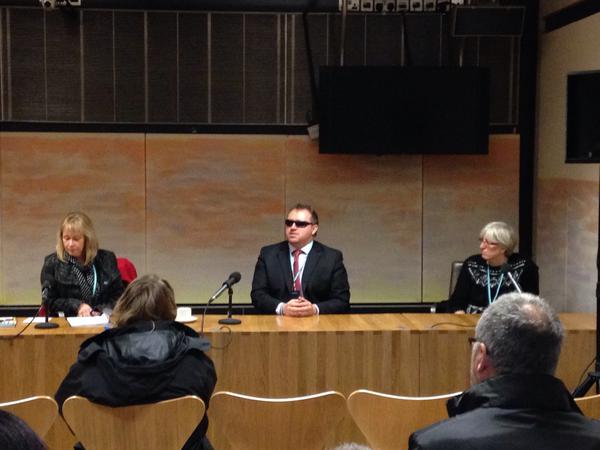 Nathan from Guide Dogs speaks about his experiences. Photo at @RNIBCymru
Ceri Jackson, Director of RNIB Cymru said "Bus travel is a vital service for people with sight loss but all too often they have a poor or even frightening experience which leads to some people stopping using buses altogether. This can lead to isolation and lack of confidence and prevents people with sight loss living an independent life."
During the launch, our Marketing Officer Laura also got the opportunity to try out some specially designed glasses that replicate the visionary experience that people with sight loss have. The activity really helped enlighten the difficulties that visually impaired people experience on a daily basis and offered an extremely interesting insight into current issues and what can be done to help improve them for the future.
The discussions and activities on the day also highlight the importance of being aware of the people around you and helping where possible. Sometimes you might not realise or it won't be strictly obvious that that someone has a sight problem, particularly if they don't have a guide dog or cane. It is therefore even more important that we take into consideration the needs of others we are travelling with.
The launch of the 'Get on Board' guide is an encouraging step forward to increasing awareness of the issues currently faced by partially sighted people, and by implementing training and making people aware to look out for each other when travelling, it will make a huge difference to the lives of many who rely on public transport to make their way around.
If you'd like to find out more about the Get on Board guide and the work that RNIB Cymru do, please visit the RNIB Cymru website.
Visit Traveline Cymru's profile on Pinterest.

All blogs
Share this post