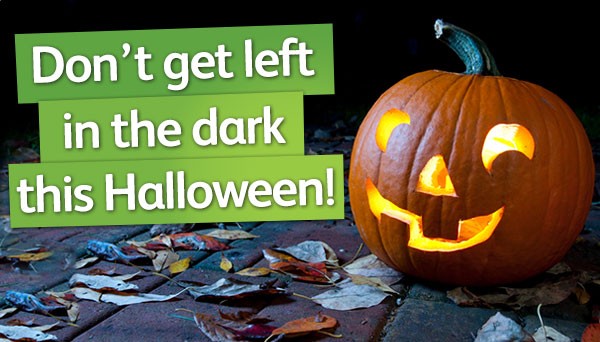 5 Tips for Staying Prepared this Halloween
27 October 2014
---
Halloween week has arrived! Which means the annual rush to find a good costume, and sweets for Trick or Treaters has begun. However, with lots of Halloween events calling you out into the night, you also need to find your way there. Using public transport during these periods can be a great way to avoid the hassle of driving later at night and trying to find parking on the busy roads. However, Halloween can sometimes be a cause for anti-social behaviour and transport changes to ensure the safety of passengers, so if you're making your way out this Halloween, be sure to keep informed with your local transport news.
To help you out, we've put together our top 5 tips for staying prepared this Halloween, so you don't get left out in the dark:
1. Checking our Halloween and Bonfire Night Travel page
Our Halloween and Bonfire Night Travel page is here to keep you informed of any changes that are in place across the Halloween period. Particularly if you're travelling around Cardiff, there are diversions in place to some Cardiff Bus services, which are detailed here. Save this page to your favourites, and check back before heading over to your bus stop.
2. Downloading our app and using the journey planner
Once you know where you want to go, head over to our Journey Planner to find the most convenient route for your journey in advance. All the information you'll need to make your journey can be displayed here, along with timetables and interactive maps to view the specific information you want in the way you prefer. Not sure how to use the journey planner? Watch our video guide below, courtesy of Rockadove for a step-by-step guide!
3. Follow us on Twitter @TravelineCymru for the latest travel tweets
We'll be tweeting any Halloween updates on Twitter @TravelineCymru so be sure to give us a follow to keep in the loop with the latest travel news. Feel free to tweet us any questions or concerns you may have and we'll do our best to point you in the right direction. Why not tweet us a photo of your Halloween journey whilst your there!
4. Save our Contact Centre number 0871 200 22 33 to your phone
If you're not on social media, or simply would like to speak to someone in person, our friendly and bilingual staff at our Contact Centre will be on hand to help answer any travel queries you may have. We understand how reassuring it can be to have someone to speak to in person, so save our number 0871 200 22 33 to your phone in case you need it. (Calls cost 10p per minute, plus any network charges).
5. Have your Halloween entertainment ready for your journey
And last but not least, don't forget to have your favourite distractions on hand for any longer journeys! Perhaps your favourite horror novel or spooky Halloween playlist ready on your iPod…
Safe travels from everyone here at Traveline Cymru and have a Happy Halloween!
All blogs
Share this post