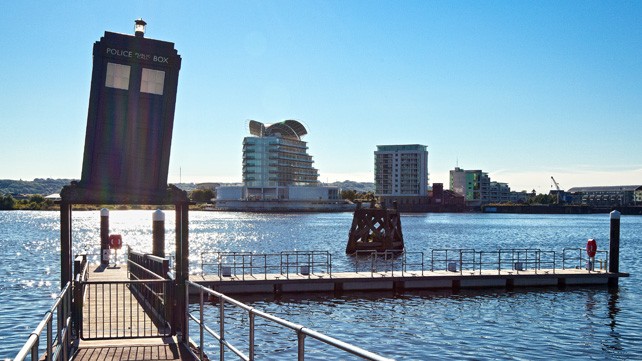 On Location: Uncover and Explore the TV settings of Wales
18 March 2014
---
Without being too direct, Wales plays host to a large number of different film and TV productions, with the scenic surroundings providing a truly unique backdrop to some of our best loved shows, from Gavin and Stacey, to the more recent BBC detective show, Hinterland.
Image from Visit Wales
Shows like Dr Who and Torchwood have played a huge part in gaining exposure for the capital city. With the majority of filming taking place in and around Cardiff, as well as around the Valleys, it seems locations in South Wales are becoming much more regularly seen on British national television. This is also where shows such as Gavin and Stacey thrive. Set in the small Welsh town of Barry, the show provides an alternative view of Wales from just Cardiff locations. High profile dramas such as Dr Who and Torchwood have made a significant impact on the recognition and visibility of Wales on national television. However, it can be said that the success of these programmes has not undermined the growth of smaller-scale Welsh television productions, which are truly showcasing the unique surroundings of the country.
Since the success of Gavin and Stacey, writer Ruth Jones has recently created Stella, which is filmed largely in Ferndale, Rhondda Cynon Taf. These aren't the only productions though; Welsh landscapes have been used in variety of popular films and shows, including:
The third series of the BBC Three programme 'Being Human' being set in Barry Island
Some of the scenes from Harry Potter and the Deathly Hallows were filmed in Freshwater West, Pembrokeshire!
The BBC medieval fantasy Merlin is filmed all over Wales, including the Brecon Beacons National Park, Castell Coch, Caerphilly and Chepstow Castle.
Are you using Pinterest? Follow us here and pin some of your favourite places filmed in Wales!
Visit Traveline Cymru's profile on Pinterest.




With Wales staring to gain more exposure through these shows, this is becoming a great way to attract tourism to towns and places right throughout the country. Why not spend a day exploring some of the filming locations, whilst taking in the unique scenery around Wales? With the spring weather approaching, it can be a great opportunity to leave the car behind and embrace other forms of sustainable travel to explore the places you most want to see. You may wish to cycle around some of the locations, or take a walk along some of the countryside paths. However, for trips a bit further afield, the train or bus can take you across a more scenic route, giving you the chance to take in your surroundings, instead of concentrating on driving. Our Journey Planner offers a range of travel options, and can help you select the best route to suit your chosen journey!
There are many ways you can travel around Wales hassle free, with lots of options to choose from. Visit Wales has some great resources of information on travelling by coach and train, or you can take a look at our Travel Info page for all the tips you'll need to get started.
It looks like filming in Wales is catching on as more and more people are discovering the unique landscapes that are dotted all around the country. The BBC's new duel-language detective show Hinterland is a great example of this. Set in Ceredigion, the show is all shot within and around Aberystwyth, and uncovers fairly unseen locations. Has anyone been to see Devil's Bridge Falls? The first episode of Hinterland was shot here and is one of many examples of wonderful and unique tourist and day trip opportunities. Where would you like to visit the most?
All blogs
Share this post