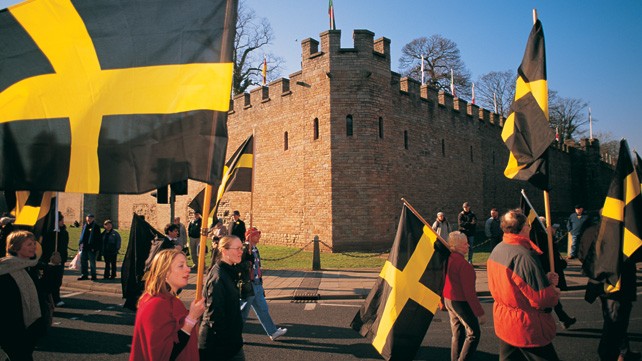 Exploring Wales and Discovering Events
26 February 2014
---
With St. David's Day approaching, we're looking forward to the celebrations that will be happening across the country. With lots of exciting things taking place on the day, from a carnival and theatrical performances in Cardiff, to parades and traditional Welsh markets across North and Mid Wales, there will be something to entice everyone, no matter where you may be. Have a look at our St David's Day Celebrations Event page for more information on what is taking place near you!
Times like these can be a great opportunity to explore areas of Wales that you may not have visited before, like national parks, galleries, castles and more. So whether you fancy going along a guided walk through the countryside, or experiencing the excitement of watching a large sporting event in the Capital, Wales is constantly offering a wonderful variety of experiences to be involved in or witness.
For all the sports fans, the Six Nations Rugby is currently in full swing, with the Wales v France game having taken place at Cardiff's Millennium Stadium last weekend. These events create a fantastic atmosphere throughout the city and are always extremely popular. In case you missed this event, be sure to go along to see Wales play against Scotland on Saturday 15th March in Cardiff! There can however be a lot of traffic diversions and road closures throughout the city during these times; this makes our event pages a great way for us to display any traffic updates relating to that event, so you are able to find all the information you will need in one place. Any events that affect transport in the area also get posted to our Travel Alerts page, so you can be made aware of disruptions even if they are not attending the event itself.
There are also wide range of ways in which you can get to your destination when travelling around the country. Our event pages will provide you with options to plan your trip through our Journey Planner, as well as information on how to take part in a car share scheme, which can be a great way to meet and get to know people who are attending the same event. Our journey planner also offers variety of route options, from travelling by trains and buses, to cycling and walking, and you will be able to select which option best suits you depending on your own personal preferences. It can sometimes seem a daunting prospect to try out a new method of travel you're not used to, but that's where we're here to help; with lots of resources available to help plan your route, including cycle and walking maps in Wales, simply knowing where to get the information you need can take you that one step closer to trying something new.
Enjoy the St David's Day celebrations this weekend, and be sure to keep in touch with us on Twitter and Facebook for travel alerts as they come in, as well as inspiration on events and things to do throughout Wales.
Visit Traveline Cymru's profile on Pinterest.


All blogs
Share this post