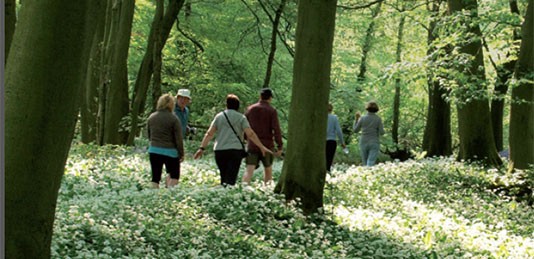 Get Inspired to Start Walking
21 February 2014
---
With the New Year now settled in, some of us may have made resolutions to get more active and make exercise a more prominent part of our everyday routines. For many though, larger forms of exercise such as cycling or running can seem like a daunting challenge, so it's great to know that engaging actively with walking can benefit our health just as much as other forms of more strenuous exercise. Walking might also seem more appealing if we know it's something we can easily work into our lives.
Last year, Ramblers and Macmillan Cancer Support charities released a 'Walking Walks' report, claiming that the simple act of walking could transform people's health and save thousands of lives each year. Read the full story over here on our news page!
Both charities also run the Walking for Health programme, which aims to get people up and off their feet and engaging with all the benefits that walking has to offer. The programme offers a host of information on a variety of walking schemes that people can get involved with, along with stories from walkers and top tips on how to stay motivated.
However, we know this is sometimes easier said than done, especially when trying to put time aside in our busy schedules. One of the great benefits of walking is that there are slightly easier ways of being flexible with how we can fit this into our routines. Are you able to walk to work? Do you take the bus, but there's part of the journey that you could walk instead? If you want to plan your route over on our Journey Planner, we can provide you with a variety of alternative methods for making your trip, including cycling and walking route options. Thinking of these possibilities not only positively affects our own health, but also the health of the environment around us. A recent report by the RAC Foundation says the vast majority of people throughout England and Wales commute to work via car, which can cause damage to the environment; you can read the full story on this on our news page here!
But making changes like this isn't necessarily suitable for everyone, where walking to work just isn't possible. This is where we can start to think about walking as a hobby rather than as a convenience. With scenic locations dotted all across the country, there are a number of activities and events taking place throughout the year that you can get involved with, either on your own or with a group of friends. Our Special Events page is continually being updated with upcoming events in Wales, to help inspire your next trip! As the spring season slowly but surely starts to move its way in, there are lots of walking events that will be taking place over the next couple of months. See the links below for more information on our Events page of some upcoming walking events:
Rhyl 10 Mile Run, Denbighshire, 23rd February 2014
Crickhowell Walking Festival, Powys, 1st – 9th March 2014
The Island Race, Anglesey Half Marathon, 2nd March 2014
The events are varied so there is something to suit everyone; there are routes and activities for experienced walkers looking for a challenge, to more relaxed routes for those going along for the fun. You're sure to find some guided walks where you can experience the beautiful scenery around the country; some of these events also include family entertainment, making them a fantastic day out for a group of friends or family.
Fancy some more ideas on where to walk in Wales? Follow us on Pinterest for inspiration!
Visit Traveline Cymru's profile on Pinterest.




Leading UK charity Sustrans are also encouraging people to get more active this year by incorporating cycling and walking into our everyday routines. Sustrans Cymru Director Jane Lorimer said "Commuting to work by bike or going on regular walks with friends or family gets you incredibly fit and allows you to save money at the same time. So please give it a go for 2014." Read more on this over on the Carmarthen Journal here.
Get inspired to start walking, and experience the variety of ways you can make walking a convenient and enjoyable element to your everyday routine!
All blogs
Share this post