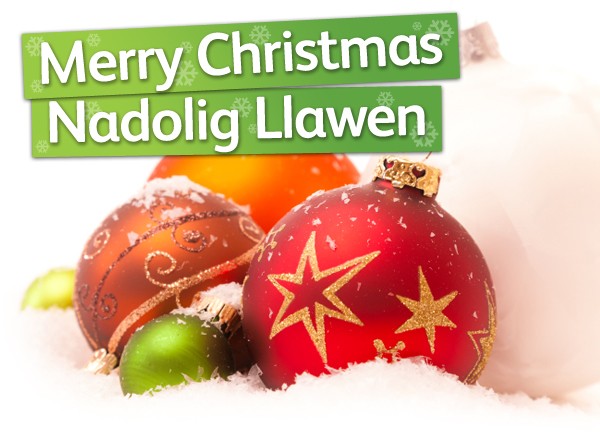 Merry Christmas from Traveline Cymru. 2013 Round Up
20 December 2013
---
Christmas is just around the corner, and we'd like to take this opportunity to wish you all a very Merry Christmas!
2013 has been a great year for us here, and so we thought we'd give a rundown of some of the highlights of the past year before we embark on a new one.
Our call centre have experienced a few changes over the past year. In March, the staff celebrated their first birthday in their new office in Penrhyndeudraeth; everyone has now settled in, and will be soon approaching their second year. April also saw the launch of the 'Live Chat' feature on our website. Our lovely call centre agents are on hand during their full opening hours to handle all enquiries, providing another method for our customers to get real-time information when they need it. More recently however, there has been a slight change in the our call centre opening hours, which continue to open at 07:00 and now close at the earlier time of 20:00 instead of 22:00.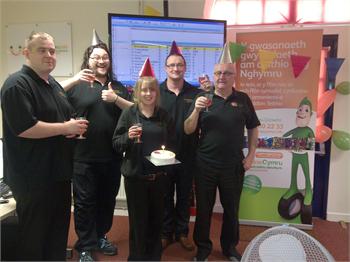 All was new for the Cardiff team in June as well, as we made the move into our new offices. The move has been extremely beneficial, allowing more space for our ever-expanding team and being located in a more accessible area on the ground floor. To celebrate the move, we held an official opening at the new offices at the start of December; as part of this, we also hosted a Macmillan coffee morning, where our staff baked lots of delicious cakes, which helped us raise £181.70 for a great cause!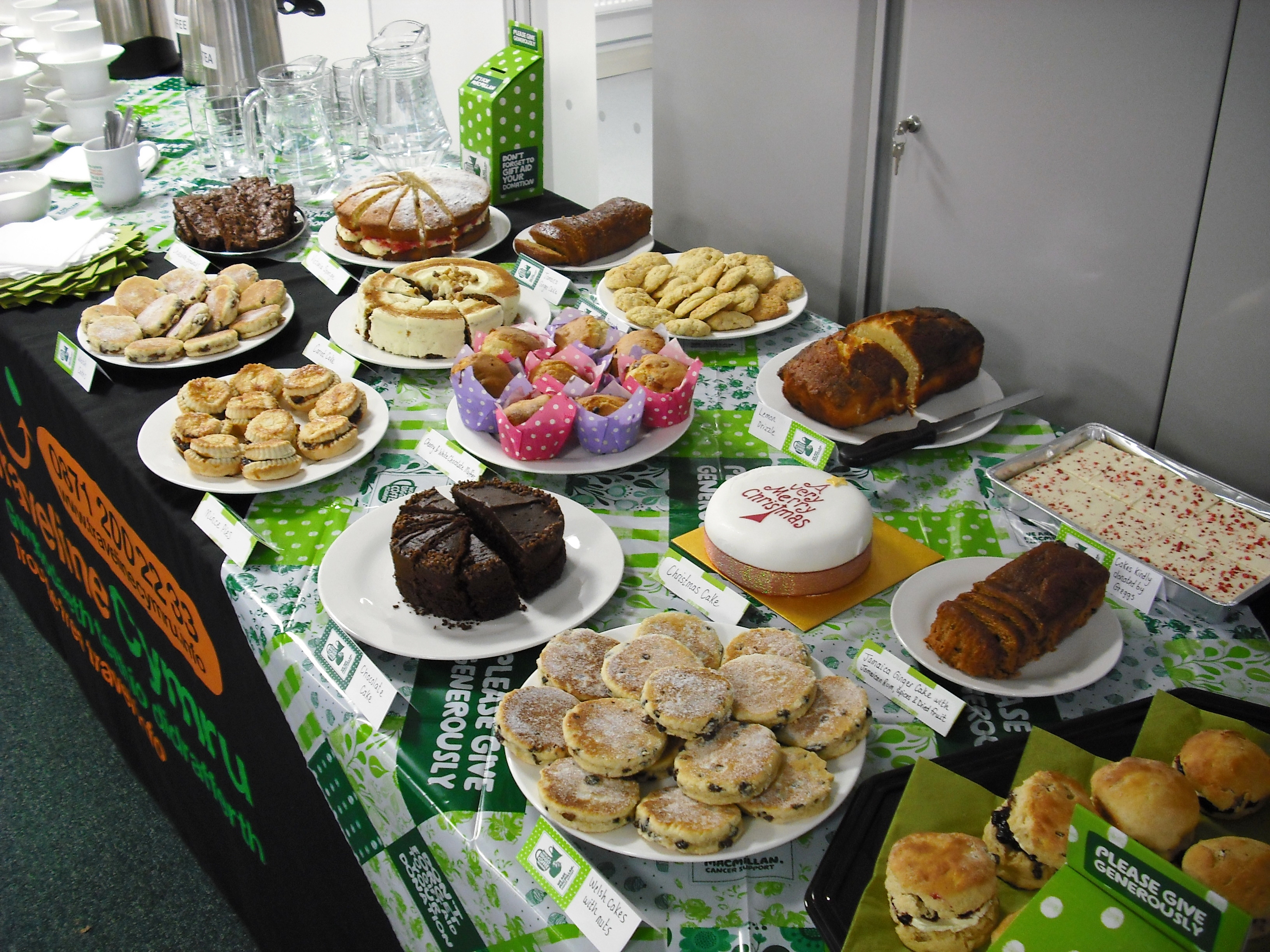 The summer of 2013 continued to be particularly memorable for us, with the launch of our Traveline Heroes campaign. The level of engagement that our audience responded with was extremely encouraging to see; over 4,000 people got involved with the competition, letting us know how they use Traveline Cymru in their everyday lives. It's always fantastic to hear from our customers and to discover what services are useful and convenient for them, and the Traveline Heroes campaign helped to celebrate and reward our existing customers.

As the summer progressed, the Traveline Cymru team attended many summer festivals, including One Planet Festival in Cardiff and Blackwood's summer festival. We attended the Caerphilly Big Cheese as part of Sustrans Great Escape 'Micro-festival' where we were able to promote the Traveline services as well as celebrate sustainable modes of travel. The Royal Welsh Show was also another summer event that proved to be a highlight for us. It was a very busy event where we managed to engage with lots of people; our ambassador Iolo Williams was also there on hand to talk to visitors about the services Traveline Cymru have to offer. All photos from the summer events we attended can be found on our Facebook page here!
September then saw Freshers' Fairs open up and down the country, and our Marketing Officer Laura took the Traveline Heroes campaign out on the road to new students, introducing them to our services. Freshers' fairs are a fantastic opportunity to encourage students, new and old, to engage with public transport around them as they settle into their new lives in Wales. The response across the Fresher's events was huge, with over 4,000 goodie bags of information given out and many students signing up to the Traveline Heroes competition. This proved a great way to get students involved with our company whilst discovering all the benefits of public transport.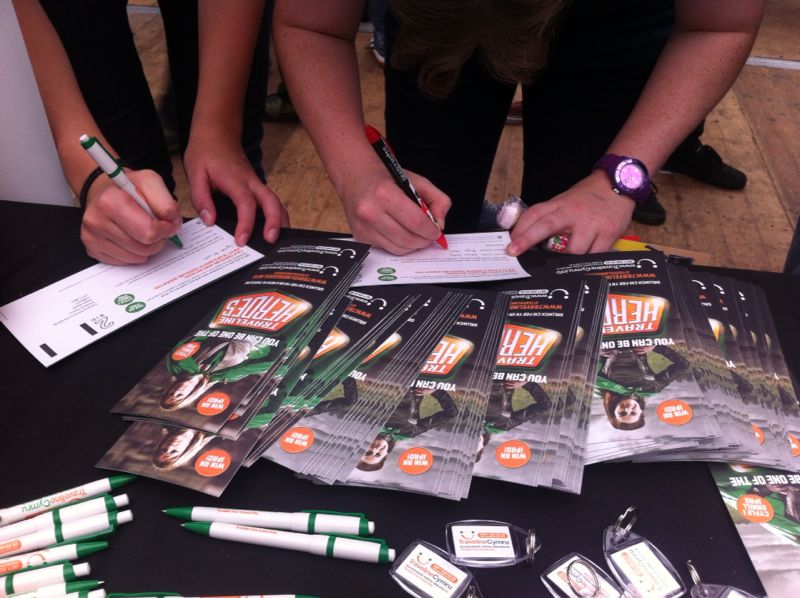 September also saw demand for our travel information increase to record levels via our website, contact centre and mobile services. This was helped particularly through the success of the Fresher's events as well as our free mobile apps for Android and iPhone, which saw the percentage of information accessed increase by 62% between September 2012 and September 2013. The demand for receiving quick information on the go has grown rapidly, and we expect this to continue into the New Year.
2013 saw us start to work with a variety of different businesses, including HSBC, Newport Bus, Working Links and Brecon Beacons National Park, who have benefitted from using our services to create a series of written and video case studies. These were a fantastic visual platform for companies to showcase how our services, such as our downloadable journey planner, have benefitted them and their employees in their everyday roles. You can see these case studies in more detail by visiting the case studies page on our website here.

We also introduced more variety to our journey planner, which now comes with the option to plan a cycle route. When using our journey planner, you are now able to select a 'cycle only' option, which will provide written directions for your route, as well as a map plan. By adding more variety to the modes of travel options on our journey planner, we're hoping we can continue to encourage our users to engage with more sustainable modes of travel, whilst giving them a variety of ways in which to do so.
Later in the year, we introduced our Fare Finder service onto our website and mobile apps. This was the next step to making our journey planner a more useful service for our customers, providing them with all the information they'll need in one place. The service was officially launched in Newport by the Transport Minister Edwina Hart, which proved to be very successful. The launch saw our Project Supervisor Tansy explaining how the service came to fruition, with a few words from our ambassador Iolo Williams, spreading positive encouragement about travelling via public transport.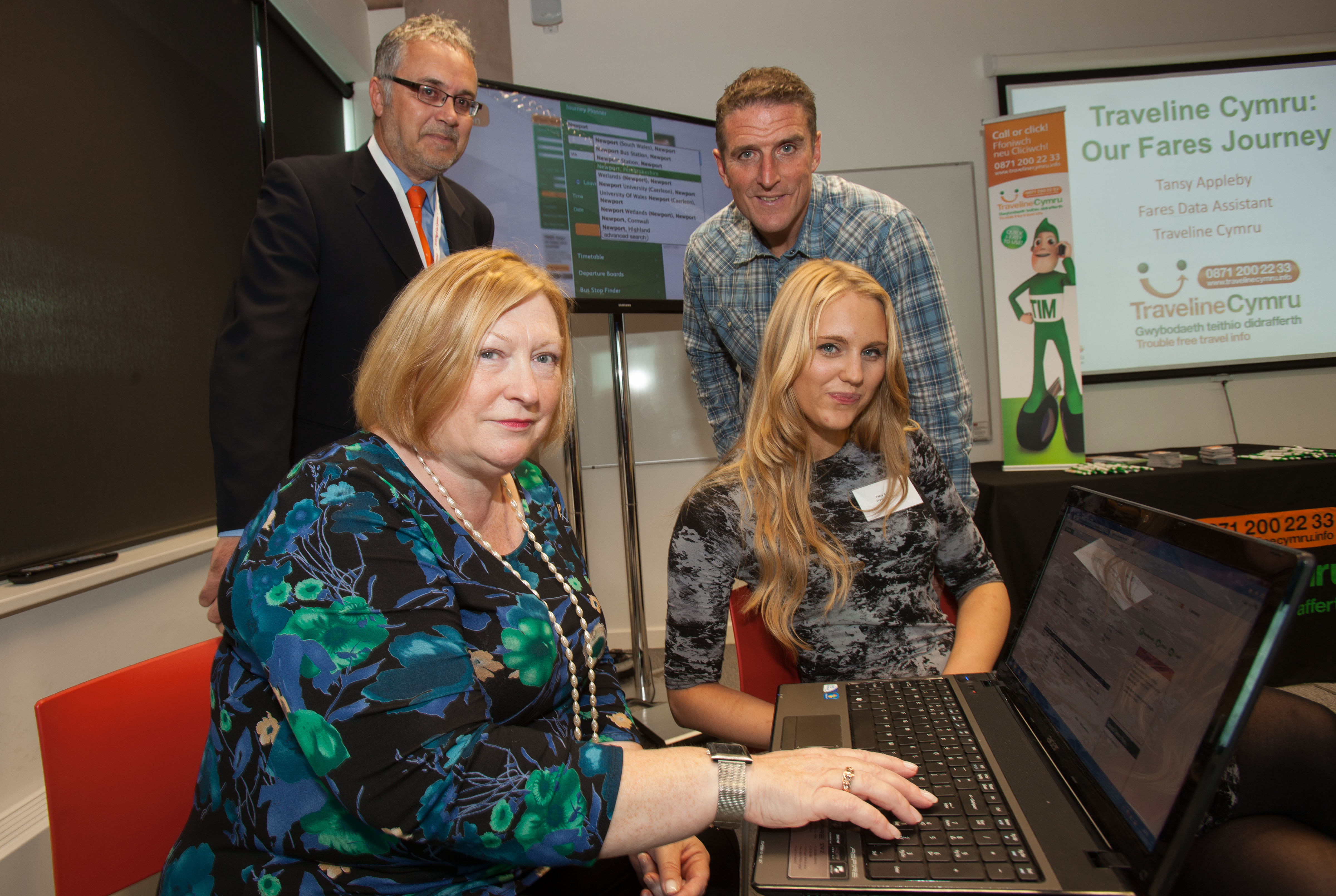 Being big fans of all things digital, we were excited to launch this brand new blog in October. Now in full swing, we will be continually updating this with new stories, staff updates and much, much more, so be sure to keep checking back to have a read through!
Now the end of the year is approaching, and we've noticed the colder weather sneak its way in, which signals that time of year where our services really come into their own as people seek out changing information during the holiday period. Our Christmas Travel Page is still up and running, with the all the information you'll need on what services are being provided over Christmas and the New Year, so you can plan you journeys in advance without the worry. We've also been promoting our Call Centre number as a fantastic way to get your travel information over the holiday season on Real Radio! Feel free to give our friendly staff a call on 0871 200 22 33 with any enquiries, and we'll be more than happy to help. Our advert is voiced over by the one and only Iolo Williams and has been played on Real Radio throughout the course of December.
We would like to wish you all a Merry Christmas and Happy New Year and thank you for being a part of our journey. We've had a fantastic 2013 and we look forward to continuing our services into the New Year.
Visit Traveline Cymru's profile on Pinterest.


All blogs
Share this post