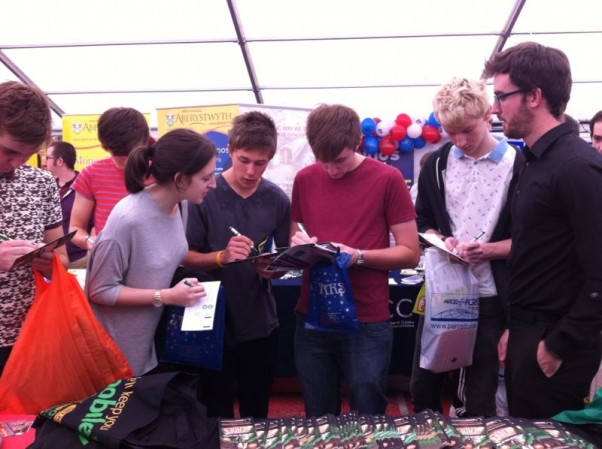 Discovering Traveline Heroes: Fresher's Week with Traveline Cymru
31 October 2013
---
Fresher's week is a great opportunity for us to recruit new Traveline Heroes – for students moving to a new city, it can be an ideal opportunity for them to discover the best ways for them to get to where they need to be. Even for students used to the area, finding more convenient and sustainable ways to get around, the start of the new term can be the perfect time to do just that.
During the course of September, our Marketing Officer Laura was out recruiting new Traveline Heroes up and down the country, visiting many different Fresher's Fairs and encouraging new students to discover more about Traveline Cymru and how they can use our services. The whole process was a huge success, with lots of information being given out; many students also entered the Heroes competition to win some Traveline freebies, which proved a great way to get people involved with the company.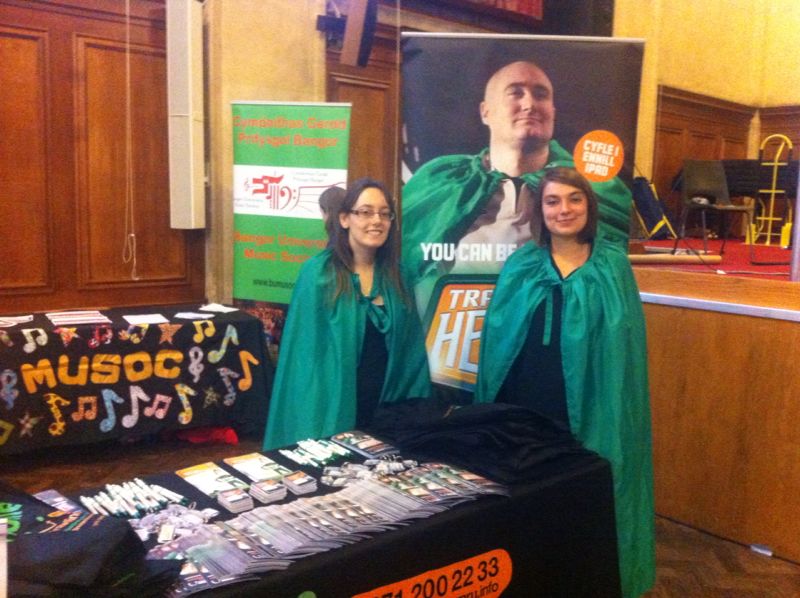 Our Traveline Heroes ready to swoop up new students
The Traveline Cymru Fresher's journey began at Coleg Gwent Fresher's Fair on Friday 30th August 2013. Our Traveline Heroes campaign remained the face of our promotional stands, with Laura and our temps dressed as Traveline Heroes, ready to draw people into the campaign. Students coming to see us left with bags containing a range of goodies from pens, highlighters and key rings, to our information leaflets. An average of 400 bags were given out at each event; students were very receptive to what we had to offer and were keen to pick up the information material, which was extremely encouraging to see.
At Aberystwyth Fresher's Fair on the Monday 23rd September, we were joined by the team from TraCC. The event was very busy, with lots of students bustling around, keen to pick up our leaflets and goodies. The event was held in a marquee instead of a sports hall like many of the other fairs, which proved useful as students were able to pass through the stands effortlessly, allowing us to engage much more easily with those approaching us.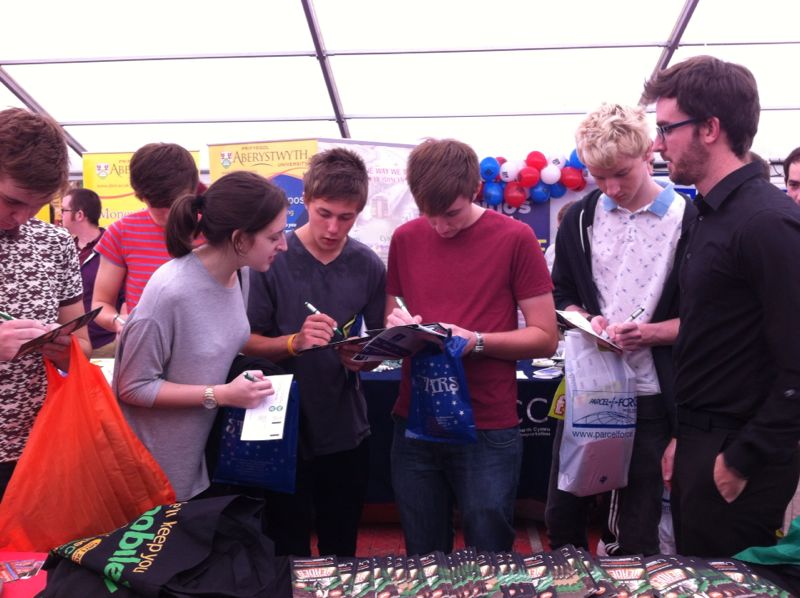 A busy turnout at Aberystwyth Fresher's Fair
At Swansea University, we were excited to be joined by SWWITCH and our Data Fares Assistant, Heidi Rees. This was another fantastic day, and it was great to have a member from our Data team taking part and witnessing first hand such a busy event, and really enjoying the experience!
We also went to a few fairs taking place in Cardiff, one that stood out in particular being the Cardiff Local Fresher's Fair, where we managed to give out all of our bags and freebies to eager students.
However, Bangor University Fresher's Fair had to be the highlight of the journey – over 600 bags full of goodies and leaflets were picked up by the students, over-exceeding our expectations! The enthusiasm from the students was fantastic, and it was great to see so many people actively interested in engaging in the services we had on hand to offer them.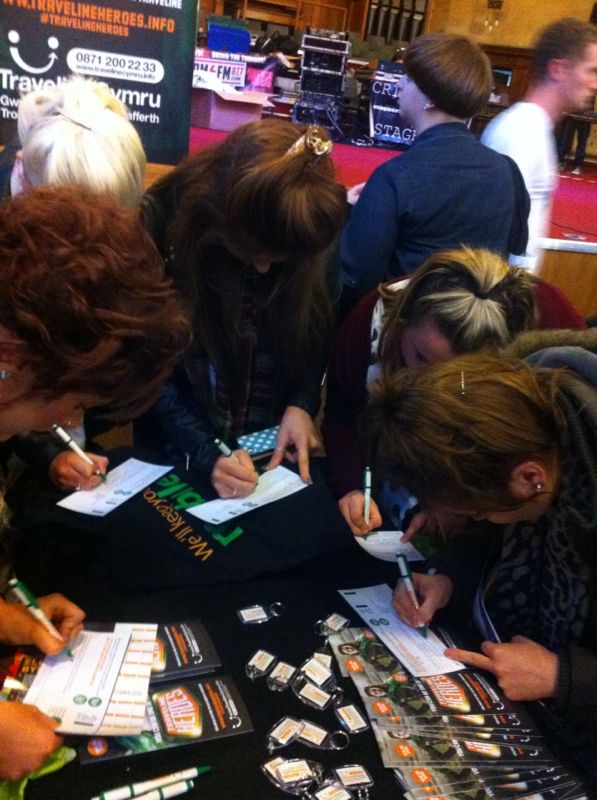 Students signing up at Bangor University Fresher's Fair
The Traveline Cymru Fresher's journey ended on a high at the Merthyr College Fresher's Fair. Many of the students attending were already familiar with using the bus, and so the information we were able to provide them with seemed to prove useful. Throughout the remainder of the Fresher's month, we saw our new recruits continue to grow. Getting out and being able to speak to students face to face really helped to engage them with how they can best use our services and get them understanding the benefits of public transport.
Here's what Laura had to say about the experience: "Fresher's week is always a busy time for us but it's great to visit Universities and Colleges around Wales and help new or current students with their public transport queries. This year's events were a huge success with a total of 2,754 Traveline Heroes competition entries gathered and 4,000 goodie bags handed out!"
All photos from the events can be found on our Facebook page. We're looking forward to next year already!
Visit Traveline Cymru's profile on Pinterest.


All blogs
Share this post