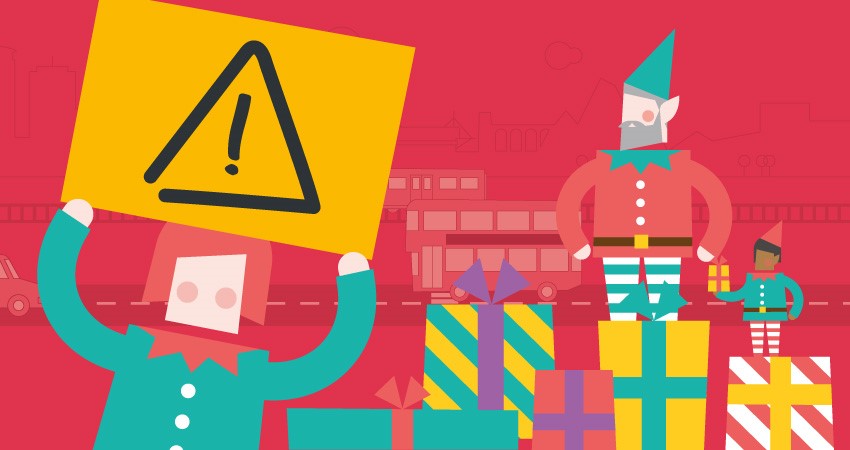 Where to find your public transport information if you're travelling over the festive period
16 December 2021
---
Festive travellers looking to use public transport over the Christmas and New Year period are advised to plan their journeys in advance as changes to public transport services are expected between 24th December and 3rd January with a small number of operators making changes from 21st December.
Traveline Cymru is urging members of the public to check the latest public transport travel information via its dedicated Christmas and New Year Travel Information page. However, customers are reminded that this information may be subject to short notice change, so will need to check as close to their day of travel as they can.
Some operators will be finishing services early on Christmas Eve, New Year's Eve and on other days over the festive period with many bus and rail services closing on Christmas and Boxing Day as well as New Years Day.
Its data team have been hard at work updating as much information as possible on the Traveline Cymru Journey Planner, Timetables page and Travel Map. In the event of any short notice changes to timetables, which transport operators are currently permitted to do due to the ongoing impact of driver shortages, customers will be alerted via the Traveline Cymru 'Short Notice Service Updates' disruption page.
Traveline Cymru is also encouraging the public not to forget to adhere to current Welsh Government COVID-19 guidelines when making plans to travel. In Wales, it's a legal requirement to wear a face covering for the duration of your public transport journey, unless you're exempt. This is an important measure to help protect those who are still vulnerable to the Coronavirus.
Jo Foxall, Managing Director of Traveline Cymru, said:
"Whilst we encourage the public to think carefully about the journeys they make this Christmas in light of the uncertain COVID-19 developments and guidelines, we appreciate many people will still need to travel. It is therefore important to remember that public transport services will be subject to last minute changes during this time."
"As per government guidelines, we urge the public to follow the rules and to wear masks whilst using transport services to limit the chances of catching and spreading Coronavirus. We have a number of ways people can access travel and COVID-19 information–through dedicated pages on our bilingual website, our Freephone number and also our mobile services–so that we can keep Wales moving, in the safest way possible, over the Christmas and New Year break."
Customers are able to plan their journeys by visiting the bilingual website or using the mobile app, text service or social media channels.
Alternatively, customers are able to call the Traveline Cymru customer service line on Freephone number 0800 464 0000, which will be available every day over the festive period apart from Christmas Day and Boxing Day. The helpline will also be operating with reduced hours on Christmas Eve and New Year's Day.
Traveline Cymru, which is a part of umbrella organisation PTI Cymru, provides a 'one-stop-shop' for travel information in Wales. The not-for-profit company is based on a partnership between the Welsh Government, public transport operators in Wales and Welsh local authorities. It provides route and timetable information for all bus, coach and rail services in the country via a bilingual website www.traveline.cymru, its Freephone telephone service (0800 464 00 00) and a suite of services for mobile phone users, including a bilingual app.    
All news
Share this post