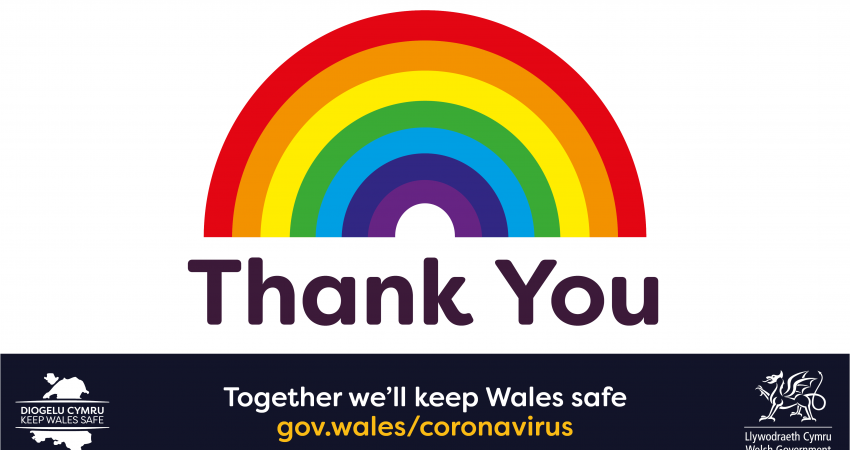 Public urged to 'Stay Home to Save Lives' during Alert Level 4 Lockdown
11 January 2021
---
You must stay at home and only travel or use public transport for a limited number of essential purposes.
Wales is in an Alert Level 4 Lockdown. This means you must:
Only go out for food, local exercise, care and health reasons
Work from home if you can
Only travel if essential (including essential caregiving purposes, food and medical needs or to travel to and from work if you're unable to work from home).
Don't meet with people you don't live with indoors or outdoors
When out, keep your distance, wash hands regularly and wear a face mask where needed. Around 1 in 3 people with Covid have no symptoms and could be spreading the virus without realising it, make these measures vitally important to help stop the spread.
Self-isolate immediately and request a test if you develop any coronavirus symptoms
You are allowed to leave home to exercise, but your exercise must start and finish from your home and you should exercise alone or with a member of your household or support bubble.
As at all alert levels, face coverings continue to be mandatory in the indoor public spaces that remain open (subject to certain exemptions and exceptions), including on public transport and in taxis, and people must self-isolate when told to do so by NHS Wales Test, Trace, Protect.
Where can I find my public transport information if I need to make an essential journey?
You must only use public transport for essential caregiving purposes, food and medical needs, if you're unable to work from home or if you're a key worker and need to travel to and from work.
Transport operators will be making further reductions to their service timetables in the coming weeks. Due to the short term notice of these changes, our Journey Planner and Timetables page may be inaccurate. Please rest assured that our data team are working around the clock to get our information up to date as soon as possible.
For these essential journeys, please check our dedicated Coronavirus Transport Service Updates page for all the latest timetable information from operators across Wales. If you need any help planning your essential public transport journey, please ring our Freephone number on 0800 464 00 00 from 7am to 8pm daily.
What happens if I don't follow the Alert Level 4 guidance?
Most of the above guidance is set out in law, which means they are enforceable by the police or local authority enforcement officers. However, even when things are permitted, Welsh Government is asking you to think carefully about what is the most sensible thing for you to do to protect your family, friends and your community, rather than thinking about what the law allows you to do.
Where you breach the law, you may be told to go home or removed from where you are and returned home. You could be asked to pay a fixed penalty notice of £60. This will rise to £120 for the second breach and continue to increase for further breaches. For more serious offences, penalties start at £500. Or you could have criminal proceedings brought against you, and if found guilty, you will have to pay a fine.
Information Source: gov.wales
All news
Share this post