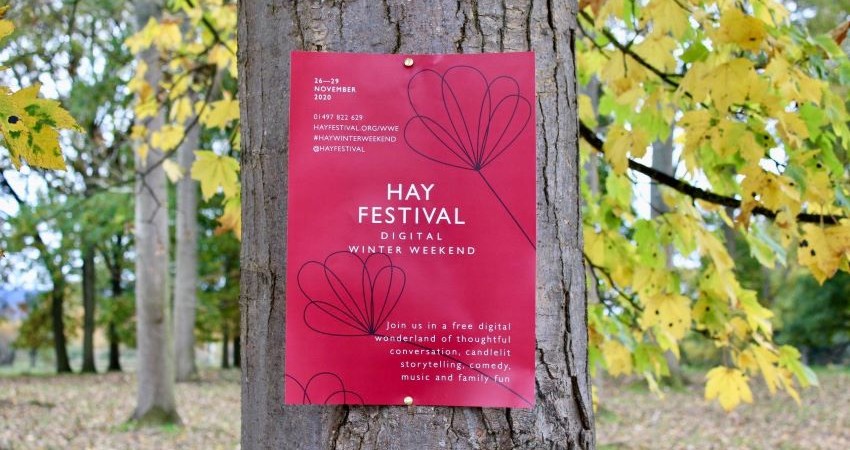 Hay Winter Festival: Digital Winter Weekend- Thursday 26th to Sunday 29th November 2020
Join writers and readers from across the world in a free digital wonderland of storytelling and conversation.
From Thursday 26th to Sunday 29th November, the Hay Festival Digital Winter Weekend will virtually bring together writers and readers from across the world through thoughtful conversation, storytelling, comedy and family fun in a series of free talks.
Whilst a virtual festival was not what organisers had originally planned for the 21st year of this iconic event, a stellar line up of figures from the adult and children literary worlds means this digital festival is not to be missed. All sessions will be streamed and are completely free to attend. Speakers at the event include:
Thursday 26th November (17:30-18:15)- Elizabeth Day, Failosophy- A Handbook for When Things Go Wrong: Elizabeth Day, author of How to Fail, and creator of the podcast How To Fail With Elizabeth Day, discusses the lessons she's learnt from her own life, from conversations with her podcast guests and from meeting her readers and listeners.
Friday 27th November (11:30-12:00)- Nick Sharratt, Ketchup on your Reindeer: Following the success of 'Ketchup on your Cornflakes?', Nick Sharratt's new book is full of festive fun the whole family can get involved in. In this event, he'll be sharing his books, doing lots of drawing and enjoying some Christmas silliness!
Saturday 28th November (20:00)- Ruth Jones talks to Hannah Beckerman: Gavin and Stacey co-creator Ruth Jones talks about her new bestselling novel, 'Us Three'. Follow the lives of Lana, Judith and Catrin, best friends since primary school whose friendship is rocked to its core after an unexpected turn of events.
Sunday 29th November (14:30-15:15) Candice Brathwaite, Charlie Brinkhurst Cuff and Elisabeth Fapuro- I'm Not Your Baby Mother/Loud Black Girls: Two of the contributing authors to the touching and insightful Loud Black Girls, Charlie Brinkhurst Cuff and Elisabeth Fapuro, join a conversation with Candice Braithwaite, founder of Make Motherhood Diverse and author of I Am Not Your Baby Mother.
Sunday 29th November (20:30-21:30)- Elton John and Arsène Wenger in Conversation- Me/My Life In Red And White: Music icon Elton John reveals the truth about his extraordinary life in his first and only autobiography. In his long awaited autobiography, Arsène Wenger shares his experience of winning multiple Premier League titles, a record number of FA Cups and more.
This is just a small selection of the brilliant series of talks that will be taking place over the Digital Winter Weekend. To see the full programme and to register your place at each event, visit the Hay Winter Festival website.
We're still here to deliver your public transport information if you need to travel:
< All events