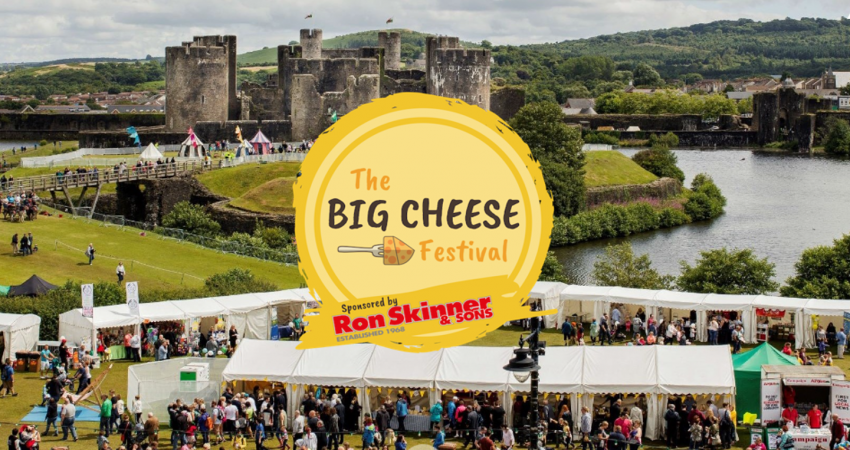 Big Cheese Festival, Caerphilly- Friday 26th until Sunday 28th July 2019
From Friday 26th to Sunday 28th July, the Big Cheese Festival makes its triumphant return to the iconic grounds of Caerphilly Castle with a whole new layout and exciting new attractions- you gouda see it to believe it!
Opening the weekend's festivities will be The Great Cheese Race in and around the grounds of Caerphilly Castle at 6:30pm on Friday; this is followed by a spectacular fireworks display at 10pm. Over the next 2 days, you will then have the opportunity to explore the event's three (yes, three!) massive food halls, full to the brim of local and regional Welsh food and drink. Whether you fancy a homemade welsh chutney, an artisan loaf of bread or a deliciously indulgent slice of cake… there'll be plenty for you to choose from.
Of course, you can also visit the festival's dedicated cheese market, featuring high quality products from fantastic producers from all over Wales. This year also sees the introduction of some of the best new Street Food producers in the market, as well as a Live Lounge Area and Live Cookery Demonstrations from industry experts.
With so much to see and do at the festival, you'll be pleased to know that entry to this event is free! This means you can take your time browsing all of the mouth-watering delicacies on offer. For more information, visit the event's website.
Want to travel to this event?
Caerphilly Castle is easily accessible by bus, with service including the Stagecoach South Wales 25, 50 and 120 stopping right outside the castle. Caerphilly Train Station is also a short walk from the Castle and festival ground entrance.
Please visit our disruptions page to see an overview of road closures and service alterations in place during this time.
Public Transport
To make your journey by public transport, please use our Journey Planner to find the most convenient route, along with times and services that are running.
If you'd like to find a bus timetable, head over to our Timetables page. Here, you can search for a specific bus route or your location to view timetables of services in the area. You will also have the option to print the timetable to take with you on your trip.
Walk & Cycle
You can also use our journey planner to find walking and cycling routes to get to your event. If you live close by, walking can be a great way to explore the scenery and soak up the atmosphere before the event!
You can find out more information on our Cycling and Walking page.
We also offer a Freephone telephone service. One of our friendly advisors will be on hand to answer any of your public transport information queries and to help you plan your journey. Give us a call on 0800 464 00 00 for free!
< All events