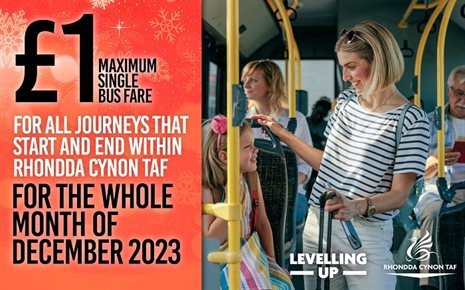 Cheaper bus travel within Rhondda Cynon Taf this December
06 November 2023
---
The Council is pleased to announce that a £1 maximum single fare for all bus journeys that start and end in Rhondda Cynon Taf will be applied for the whole of December 2023 – providing cheaper travel this festive period. 
Subsidised bus travel was successfully provided for a six-week period earlier this year, between July 24 and September 3. Following a recent delegated officer decision, the offer will be repeated next month using a further allocation from the UK Shared Prosperity Fund secured by the Council for 2023/24.
During the previous six-week offer, local bus operators reported a positive experience to the Council, with an increase in customers during the period – at a time of year which is generally quieter due to the school summer holiday.
Today's announcement confirms that the £1 maximum single bus fare will be re-introduced from Friday, December 1, to Sunday, December 31, 2023.
The offer will be the same as previously implemented, covering all scheduled bus services that start and end within the County Borough boundary. The maximum £1 fare will apply regardless of the bus operator and with no time restrictions – so it will be available from the first to the last service each day.
All journeys that start or end outside of Rhondda Cynon Taf will not be included within this offer, and bus users will be subject to the normal full fee.
Councillor Andrew Morgan OBE, Leader of Rhondda Cynon Taf Council and Cabinet Member for Infrastructure and Investment, said:
"I'm sure that the re-introduction of the £1 maximum single bus fare for December 2023 will be welcomed by bus users and operators, following the successful six-week roll-out earlier this year. The offer aims to be fair and inclusive by helping to reduce economic barriers that may prevent some people from catching the bus – particularly in these times where the Cost of Living remains very high.
"Each festive season the Council promotes its Shop Local message to help increase town centre footfall and provide an economic boost to local traders – and having access to cheaper bus travel is aimed at encouraging more people to visit our retail areas. We will also continue our free festive parking initiative in Aberdare and Pontypridd this December, returning for a tenth year in 2023.
"This is the third occasion this year that the Council has allocated funding from the UK Shared Prosperity Fund to reduce bus fares. Feedback from the six-week scheme between July and September was that local operators had a good experience and saw a marked increase in people catching the bus – which was particularly positive given that it was the summer holiday when operators usually see a drop-off in customers as pupils are not in school.
"Supporting residents and the bus industry in this way has been made possible after the Council successfully secured £1.1m funding for the current financial year. A further £1.2m has also been secured for 2024/25, which will enable us to look into further options to introduce measures like subsidised travel in the future. The Council will widely promote the upcoming scheme for December 2023 so as many people can take advantage of it as possible."

The UK Shared Prosperity Fund, from the UK Government, has been allocated to Local Authorities to help introduce initiatives that will reduce the Cost of Living for residents. This will be achieved through measures that improve energy efficiency, and combat fuel poverty and climate change.
Information Source: RCT 
All news
Share this post