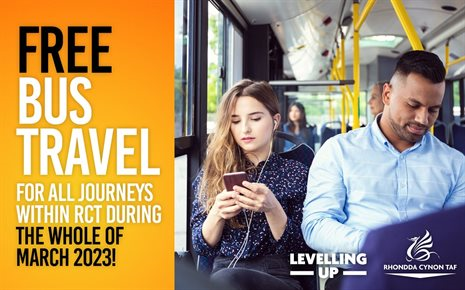 FREE bus travel in the County Borough during March is agreed
28 February 2023
---
Cabinet has agreed with proposals to trial FREE bus travel for the entire month of March 2023. This applies to all local journeys made within Rhondda Cynon Taf, and will come into effect on Wednesday (March 1). 
At their meeting on Tuesday, February 28, Cabinet Members considered a report which outlined the proposed trial – applying to all local bus operators and to all journeys made in March 2023 (irrespective of the time of the day), that start and end within the Rhondda Cynon Taf county boundary.  
The trial, now agreed, will save Rhondda Cynon Taf residents up to a total of £500,000 over the month and is fully-funded from the UK Government's Shared Prosperity Fund in 2022/23. The recently-secured funding must be used before the end of March 2023, and has been earmarked for initiatives to reduce the cost of living for residents – through measures that improve energy efficiency, combat fuel poverty and reduce climate change.
There has been a reduction in the number of bus users since the Covid-19 pandemic, and local bus services in Wales have been financially supported by the Welsh Government Bus Emergency Scheme. This has been essential to address the lost revenue from fares, as well as additional costs of operating.
Tuesday's Cabinet report noted that encouraging a shift from private car use to sustainable travel, as part of people's everyday journeys, is a key element of the Wales Transport Strategy 2021 and the climate change commitment made by the Council. Residents travelling by bus instead of private vehicles is a low-carbon option, but to be viable it must be affordable and easy to use.
The free bus travel trial for Rhondda Cynon Taf will encourage more bus users and help improve the environment. It will run from Wednesday, March 1, to Friday, March 31. It does not apply to journeys that start or end outside of the County Borough, which will remain subject to their usual fare.
Councillor Andrew Morgan OBE, Leader of Rhondda Cynon Taf Council and Cabinet Member for Infrastructure and Investment, said:
"The Council has recently been successful in securing funding from the Shared Prosperity Fund for initiatives to help tackle the cost of living for residents, and to improve the environment in response to Climate Change. I'm pleased the proposal to trial free bus travel is now agreed for March 2023, and I'd like to thank local bus operators for their cooperation in enabling this initiative to be piloted.
"The pilot could save a total of up to £500,000 over the course of the month for Rhondda Cynon Taf residents, and this will be crucial for many as the Cost of Living crisis continues to impact households across the County Borough and the whole of the UK.
"The Council has also secured further Shared Prosperity Fund allocations for 2023/24 and 2024/25, and, if March's trial proves successful, there may be opportunities for further initiatives to be considered in future financial years.
"Encouraging residents to use public transport as part of their daily routines is vitally-important to protect the environment in response to climate change, with transport being responsible for 17% of greenhouse gas emissions in Wales. We have set ambitious goals to become a carbon neutral council, while also contributing to the County Borough becoming as close to carbon neutral as possible. Initiatives like free bus travel will help this effort.
"As well as the environmental benefits, if more people use public transport there would be less traffic congestion and local journey times will decrease. Other benefits include greater social interaction for residents and additional economic activity across our communities. Providing free bus travel would also remove barriers for those people who cannot afford to catch the bus."
Why is Rhondda Cynon Taf Council piloting free bus travel?
The free bus travel pilot is intended to increase the number of residents using our bus services. This will help to make local bus services more sustainable and crucially improve our environment by encouraging people to swap from private cars to public transport journeys. 
It is also anticipated that the initiative could have a cost-saving benefit of up to £500,000 for residents and provide crucial help with the cost of living crisis.
When will the pilot run?
The pilot will operate from Wednesday, March 1, until Friday, March 31, inclusive.
How is the pilot being funded?
The Council has recently secured funding under the Shared Prosperity Fund, and part of the conditions for this award stipulates that a proportion of the funding has to be spent in this financial year – or the UK Government will take it back. The pilot will be fully-funded and underwritten by this grant funding.
What journeys will be free?
As Rhondda Cynon Taf will be the only Council in Wales to be offering this initiative, the scheme will only cover journeys that start and end in RCT. The scheme will not cover journeys that cross county boundaries.
Passengers traveling out of Rhondda Cynon Taf, or into the County Borough from any other local authority area, will need to purchase their normal tickets at the appropriate full fare. For example, a bus journey from Aberdare to Porthcawl would be free from Aberdare to Gilfach Goch, but the user would have to pay the full fare if the journey ended within the Bridgend County Borough area.
All scheduled bus services are included, regardless of the operator, and no time restrictions apply (for example, the first and last services of the day are included).
Are there any plans to do this again in the future?
Ultimately this initiative is only a pilot at the moment. Once the scheme has ended, the Council will assess the impact of the scheme and take on board feedback, before potentially looking to do something similar later in the year.  Depending on the outcome of this pilot, a similar scheme could possibly be brought forward in December to support the annual Shop Local campaign at Christmas time.
Information Source: Rhondda Cynon Taf
All news
Share this post