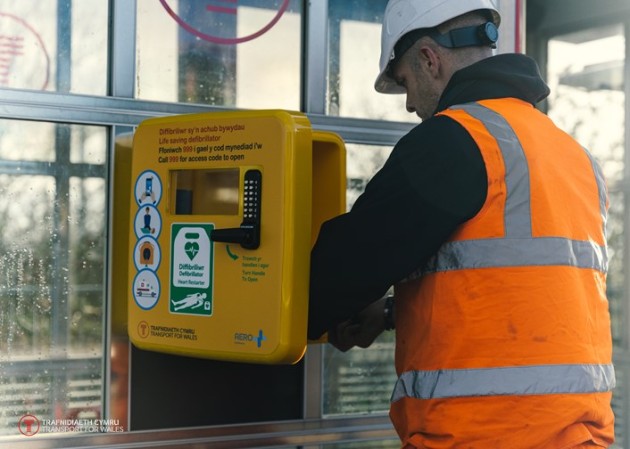 Events to highlight the importance of defibrillators
20 February 2023
---
Two public engagement events will be held this half term to highlight the importance of defibrillators across the Wales and Borders rail network.
Transport for Wales (TfW) has installed more than 200 defibrillators at stations over the last 12 months, providing vital life-saving equipment in local communities.
This month is the Welsh Ambulance Services' annual 'Defibruary' campaign and TfW is working in conjunction with the Welsh Ambulance Service and Save a Life Cymru on pop-up events in Cardiff and Wrexham to provide free defibrillator and cardiopulmonary resuscitation (CPR) training.
Karl Gilmore, TfW Rail Infrastructure Director, said: "We're delighted to be working with the Welsh Ambulance Service and Save a Life Cymru to provide free defib and CPR training and to answer any questions people may have about defibrillators. We will also be there to support those who have experienced or witnessed a cardiac arrest.
"Just recently the train crew on one of our services used a defibrillator from a station to provide assistance to a passenger who had suffered a suspected cardiac arrest, so we know how important they are in helping to save people's lives.
"Sadly we've also had an instance of someone who was unable to access one at our station due to it being vandalised, so we'll also be using these events to encourage people to treat the defibrillators with respect and to report any damaged ones they spot on the network."
Professor Len Nokes, Chair of Save a Life Cymru said: "Save a Life Cymru is delighted to be supporting TfW at this Defibruary event and to offer travellers at Cardiff and Wrexham Railway Stations some CPR and defibrillator awareness training.  
"A person's chance of surviving a cardiac arrest depends on a bystander immediately performing CPR and using a defibrillator.  A cardiac arrest can happen to anyone at any age and at any time and therefore having the confidence to act quickly if you are ever faced with such a medical emergency can ultimately help to save a life.
"If you can't join us at these Defibuary events, please search Save a Life Cymru website for advice and encouragement on how you could help save a life with CPR and a defibrillator."
The events are being held at Cardiff Central Station on Wednesday 22nd February between 10am and 2pm and at Wrexham General Station on Thursday 24th February between 10am and 2pm.
In Wrexham TfW staff will also meet with the local scout group to provide CPR and defib awareness training at the scout hall opposite the station.
Information Source: Transport for Wales
All news
Share this post