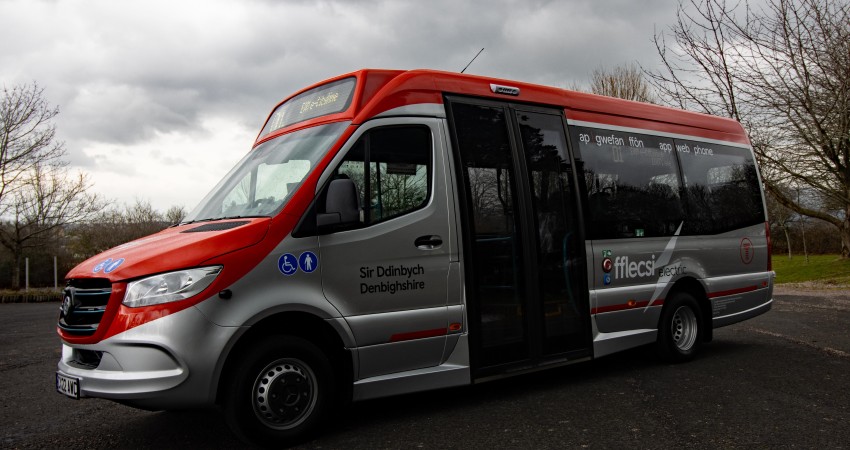 Fflecsi to launch in Ruthin
23 March 2022
---
Denbighshire County Council and Transport for Wales are set to introduce a pioneering demand responsive public transport scheme in and around the Ruthin area.
Called fflecsi, it is one of only a dozen such examples in Wales. It joins pilots in Denbigh and Prestatyn in Denbighshire.
As part of the Council's Climate Emergency declaration, it will also be operated by the country's first-ever zero emission 100 per cent battery-operated 16-seat minibus. This is thanks to support from the Welsh Government and the Welsh Government Energy Service.
The transport scheme will also provide useful feedback on the suitability of such vehicles useful in other similar situations and locations across Wales.
Intending passengers will be able to book their demand responsive transport one hour ahead by either downloading and using the fflecsi app, on the fflecsi.wales website or by phoning a dedicated call centre. The app can then keep the customer informed of any changes in pick-up times.
Ruthin's fflecsi will be available within the town of Ruthin itself. The vehicle is able to travel around most of Ruthin's urban housing culs-de-sac. This will introduce a bus service for many people in Ruthin for the first time.
fflecsi will also serve a number of villages and hamlets, notably Bontuchel, Clawddnewydd, Clocaenog, Cyffylliog, Derwen, Graigfechan, Llanelidan, Pentrecelyn and Rhydymeudwy.
Where fflecsi has previously been introduced in rural areas, it has to date seen an increase in passenger demand over the previous timetabled bus services.
Lee Waters, Deputy Minister for Climate Change with responsibility for Transport, said: "fflecsi is a new scheme to make bus services more accessible and useful for people to make everyday journeys. It gives passengers more control over how they get around by providing access to reliable and flexible travel, whilst also helping to build a greener Wales."
James Price, Transport for Wales CEO, said: "This innovative service is an important part of Transport for Wales and the Welsh Government's vision to reduce car usage and promote greener forms of travel, while also supporting the local economy and ensuring access to public transport. We have been pleased with the success of the fflecsi pilots across Wales and are delighted to be able to expand the service with a new electric vehicle."
Cllr Brian Jones, Lead Member for Waste, Transport and the Environment, said: "There is now flexibility on where passengers can travel. Destinations in Ruthin need no longer simply be the town centre and might now include the leisure centre, one of the three supermarkets, the doctors' surgeries, hospital or indeed anywhere where the bus can safely negotiate. This also includes opportunities for villagers to reach Coleg Llysfasi without changing buses, for example.
"fflecsi offers a solution that can tailor passenger needs much more specifically. The range of pick-ups and destinations is greatly improved. Traditional bus services in Ruthin and the villages to the south and west of the town have traditionally been quite thin. We hope that by being flexible we can offer more opportunities for existing passengers and we can also attract new users."
All news
Share this post