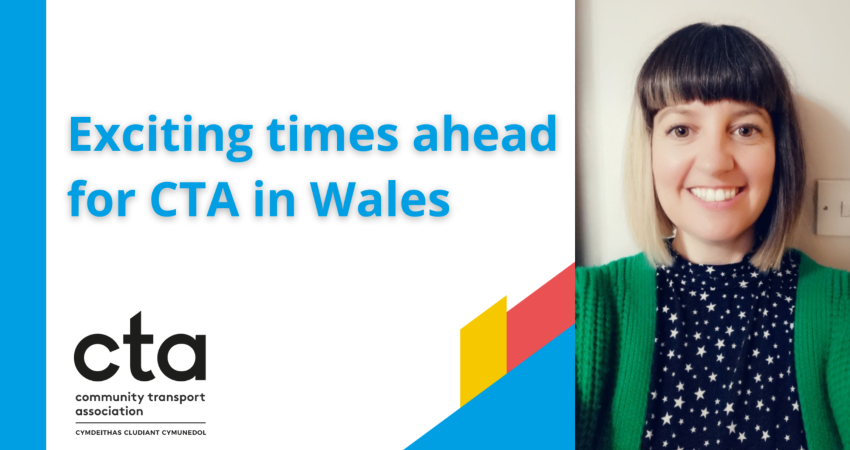 Community Transport Association appoints permanent Director for Wales
17 January 2022
---
Gemma Lelliott has been part of the organisation for 3 years and has been the Interim Director for Wales over the last 6 months.
The Community Transport Association has appointed Gemma Lelliot as their new Director for Wales. She takes over the role from Rachel Burr, who has secured an exciting new position as Director for Diabetes UK.
Gemma has been the Interim Director for Wales over the last 6 months, during which she has been following the organisation's roadmap (created with the support of CTA members) to drive forward policy and public affairs work, as well as operational and development projects.
As a result, the organisation has taken some big steps to secure new funding, influence key decision makers, and continue building relationships, which they hope will lead to even more opportunities to grow Wales' accessible and inclusive transport network.
This appointment comes as Gemma celebrates her 3-year anniversary with the organisation, during which she has done extensive work engaging with members, partners, stakeholders and funders.
Gemma Lelliott, Community Transport Association's Director for Wales said:
"I am thrilled to announce that I have been asked to stay on as Director for Wales on a permanent basis, which as you can imagine I gracefully (fizzing over with excitement!) accepted. I love this job. I love working at CTA with this incredible team and finding ways to deliver the right support in the right places to groups and organisations who are doing their best for their communities.
I am very proud that Bill and the board of trustees have placed their trust in me and feel that I have the right skills, experience and attitude to continue to work alongside operators, partners, and stakeholders to deliver a transport system in Wales that truly works for everyone."
You can find out more about the Community Transport Association's work across Wales and beyond here.
Information Source: Community Transport Association
All news
Share this post