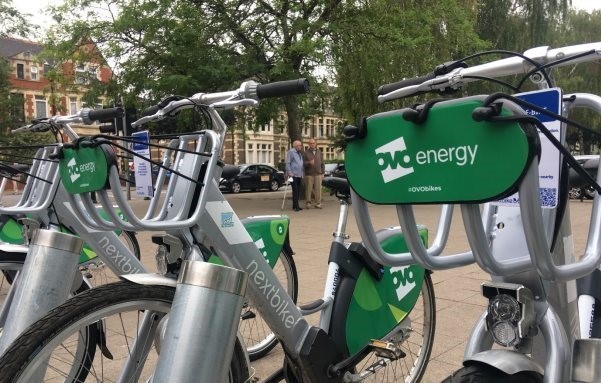 Nextbike resumes in Cardiff with new measures in place following vandalism and theft
13 January 2022
---
The scheme had been suspended for two months in Cardiff and the Vale of Glamorgan but resumed as of 13th January.
OVO Bikes, part of the Nextbike cycle hiring scheme, has resumed its sustainable travel offering to communities across Cardiff and the Vale. This follows its suspension back in November 2021 due to theft and vandalism.
Initially, OVO Bikes will be launching with a smaller fleet of 400 bikes and focus on the highest usage stations. The number of bikes will increase over the next two months as they bring in additional cycles to bolster the fleet to nearly 900 bikes. 
All OVO Bike stations have been reviewed to look for ways to improve the safety of bikes and riders. 11 new e-bike stations in Cardiff and the Vale will be installed, as well as 2 new standard bike stations, making renting and returning bikes to official stations much more convenient. 

This review also involved an analysis of stations that were at a higher risk for cycle crime and had low usage. Below are the four stations that have had to be removed, which will be kept under review for the future:
Closing Stations:
Stacey Road: Station 83200 The next closest standard station is Waterloo Road - Station 8351
Star Hub - Splott: Station 8347 The next closest standard station is Splott Road: Station 8399
Newport Road: Station 8371 The next closest standard station is New Road - Rumney - Station 8381
Brachdy Road Rumney: Station 8382 The next closest standard station is Rumney Police Station: Station 8380
The organisation will be supporting local initiatives and working with 20+ organisations, including South Wales Police, through the new Cardiff Cycle Crime Reduction Partnership to help address the prevalent cycle crime issues facing Cardiff and the Vale.
As part of this, they are working closely with Cardiff Council Youth Services to connect with young people to raise awareness about the value of OVO Bikes to the local community and develop programs to encourage them to value cycling as a whole.
You can find out more about the reinstatement of the scheme, including changes to terms of use, on the Nextbike website.
Information Source: Nextbike
All news
Share this post