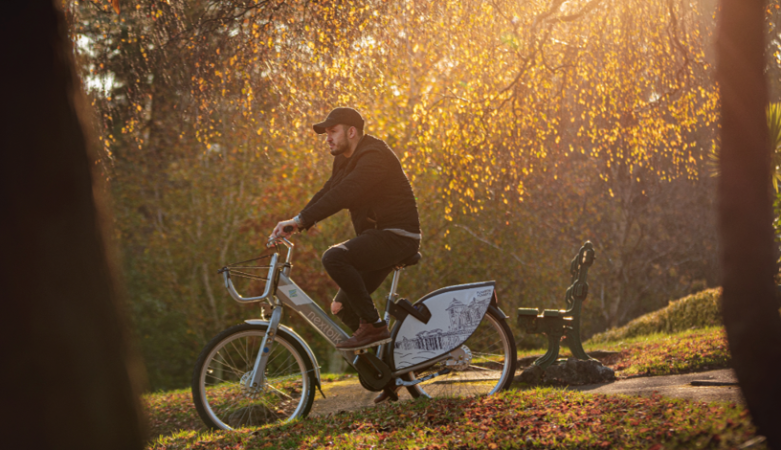 Nextbike scheme in Cardiff temporarily suspended due to theft and vandalism
11 November 2021
---
The bike sharing scheme is being suspended after months of vandalism, theft, and threats against staff.
Nextbike, which runs rental bikes in Cardiff and the Vale of Glamorgan, will be temporarily shut down from 15th November until next year whilst bikes are repaired and replaced.
More than half of their bikes were stolen or destroyed. Nextbike's managing director said the amount of vandalism and theft was "staggering" and not something seen anywhere else in the UK.
However, the operator has warned the scheme could be permanently shut down if the situation does not improve.
Since its launch about 136,000 people have used the bikes across more than 1.2 million rentals. However, since then 260 bikes have been scrapped due to vandalism, and a further 300 bikes have been stolen, with just under half of those being taken since August this year.
Krysia Solheim, Nextbike UK's managing director, said:
"Our teams simply cannot keep up with the level of damage and theft being carried out".
"The bikes will be back on the streets early next year, but if vandalism and theft continue at this rate, we will have no other choice but to pull the scheme permanently," she said.
"It's especially heart-breaking to be doing this during COP26, when the eyes of the world are on the UK as leaders look to agree on climate change solutions."
Ms Solheim said the private investigation firm hired by Nextbike recovered 16 lost or stolen bikes over a two-day period and were "shocked by the behaviours they witnessed".
Dafydd Trystan Davies, chair of the Active Travel Board for Wales, said:
"We know that there are thousands of journeys taken by car every day of a distance of between 2-5km, a perfect distance for a nice ride on a bike and therefore having access locally to bikes is an excellent way to tackle air pollution and climate change"
Insp Darren Grady from South Wales Police said theft or damage to the bikes and abuse of Nextbike staff would not be tolerated.
"In the city centre alone, nine people have recently been convicted at court for such offences resulting in prison sentences, fines and community work," he said.
"We look forward to seeing the bikes back on the streets soon and we appeal to the community to help protect the scheme when it returns."
Nextbike is looking to implement measures such as increased CCTV, moving stations to better lit areas, and providing staff members with body cameras.
Councillor Caro Wild, a Cardiff council cabinet member, said:
"This mindless vandalism has to stop and we will be working closely with Nextbike and the police to ensure that when the bikes do return in the new year.
"It is completely unacceptable for a small number of people to take these bikes away from other residents in the city.
"These bikes are really important for many people in Cardiff to get to work, go to the shops, or visit family and friends."
Lee Waters, the deputy climate change minister for the Welsh government which has helped fund bike sharing in Cardiff, said it was "pretty depressing" but added: "We're sticking with the scheme - we can't let vandals ruin this".
Information for Nextbike services in Cardiff and the Vale of Glamorgan will be paused on our website whilst the scheme is suspended. The scheme continues to operate as normal in Swansea.
Information Source: BBC News
All news
Share this post