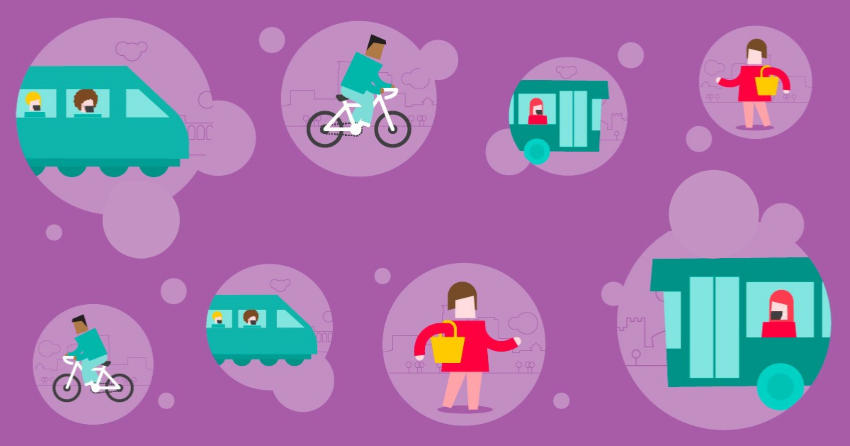 Traveline Cymru launches new 'Travel Map' comprising multi-modal travel information
12 October 2021
---
We've replaced our existing Bus Stop Finder with a new Travel Map to help customers access multi-modal travel information.
The feature allows customers to discover bus stops train stations, park and ride stops* and Nextbike stations with their searched area, all in one interactive map
We understand how important accessing easy-to-understand travel information is to our customers and as such, over the last few months, the team have been working behind the scenes alongside our very own customer testing panel to ensure the map best meets public needs. Specifically, the panel have been developing a brand new feature that allows access to multi-modal travel information in Wales in a few simple clicks.
Users can simply visit the Traveline Cymru Travel Map on its website, search for a locality in Wales, select as many or as few travel modes as they would like to see on the map, click on a travel icon in the area and access all the relevant information needed about that stop or station.
Traveline Cymru is one of the first Traveline regions in the UK to deliver multi-travel options via its information platforms. Following the latest round of customer satisfaction results, it was confirmed that the provision of clear, accurate information is crucial to transport users for which Traveline scored satisfaction levels of 98.4%.
Jo Foxall, Managing Director of Traveline Cymru, said:
"We are incredibly proud to launch this one-stop-shop travel information service to the Welsh public, allowing them to see available and most suitable modes of transport for their journey. This is just one of the tools we have been working on to improve the journey planning experience, following updates to our mobile site last month".
Customers are able to plan their journeys by visiting the bilingual website or using the mobile app, text service or social media channels. Alternatively, customers are able to call the Traveline Cymru customer service line on Freephone number 0800 464 0000, which will be available every day over the festive period apart from Christmas Day and Boxing Day.
* Please note that the addition of park and ride stop information is ongoing.
All news
Share this post