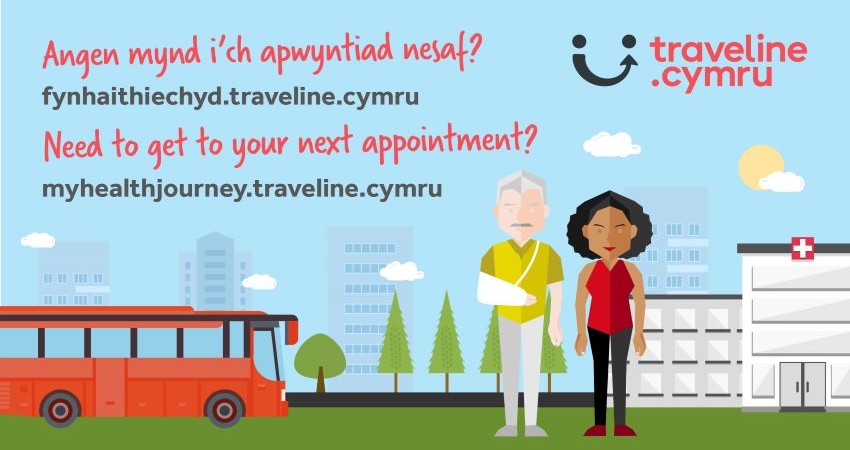 Plan your essential journeys to health sites across Wales using our new Traveline Cymru 'myhealthjourney' website
18 February 2021
---
The myhealthjourney interactive website provides detailed information on the best public transport options for people attending appointments and for staff getting to and from work.
A new platform developed exclusively for those making essential journeys to health sites across Wales has been launched by the Welsh Government's public transport information service, Traveline Cymru.
The myhealthjourney interactive website provides detailed information on the best public transport options for people attending appointments and for staff getting to and from work, whether that's by bus, rail, community transport or active travel.
Created with the support of local health boards, Healthy Travel Wales and funded by Transport for Wales, the platform's dedicated journey planner allows patients and key workers to make the safest, most direct choice when planning essential journeys to hospitals and health centres across Wales, whilst keeping up to date with the latest transport news.
The website also includes links to Traveline Cymru's bus stop finder and suite of services, which give the latest public transport service news.
Due to COVID19 restrictions, myhealthjourney is currently available to assist key workers plan essential journeys to work or for members of the public attending a health appointment. However, once restrictions ease, it will support those travelling to visit relatives or friends in hospitals across Wales.
With Wales currently in alert level 4 restrictions, public transport should only be used for limited purposes which include travelling to work if you can't work at home, travelling for essential shopping or medical needs, travelling to provide essential care or to escape a risk of illness or injury. If you do still need to use public transport for essential journeys, please follow the Travel Safer Guidance.
Jo Foxall, Managing Director of Traveline Cymru, said:
"We are incredibly proud to launch this dedicated service to the Welsh public to support them in making essential, health-related journeys. Traveline Cymru would specifically like to thank all health boards involved in creating the platform as well as Healthy Travel Wales for their support.
"This tool will not only assist those attending health sites in providing a potentially faster, cheaper option than driving, but will enable health sites to benefit from less overcrowded car parks, reduced congestion, and better air quality. It will also help those who are unable to drive after certain appointments to get home safely."
Dr Tom Porter, Consultant in Public Health Medicine and lead for Healthy Travel Wales, said:
"We are delighted to support this new service from Traveline Cymru, and look forward to its wider use in due course by the public, as coronavirus cases decline further.
"It's important in the health service that we not only help people with their health when they reach our sites, but also on their journey to us. Walking, cycling or taking public transport for some or all of your journey helps you stay fit and healthy, and reduces air pollution in our towns and cities. 
"Under current restrictions it is important that people travel only if necessary and follow Welsh Government guidance if they do; but as we see lockdowns being lifted and the weather improving, we look forward to myhealthjourney being the first point of call when planning your journey."
Traveline Cymru, which is a part of umbrella organisation PTI Cymru, provides a 'one-stop-shop' for travel information in Wales. The not-for-profit company is based on a partnership between the Welsh Government, public transport operators in Wales and Welsh local authorities. It provides route and timetable information for all bus, coach and rail services in the country via a bilingual website www.traveline.cymru, its Freephone telephone service (0800 464 00 00) and a suite of services for mobile phone users, including a bilingual app.    
To view the site, visit myhealthjourney.traveline.cymru.
Media enquiries to Hannah Young at jamjar on 01446 771265 or hannah@jamjar.agency
All news
Share this post