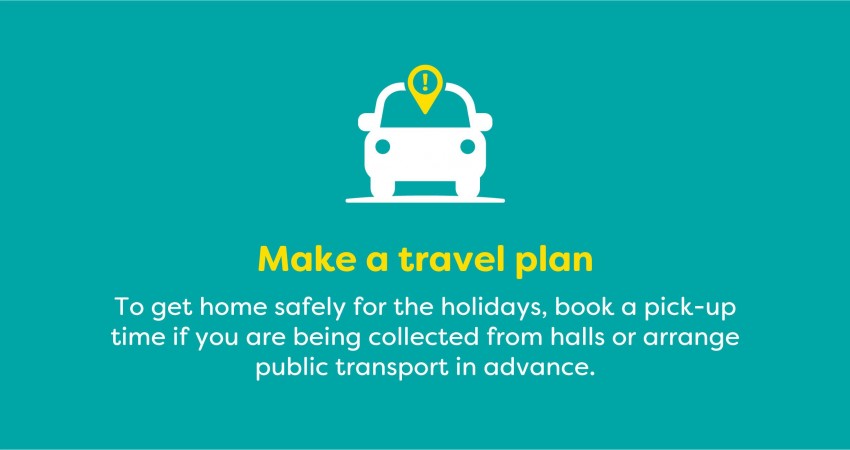 Guidance for University Students Travelling Home for Christmas
01 December 2020
---
Students in Wales returning home for Christmas are being asked to travel between 3rd December and 9th December at the latest.
They will be offered new rapid turnaround tests 24 hours before leaving, the Welsh Government said. Travelling home later than 9 December will be allowed if they need to self-isolate following a positive test.
It follows a similar announcement in England, where students are to be allocated departure dates during a "student travel window" between 3 and 9 December, to minimise the risk of them spreading Covid-19.
Students at Welsh universities planning to travel home for the holidays are being asked to:
Minimise you social contacts before the end of term
Get a test, "ideally within 24 hours" before you travel
Plan to travel no later than 9 December
Familiarise yourself with university plans for ending in-person teaching and arrangements to ensure you can leave campus safely
Plan your journey as far in advance as you can, including booking your ticket and reserving a seat (where possible).
Avoid travelling at peak times.
Allow plenty of time for your journey, especially is travelling by bus or car, as the roads are likely to be busier than normal.
Follow all the latest Welsh Government Covid-19 travel guidelines including the mandatory use of face coverings and safe social distancing.
Useful Links and Information:
If you need any help planning your public transport journey, please ring our Freephone number on 0800 464 00 00.
Welsh Government have put together a Risk Assessment tool that students can use to understand how the choices you make over the coming weeks can affect your risk of catching and spreading the virus. It gives offers advice and practical guidance on how to best protect yourselves and others.
Students who bought an Advance ticket before 11 November (2020) for a date of travel after 9 December can now change their Advance tickets to travel during the window without paying a change of journey fee of up to £10. Flexible tickets such as Off Peak or Anytime can already be rebooked to another date without payment of an admin fee.
Transport for Wales: Transport for Wales have put together a handy list of FAQs to help students get home safely at the end of the winter term on board their services. To help keep students and other passengers safe, Transport for Wales are asking students to plan their journey in advance to avoid delays and potential crowding on board trains. You can also use the Transport for Wales Capacity Checker to see how busy your journey is likely to be.
National Rail: Students can sign up to National Rail's "Alert Me by Messenger" service to get personalised up-to-date travel information about your journey.
Trainline: Using the Trainline app, you can access Crowd Alerts and live train times to stay informed on the go. You can also purchase a digital ticket for touch free travel.
All news
Share this post