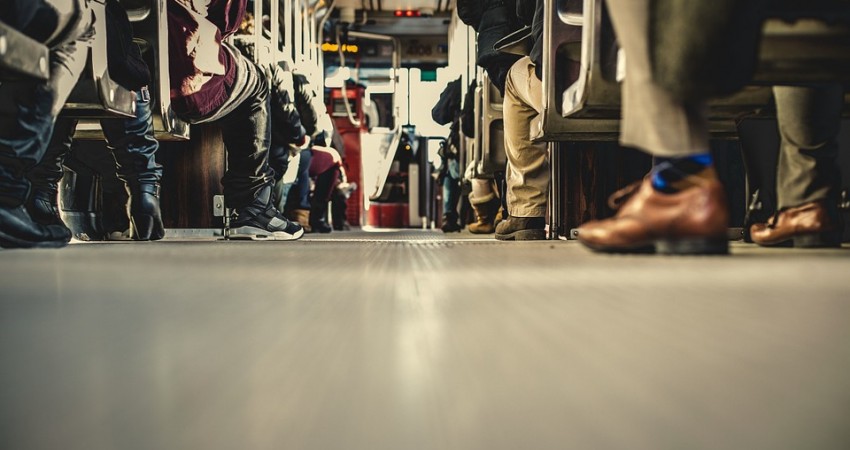 Who is the voice behind bus announcements in Wales?
01 November 2019
---
If you've caught a bus in south Wales, you've heard Sara Owen Jones – one of the best-known people you've never seen.
While thousands of bus users across South Wales hear her soothing tones daily, her identity has up until now remained a mystery.
Since bilingual next stop announcements were introduced on buses as part of the Welsh Language Standards, Sara, who works at Traveline Cymru's call centre in Penrhyndeudraeth, has been the voice of buses.
The Welsh speaker from Porthmadog is the voice of several operators including Newport Bus, First Cymru Buses and New Adventure Travel.
Traveline Cymru took the wheel to ensure bus operators can deliver their services bilingually by offering the next stop announcement recordings from Sara.
The Welsh Government has invested in the provision of on-board AV equipment which allow next stop announcements and the improvements have been made in line with the Welsh Language Standards' aim to establish rights and freedoms for the users of the Welsh language by ensuring every public organisation offers its services bilingually.
Speaking of her experience Sara says: "I previously recorded Interactive Voice Response (IVR) messages for the call centre, and it went from there really.
"I was told I had a dulcet voice and basically I was the one that would do the recordings.
"It was a pretty straight forward process. I had to sit in a quiet room, in front of a laptop with my headset on and just say each stop one by one. The Welsh stop name would be recorded first and then the English stop name.
"I am very proud I was chosen even if it's a bit strange listening to your own voice on the bus."
Jo Foxall, Managing Director of Traveline Cymru, said: "Since the introduction of the bilingual bus service the feedback from Welsh speaking customers has been very positive.
"After the introduction of the new Welsh Language Standards, operators were keen to deliver their services bilingually. Operators approached us as we are considered a quality bilingual provider and thought we were best placed to do it.
"We are committed to supporting the Welsh language and want to ensure Welsh speaking passengers are given the option to receive a fully bilingual service during their journeys."
For bilingual recordings and translation services contact PTI Cymru, the company that runs Traveline Cymru: https://pti.cymru/
-Ends-
Media enquiries to Rhian Richards at jamjar on 01446 771265 or rhian@jamjar.agency
All news
Share this post