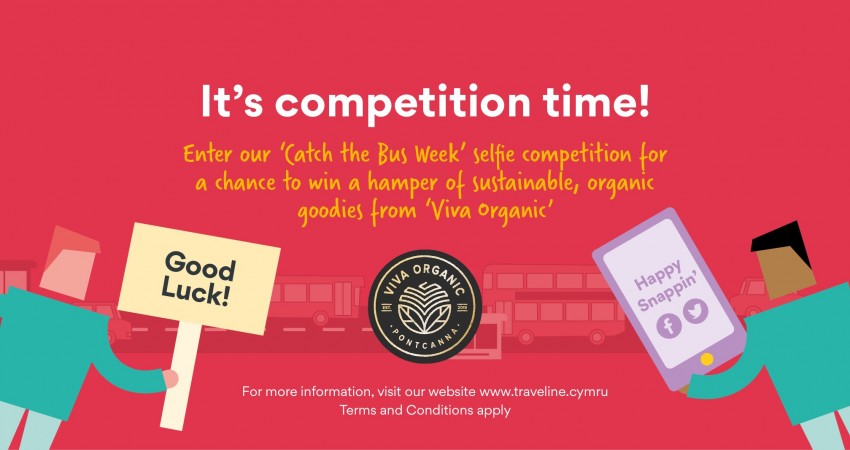 WIN with Traveline Cymru's 'Catch the Bus Week' Selfie Competition from 1st-7th July!
26 June 2019
---
We're asking you to send in your best bus journey selfies to be in with a chance of winning a fantastic hamper full of sustainable, environmentally friendly gifts from Viva Organic in Cardiff!
What is 'Catch the Bus Week'?
Now entering its seventh year, 'Catch the Bus Week' (a Greener Journeys initiative) is a nationwide campaign that aims to promote the environmental, health, social and economic benefits of ditching the car and making some of your journeys by bus.
99.9 million passenger journeys were undertaken on local buses in Wales in 2017-18. For many of you, bus services are an affordable and accessible lifeline to help you travel to work, school, college, your local hospital or town centre with ease.
During this year's 'Catch the Bus Week', we want even more of you to hop on board. Whether you're a regular bus user, or can swap just one car journey a week for a ride on your local bus, we want to hear from you!
You can find out all about Catch the Bus week here.
What's the competition?
Entering our competition couldn't be easier.
All you need to do is send us your best bus journey selfie from 1st-7th July ('Catch the Bus Week') to be entered into our prize draw. The winner, who will be chosen at random, will receive a hamper full of environmentally friendly, zero-waste goodies from our friends at Viva Organic. We'll also be sharing some of your selfies across our social media platforms to encourage others to catch the bus!
You can send your selfie to us in any of the following ways:
You can email us on feedback@traveline.cymru with 'Catch the Bus Week Competition' as the subject line.
Tag us on Instagram @travelinecymru
Mention us on Twitter @travelinecymru
Send us a message on Facebook via our page @travelinecymru
Your selfie will then count as your entry into the prize draw, with the winner being announced after the closing date (7th July). You are allowed to enter the competition with a different selfie once a day, meaning you have up to 7 chances to enter if you send us a picture each day throughout the competition. The more you catch the bus, the better your chances of winning!
We will be in contact with the winner once they have been chosen at random, so please don't share any of your private information (such as your email or home address) if submitting your entry on social media.
Yes, it's that simple!
Please make sure you read all the Terms and Conditions at the bottom of the page before entering.
What's the prize?
Viva Organic is a zero-waste shop located in Pontcanna, Cardiff, which first opened its doors in 2018. The shop offers customers a zero-waste and sustainable food shopping experience where absolutely everything is organic. From their juices, to speciality coffees, organic soaps, toothbrushes and tote bags.
Owner Rod Thomas and his wife, Siobhan, have two children with dairy, gluten and soya allergies. They decided to shop organically and cut out any foods which may contain pesticides to help manage their children's dietary requirements, but struggled to find somewhere in Cardiff where they could source these organic and sustainable goods. So Viva Organic was born!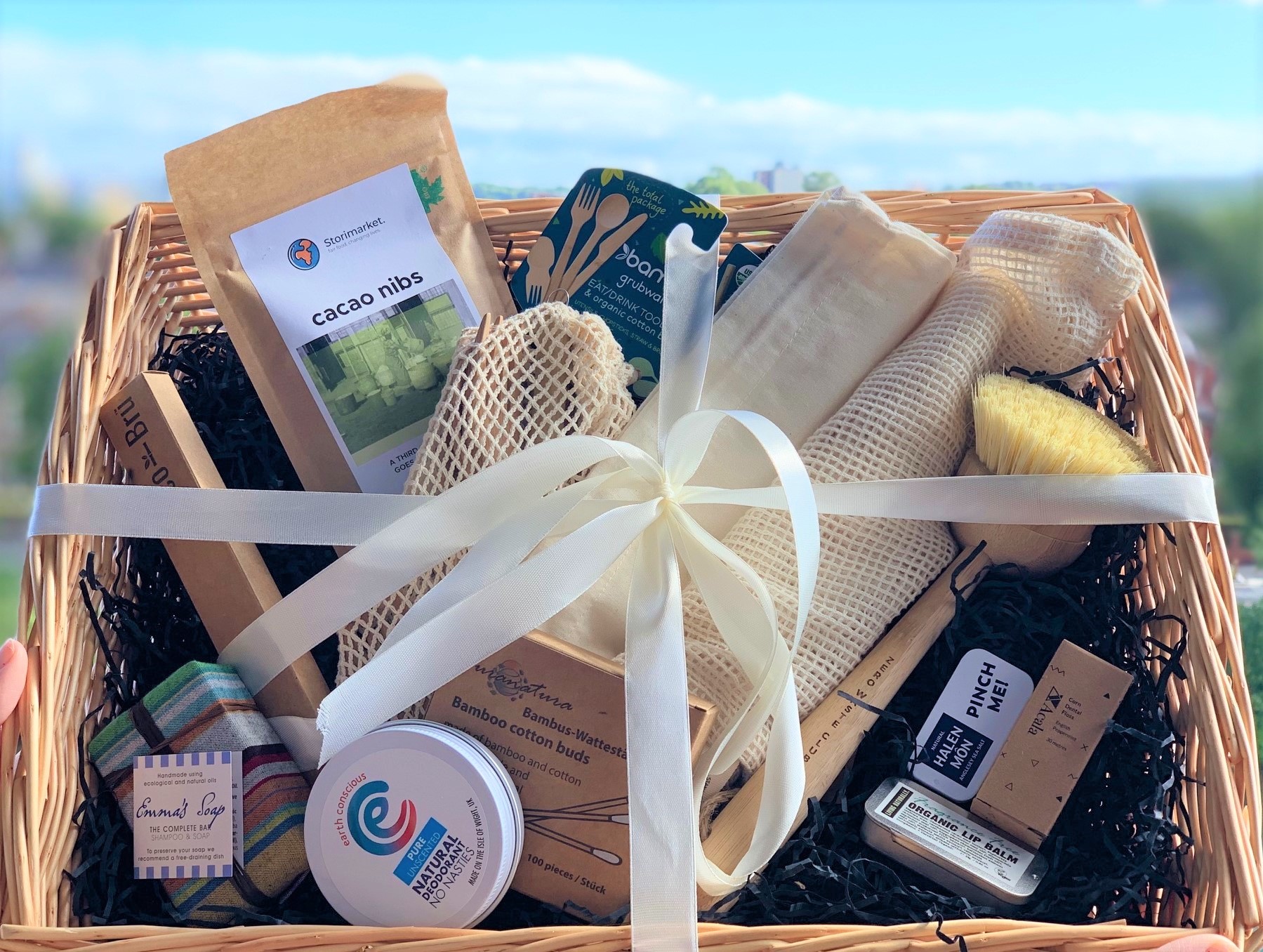 We think that the environmentally friendly, sustainable and positive message at the heart of Viva Organic ties in perfectly with the environmental, physical and mental health awareness we are trying to promote during 'Catch the Bus Week'. They are also an independent business who benefit from customer shopping locally. We are thrilled that we will be able to give away one of their fantastic hampers to our competition winner!
Best of luck everyone, and remember to hop on board this Catch the Bus Week!
If you need any help planning your bus journey, remember to use our Journey Planner, Timetables Page and Bus Stop Finder on the Traveline Cymru website and app.
We also have a Freephone telephone number, which you can call on 0800 464 00 00. One of our friendly advisors will be on hand to answer all your public transport information queries from 7am-8pm daily.
To find out more about 'Catch the Bus Week 2019', please visit our blog page or the campaign's website.
Terms and Conditions
1.       The competition will open on 1st July 2019 and close at 23:59 on 7th July 2019.
2.       This competition is open to all residents in Wales and the hamper must be delivered to a Welsh address.
3.       Each customer is allowed to enter the competition once a day with a different selfie. This means you have up to 7 chances to enter the weeklong competition.
4.       Any images sent that are considered inappropriate will automatically void your entry into the competition.
5.       Please do not leave any personal details such as your email address or home address when entering via social media platforms. We will be in touch with the winner after the completion has closed to collect this information.
6.       Entries must not be sent in through agencies or third parties. Any such entries will be invalid.
7.       The prize hamper is the only prize for the competition and cannot be exchanged for a cash alternative.
8.       The winner will be chosen completely at random and Traveline Cymru's decision is final.
9.       Traveline Cymru reserves the right to alter, amend or close the competition if necessary.
10.   In the event of a dispute, the decision of Traveline Cymru will be final.
11.   Entry to this competition signifies acceptance of these terms and conditions.
12.   This competition is organised by PTI Cymru Ltd, trading as Traveline Cymru.
All news
Share this post