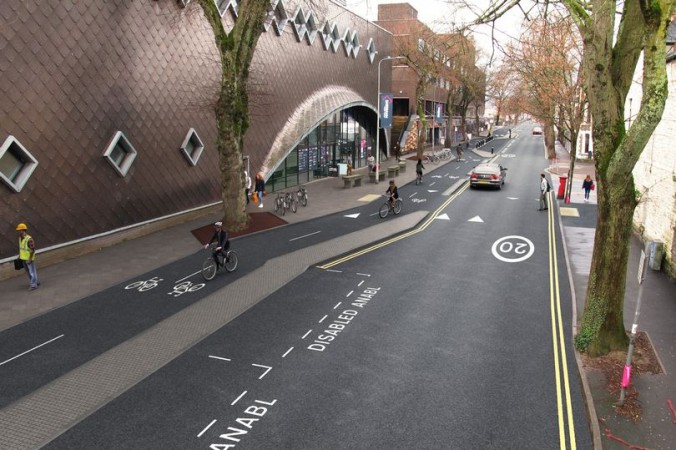 Cardiff's First Segregated Cycleway to be Built in City Centre
18 March 2019
---
Work on the cycleway is set to begin on Monday 18th March and is the first of five proposed phases.
The first phase along Senghennydd Road will cost £1.4 million.
Once complete, the cycleways will total a 24 kilometre cycle route connecting the north, east, west and south west of the city to the city centre and Cardiff Bay
The first of this five-phase cycleway project in Cardiff city centre will begin on Monday 18th March, with completion expected at the end of October. The cycleway will run from the top of Senghennydd Road by the Woodville Pub, past the Cardiff University Students' Union and the Sherman Theatre and onto St Andrew's Place.
Cycleways are also planned from Dumfries Place to Broadway in Splott, along Lloyd George Avenue from Cardiff Bay to Smart Way, Sophia Gardens through to Llandaff, and from the city centre through to Ely Bridge. Eventually, Cardiff Council want the Senghennydd Road route to connect the city centre to University Hospital Wales and Heath; a consultation will begin on this in the autumn.
The cycleways will total 24 kilometers of cycle routes running through 16 wards. Public consultation has now begun on the Cardiff Bay cycleway. The proposed plan is to remodel the existing cycle path and footway, as well as the traffic lights and zebra crossing on Lloyd George Avenue.
Dedicated cycleways are also being proposed in the city centre for Central Square, Westgate Street, Castle Street, Boulevard de Nantes, Stuttgarter Strasse, Dumfries Place, Station Terrace and Churchill Way.
Senghennydd Road is not expected to be closed during these works. However, parts of the road may be shut on a temporary basis. Once the works are completed, the number of pay and display parking bays on Senghennydd Road will be reduced from 104 to 25. The number of residents' parking bays will be reduced from 43 to 26, whilst disabled parking bays will not be affected by the scheme.
Information Source: Wales Online
All news