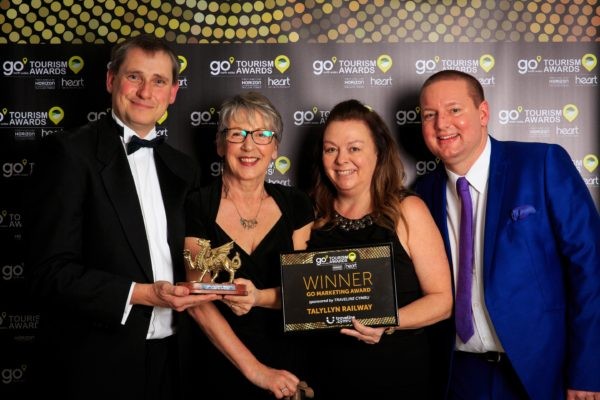 Traveline Cymru praises "innovative work" of award-winning railway
05 December 2018
---
Wales' public transport information company Traveline Cymru celebrates the "innovative work" of Talyllyn Railway, the world's first preserved railway, as it scoops coveted award sponsored by the organisation.
The Go Wales Tourism Awards marketing award, supported by Traveline Cymru, specifically recognises innovation in tourism marketing, demonstrating a true understanding of the market and the needs of customers.
Judges praised the creative campaign for its use of impressive digital tools including a mobile friendly website and a suite of video content incorporating drone footage and a unique 'shovelcam'.
Comments provided by the judges acknowledged the innovative use of technology, saying: "Our winner certainly showed creativity within their marketing technique. They certainly are steaming ahead with a marketing campaign that is right on track!"
Talyllyn Railway Company's chairman, David Ventry, said:
"In recent years, we have been seeking to improve the marketing of the railway and the appointment of a full-time marketing officer, Dan King, was a key step in that process.
"Dan, along with the other members of the team, has initiated a fresh approach to our marketing and the results in this year's increased passenger numbers are there for all to see.
"This award is a richly deserved accolade for the fine work that has been done by the team."
Jo Foxall, Managing Director of Traveline Cymru said:
"We're absolutely delighted to have supported this award, and to see such a worthy winner is all the more pleasing.
"We're always excited to see innovative and creative work being done to promote the fantastic services of Welsh transport organisations, and Talyllyn Railway's successful marketing campaign is a fine example of its passion for the industry and commitment to its customer.
"While there is excellent work being done across Wales, we're always happy to see success across north Wales, where so many of our team are based at our bilingual contact centre. We're delighted to have been involved with this year's award and congratulate Talyllyn Railway on their very worthy win."
Traveline Cymru is a not-for-profit company based on a partnership between the Welsh Government, public transport operators in Wales and Welsh local authorities. It provides route and timetable information for all bus, coach and rail services in the country via a bilingual website, its call centre and a suite of services for mobile phone users.
-ENDS-
For media enquiries please contact Shelley Phillips at jamjar on 01446 771265/shelley@jamjar.agency
All news
Share this post