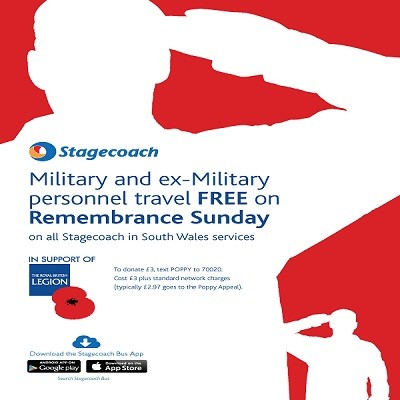 Stagecoach in South Wales Supports the 2018 Poppy Appeal
06 November 2018
---
Stagecoach in South Wales is supporting military personnel past and present this Remembrance Sunday (11 November 2018).
This year as part of the transport companies activities to commemorate the contribution of British and Commonwealth military and civilian servicemen and women in the two World Wars and later conflicts.
A contribution has been made to the Royal British Legion, enabling all drivers who choose to wear a poppy to do so.
On Remembrance Sunday, Stagecoach in South Wales will also be offering free travel to Armed Forces personnel carrying a military ID card and to veterans wearing the veteran's badge. There will be posters on board buses encouraging text to donate.
Remembrance Sunday is a day for the nation to remember and honour those who have sacrificed themselves to secure and protect our freedom.
This year, Cardiff Castle will host the 'Field Of Remembrance' event on Wednesday 7th November from 11am. Full details can be found here:
https://www.britishlegion.org.uk/remembrance/remembrance-events/fields-of-remembrance/
It is hoped that personnel wishing to pay their respects will take up the offer to travel across South Wales to the event. Services 132, 25, 26, X3, X4,T4,124,136,122 operate to Cardiff, you can plan your journey here https://www.stagecoachbus.com/
Stagecoach in South Wales, Managing Director Nigel Winter said; "Once again, we are proud to be supporting Remembrance Sunday in this way by. This year, 100 years after World War I ended, we are supporting our armed forces to say Thank you to all who served, sacrificed and changed our world.
"Through our support we hope we can send a clear message to our Armed Forces communities in South Wales that we appreciate and recognise the commitment they have made to our country over the years."
Stagecoach Group signed the Ministry of Defence's Armed Forces Corporate Covenant in support of the Armed Forces Community. As a signatory of the Covenant, the company recognises the value serving personnel; regular and reservists, veterans and military families contribute to both the country and businesses across the country.
For further information on Stagecoach UK Bus visit: www.stagecoachbus.com
All news
Share this post