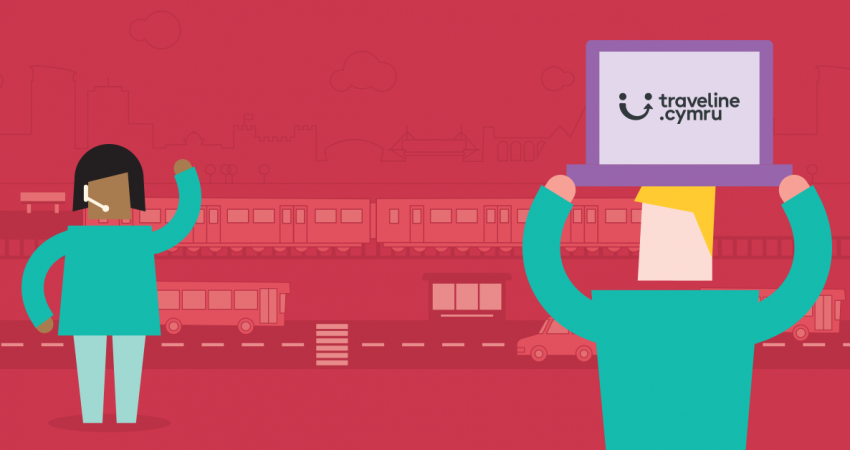 Traveline Cymru breaks records with 5m pieces of information delivered
02 February 2017
---
Traveline Cymru is celebrating a record year of business, which saw it deliver over five million pieces of travel information.
According to its end of year report, the Welsh Government's public transport information service delivered more information than ever, with an overall figure of 5,717,612 in 2016, nearly double that of 2015.
The biggest increase came from information delivered through its website, which saw it distribute over 1.5m more through this channel compared to 2015.
Traveline Cymru's mobile phone app also experienced substantial growth with a 19.9% increase in usage, compared to 9.7% the previous year.
Jo Foxall, Operations Director at Traveline Cymru, said: "We are delighted with the results of last year. We've seen a consistent year on year improvement, and the latest figures are outstanding. Over recent years we have invested in our website and digital channels as a result of feedback from our customer, and this is paying dividends. The customer has always been at the heart of everything that we do, and we work diligently to ensure that they can access essential transport information wherever they are, at any given time, and at no extra cost."
The record results follow its highest ever customer satisfaction scores earlier in 2016 where 97% of contact centre users surveyed were 'very/quite satisfied' with the service they received and 93% of respondents were likely to use the Traveline Cymru website again.
It also comes off the back of the launch of a new Freephone service, which aims to provide essential support, timetables and journey planning advice to the digitally excluded. The switch to a Freephone number comes as Traveline Cymru unveils a refreshed brand, following extensive customer research.
Jo continued: "2016 was a really pivotal year for us, with our customer satisfaction results and the launch of our new 0800 number. We're now looking ahead to another year of improving the accessibility of transport information for everyone in Wales."
Traveline Cymru is a not-for-profit company based on a partnership between the Welsh Government, public transport operators in Wales and Welsh local authorities. It provides route and timetable information for all bus, coach and rail services in the country via a bilingual website, its call centre and a suite of services for mobile phone users.
Ends
Media enquiries to Shelley Phillips or Lyndsey Jenkins at jamjar PR on 01446771265 or Shelley@jamjar-pr.co.uk
All news
Share this post