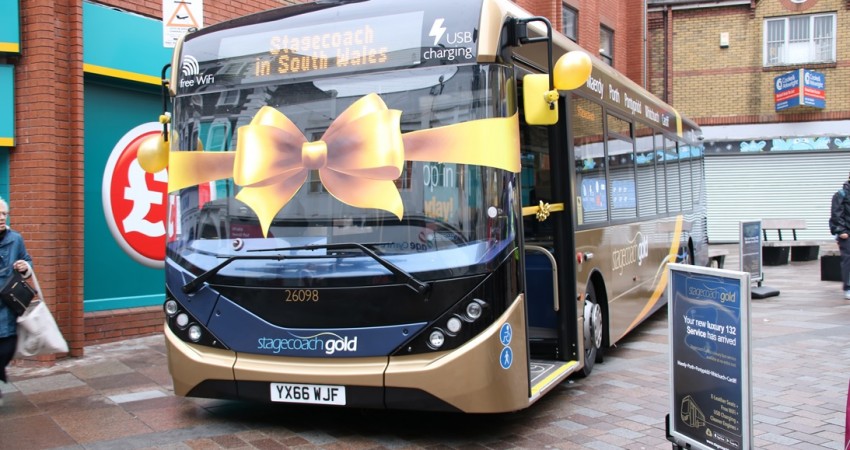 Stagecoach gold in the Rhondda valley!
05 December 2016
---
£4 million invested in 24 new vehicles for service 132; Rhondda Valley to Cardiff.
New vehicles will be equipped with free Wi-Fi, USB charging points and more comfy high back e-leather seats with softer more luxurious interior finish and special Gold livery.
Passengers travelling between Maerdy in the Rhondda valley to Cardiff will be able to travel in greater style and comfort as Stagecoach in South Wales officially launches its latest fleet of luxury Gold buses on Friday 2nd December 2016.
Stagecoach's £4 million investment means travellers using the Stagecoach service 132 bus route, which passes through Porth, Pontypridd and Whitchurch toward Cardiff, will be treated to a five star luxury service as they enjoy the comfort of leatherette high back seats, increased legroom and free WiFi and USB charging.
The latest launch of Stagecoach Gold buses is the second fleet of its kind to be introduced in South Wales. The service 132 joins the X24 gold service currently operating from Blaenavon, Varteg Hill, Pontypool, Cwmbran and Newport which went Gold last year.
Nigel Winter, Managing Director of Stagecoach in South Wales commented: "We continue to significantly invest in our fleet to improve our service and passenger experience. Investment in new buses since 2007 (10 years) has reached £29.4m with 263 new buses, with a further £4m this year adding to a consistent pattern of investment in passenger transport in South Wales. Working with our partner at Rhondda Cynon Taf County Borough Council, their investment in the passenger waiting environment and with bus priority features, coupled with the new bus investment, will deliver a major improvement for bus customers in the Rhondda Fach".
Our Gold buses have been designed with our customers' needs in mind. We appreciate that on journeys, such as the Maerdy to Cardiff service, our customers value the use of free WiFi and USB charging and welcome greater comfort and luxury. As part of our Gold service we ensure each one of our drivers is trained to provide a five star customer service experience. Our team of regular, enthusiastic drivers will help you, whether it's your first time travelling onboard or you're a frequent traveller, and the touches of luxury will make a real difference to a more enjoyable and with free Wifi and USB charging productive journey".
To celebrate the official launch, a new gold liveried bus was on display at Pontypridd town centre for customers to view in advance of going into service on Monday 5th Dec. Councillor Mark Norris, Cabinet Member for Corporate Services for Rhondda Cynon Taf County Borough Council launched the new service. Passengers and passer bys were invited to take a photo on the bus as well as being given free gold giveaways.
Councillor Mark Norris, Cabinet Member for Corporate Services for Rhondda Cynon Taf County Borough Council, said: "Throughout Rhondda Cynon Taf some of the newest vehicles in South Wales are running and it is important that the Council continues to work with its operating partners by similarly investing in the renewal of its public transport facilities.
"I am absolutely delighted to be launching Stagecoach's new Gold bus Service, as this is yet another leap forward in service provision for Valleys residents and complements the low rider buses and the continued investment that is being made to improve bus stops and shelters across the County Borough.
As a Council we are investing heavily in our transport and highways infrastructure and will continue to support and work with our partners, such as Stagecoach to ensure our residents get the "gold" standard transport service they deserve. It is hoped that this new service will clearly help with this and will also help to reduce congestion on the roads by virtue of it being made easier to travel by public transport to Pontypridd and beyond."
Each one of the single decker Stagecoach Gold buses is built with a Euro 6 environmentally friendly engine designed to cut exhaust emissions. The fleet also runs on a greener mix of 30% recycled biofuel and 70% low sulphur diesel to reduce C02 emissions.
There will be twenty four brand new Stagecoach Gold buses in operation along the 132 route which will operate every 12 minutes Monday to Saturday daytimes and half hourly throughout most of the day on Sundays.
The Stagecoach Gold buses are easy to access, with a low level floor to make it easier for wheelchairs and pushchairs. All vehicles can carry a wheelchair safely and drivers are trained and able to provide assistance if required.

ENDS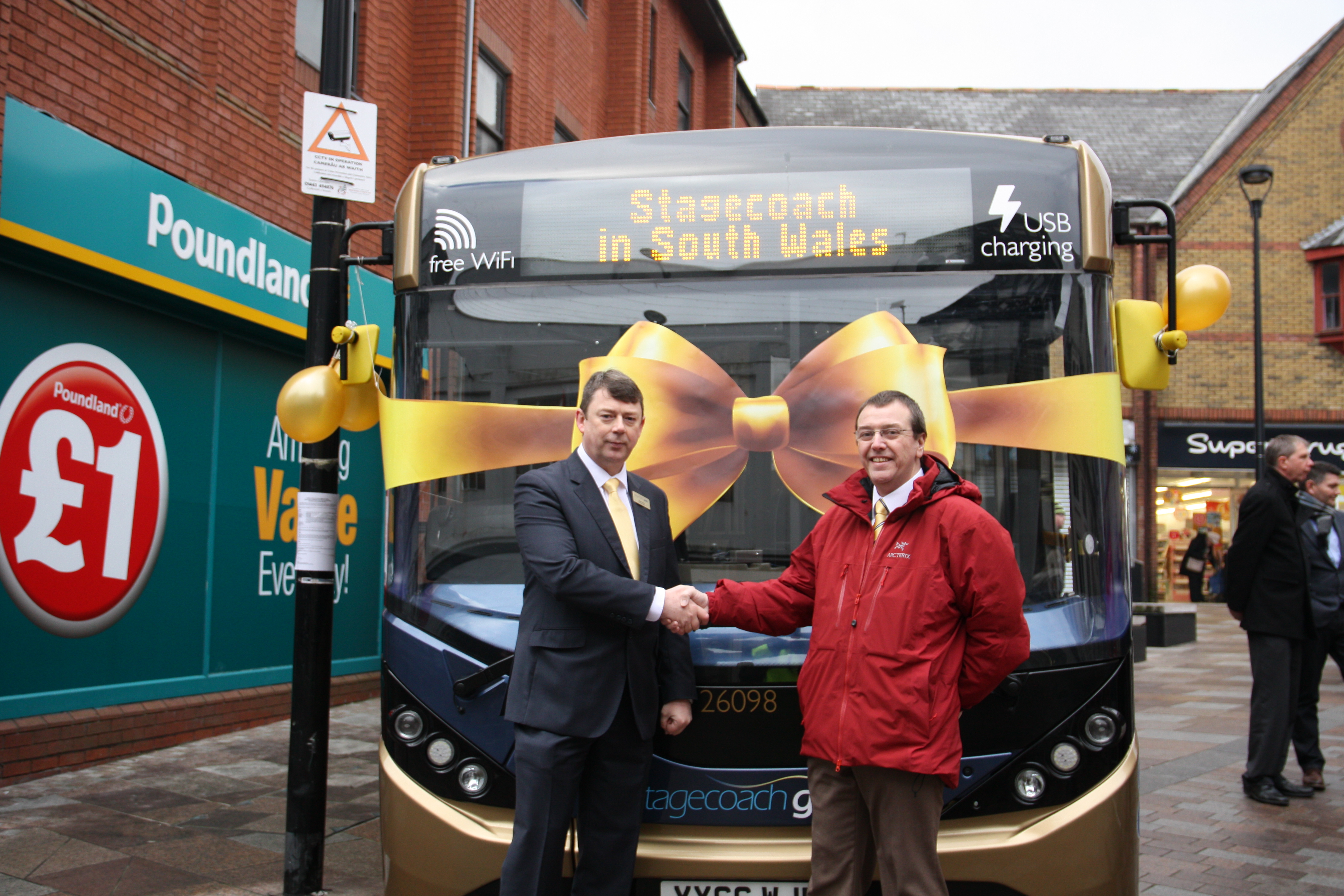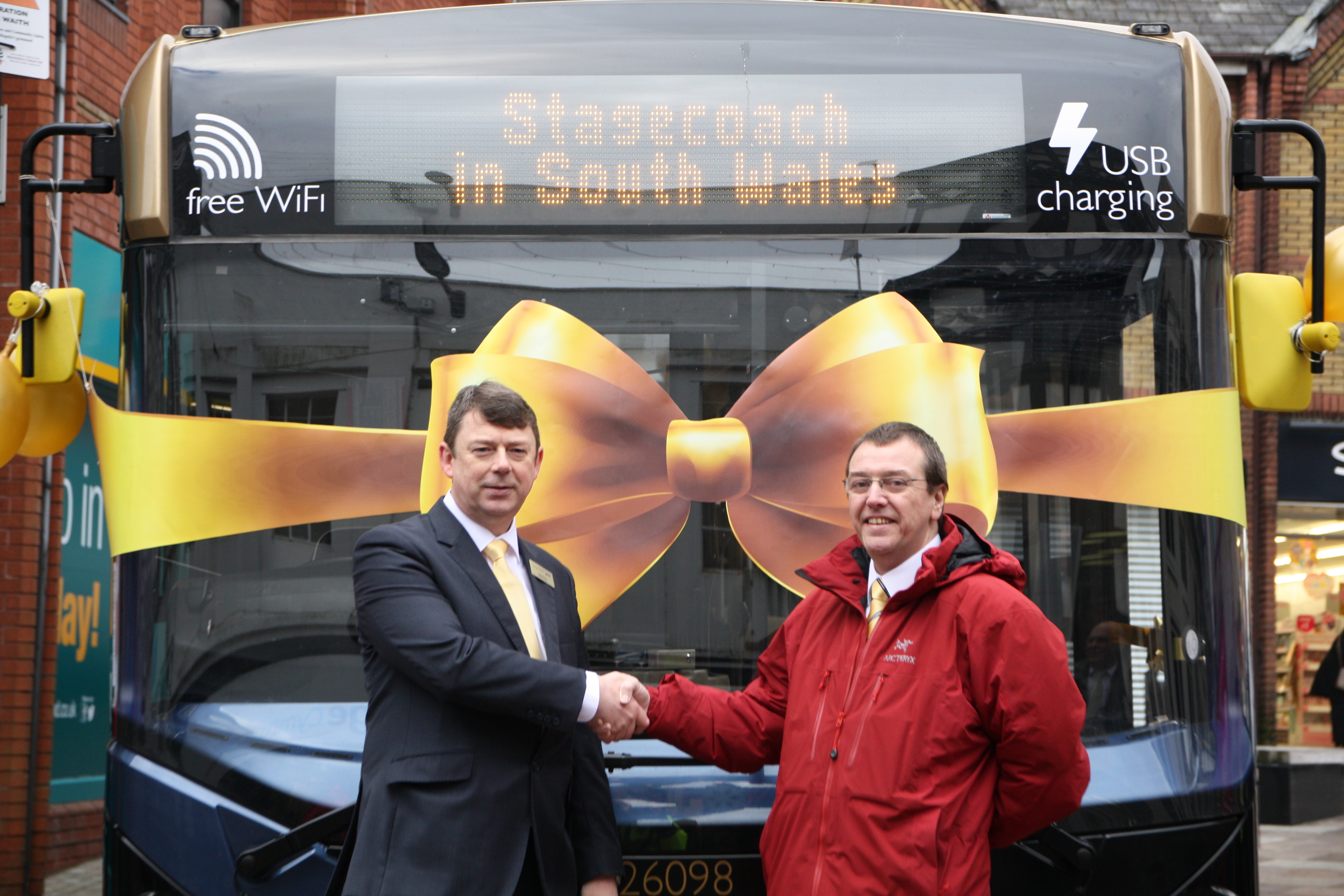 All news
Share this post