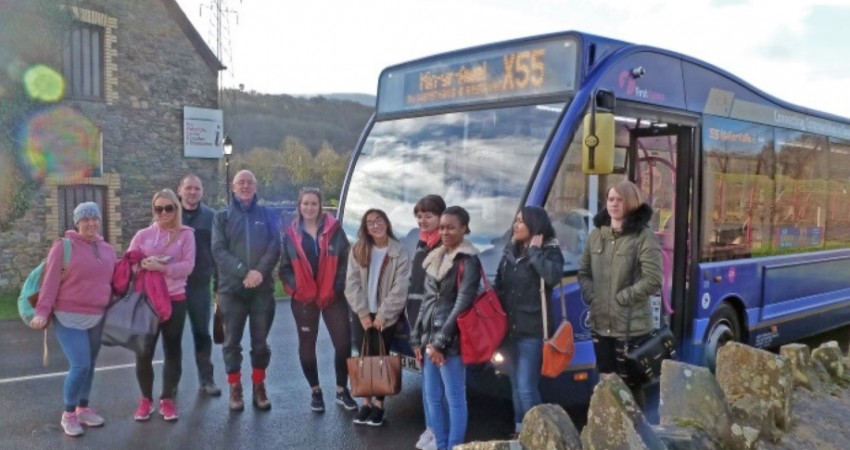 A Bus to Adventure!
11 February 2016
---
There was plenty of water coming over the Scwd Gwladus fall today to greet ten tourism students from Swansea's Trinity St David University on a journey to adventure on the X55 'Clipper' bus from Swansea to Waterfall Country in the Vale of Neath. The students had recently undertaken a workshop on the opportunities afforded by public transport for tourists in search of adventure.
Andrew Campbell, Head of the School of Tourism & Hospitality at the University is pleased with this example of workshop theory being applied in practise, enhancing students' knowledge. He is strongly appreciative of the collaboration between the University and BayTrans Elin, who hails from Betws-y-Coed and 20 years old today, was one of the students who took part, said 'it was a really adventurous day out and unexpected as none of us realised this amazing waterfall country existed so close to Swansea. It was so easy to get to on the bus and a real bonus was seeing all that water following heavy rainfall; I will be telling my friends all about our adventure today'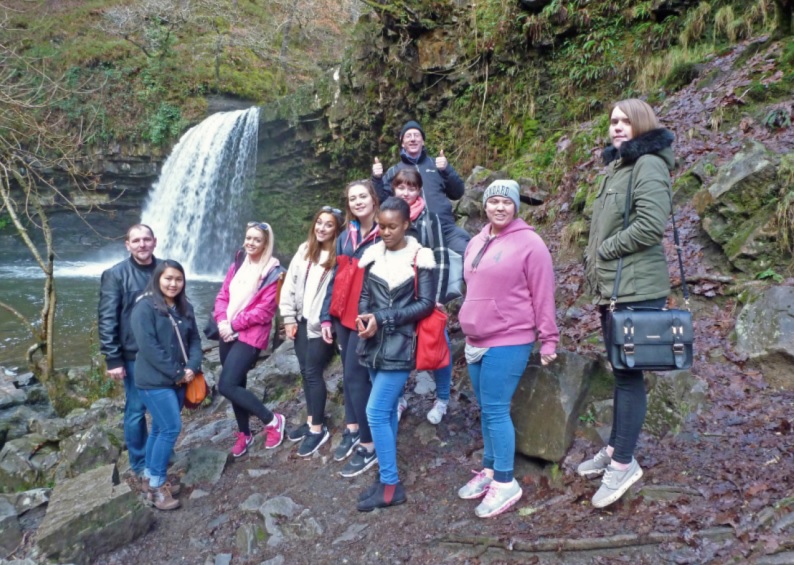 Students at Scwd Gwladus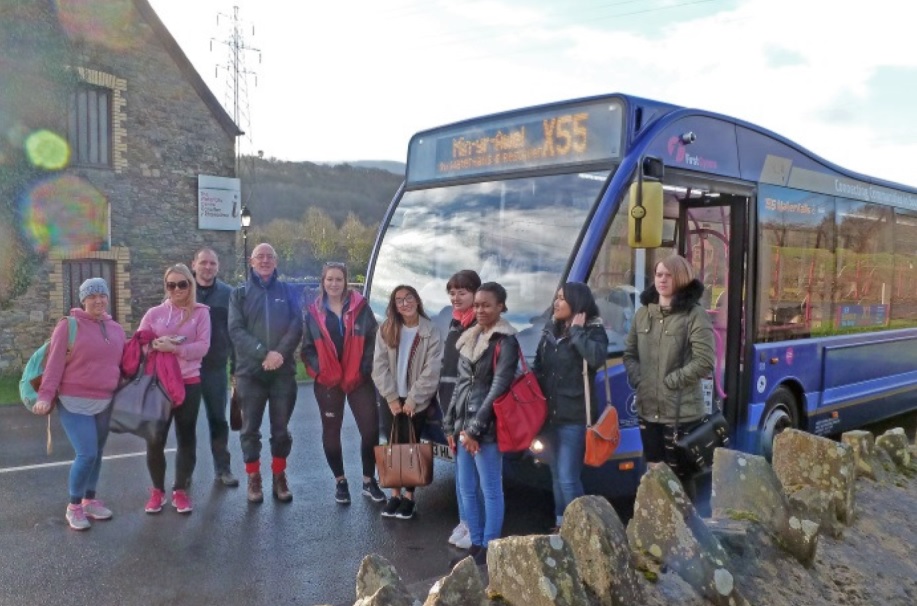 Arriving at Pontneddfechan by 'Clipper'
Taking a bus to adventure pursuits in the Valleys of Neath Port Talbot is BayTrans' contribution to Visit Wales 2016 Year of Adventure. The Partnership  recently secured funding through Regenerate Neath Port Talbot's programme of the Wales Rural Development Partnership. Over the next two years, it will be encouraging more visitors to the Valleys using the excellent public transport links. Partnership Officer John Davies hopes to replicate his recent success with numerous overseas visitors using Gower buses, to the Valleys.
The X55 is one of a network of express 'Cymru Clipper' services from Swansea and Neath and recently extended to Waterfall Country at Pontneddfechan. 'Clippers' can also get visitors to other waterfalls; direct to Margam Country Park and to a wide range of adventurous activities and walks in the Valleys. First Cymru Managing Director Justin Davies said he expected the 'Clippers' would help rejuvenate tourism in the Valleys by providing easy access to adventure for those without or not wishing to use their car.
ENDS
For further information, please contact John Davies on 07967 389329 or johnbaytrans@btinternet.com 
All news
Share this post