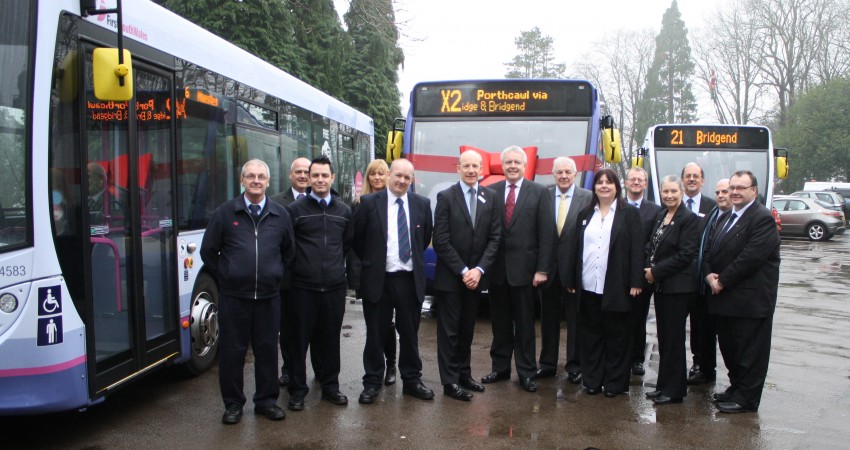 New buses for Bridgend given proper welcome
14 February 2014
---
Press Release
New buses for Bridgend given proper welcome

Carwyn Jones, Welsh Assembly Member for Bridgend, joined representatives from Bus Users Cymru, Guide Dogs and Bridgend County Borough Council last week to help welcome the investment made by First Cymru in local bus services in and around Bridgend.

Mr Jones, along with other invited guests, attended an event in Bridgend and was given the opportunity to have a close up look at some of the new buses the company's bought for use in the area. In the past year First has invested £4.56million in 31 new buses for South East Wales.

Three vehicles were put on display for guests to look at: two Optare Versa buses - one, which was bought last summer for use on Service X2 (Porthcawl – Cardiff) and one that was bought for use on Service 63 (Bridgend - Porthcawl) - and an ADL Enviro 200 vehicle. The Enviro 200 bus was one of 14 delivered just before Christmas for use on Services 32/36 in Maesteg and Services 12 and 22 in Bridgend.

While the ADL Enviro 200 buses differ slightly from the Optare Versa models, each new vehicle features leather seats as standard, while also offering customer access to free on-board WiFi as they travel. In addition each of the new buses has a slightly more flexible internal layout (when compared the older buses in First's fleet), giving customers more options when travelling with shopping trolleys and pushchairs while leaving room for any wheelchair-bound customers who wish to travel.

The new buses are also better for the environment than their predecessors too. They have each been fitted with Cummins Euro 5 EEV engines, thereby offering exceptional performance while also creating less noise and producing fewer emissions.

Talking about the buses, Justin Davies, Managing Director for First Cymru, says: "These buses are a brilliant addition to our fleet and make travelling around the area much nicer for our customers. As well as having leather seats, the vehicles also have a much more flexible internal design with folding seats on both sides of the saloon at the front. This means that there is more space for people travelling with shopping trolleys or buggies, without those things needing to impinge on the wheelchair space. The buses each have free WiFi installed on them too, meaning our customers can surf the web, check and respond to emails, or even do a spot of online shopping, while they're travelling in and around the area."
Talking about what he saw, Carwyn Jones, Assembly Member for Bridgend, said: "This is a significant investment from First Cymru which I am sure will greatly benefit the passengers using the service."
Adding, Councillor Mel Nott, Leader of Bridgend County Borough Council, said: "This is good news for communities throughout the Llynfi Valley and I am pleased to see First Cymru delivering such significant investment into Bridgend County Borough's public transport network."


For more information about First Cymru or to view or download timetables for local bus services, log on to www.firstgroup.com/cymru.

First is on Twitter and Facebook at www.twitter.com/FirstCymru and www.Facebook.com/FirstCymruBuses.


The company has also created an app for Apple and Android smartphones. This provides bus information – including access to timetables and route maps as well as information about fares, local service disruptions and company news. It is available to download for free from Apple and Android app stores.

ENDS
All news
Share this post