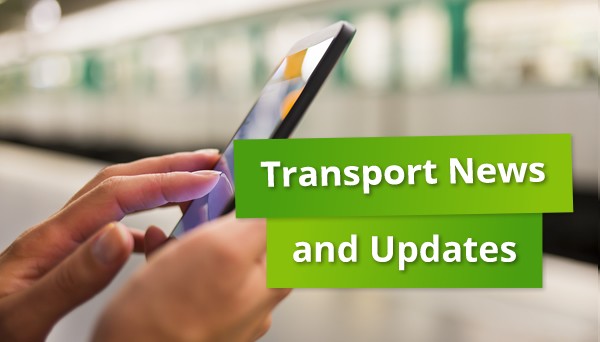 First's support for local man leads to fundraising boost for cancer charity
20 January 2014
---
Press Release
Maggies Cancer Care has received a welcome boost to its fundraising totals following a charity cycle ride that local man, David Whitehead (65) from Killay in Swansea, did for the organisation.

David, a retired local government official, who previously worked for Swansea Council and the Welsh Assembly Government, took part in a gruelling charity bike ride from Paris to Barcelona last summer raising £1,700 for Maggies Cancer Care. His fundraising efforts have been subsequently boosted by First Cymru who, through its charity and sponsorship committee, have donated a further £800 towards his total. First worked with David during his career on matters affecting local transport and were delighted to help him reach his overall fundraising target.

Talking about the decision to donate £800 towards David's cycling fundraising challenge, Justin Davies, Managing Director for First Cymru, says: "David was long associated with First through his work with Swansea Council and at one stage the Welsh Assembly Government until his retirement some years ago. He is well known to our staff and I was delighted to be able to personally support his application to our charity and sponsorship committee.

"In completing the bike ride David raised a significant amount for the Maggies Cancer Care Centre in Swansea and that in turn will help so many more people from South and West Wales. The centre provides practical, emotional and psychological support for people affected by cancer in truly inspirational non-institutional buildings and the impact of their work is felt far and wide. I'd like to take this opportunity to congratulate David on completing the cycle ride and for raising so much money for such a worthwhile local cause."

David Whitehead completed the Paris to Barcelona cycle ride last summer. He left Paris on 27 July arriving in Barcelona – some 650 miles away – on the 4 August. Talking about his experience he says: "I was inspired to sign up for this event by my sons, who both take on major physical challenges, and having given it some consideration I decided I was up for the adventure. It wasn't easy but I was so thrilled to complete the journey with such a committed, supportive and caring group and raise such a substantial amount of money of money for Maggies that all the training and hard work was worth it. Maggies Cancer Centres are amazing places which thoroughly deserve our support. Like many other people I know people who have undergone a cancer diagnosis and nothing can be more devastating than that, but organisations like Maggies really do make a difference, helping people cope when the unimaginable has happened. I would like to thank First for the support it gave me, and similarly would like to thank all the other people who rallied to the cause and got behind both my bike ride and my fundraising efforts."

Established in 2007, First's Charity and Sponsorship Committee is managed by staff from the company's bus and train networks and is designed to support groups and organisations benefitting children, health or environmental causes in the communities that First serves. In the past year alone it has donated more than £80,000 to worthwhile groups and charities in the UK.

In addition to donating funds through the Charity and Sponsorship committee, First Cymru also has national charity partnerships with Macmillan Cancer Support and Save the Children UK.

For more information about First Cymru or to view local bus timetable information see: www.firstgroup.com/cymru. First is also on Facebook and Twitter at www.facebook.com/FirstCymrubuses and www.twitter.com/FirstCymru.

ENDS
All news
Share this post