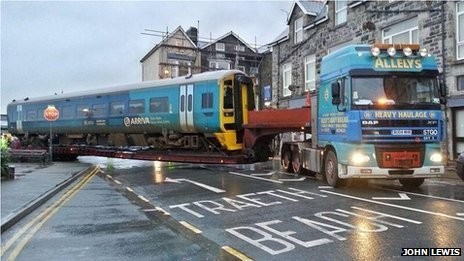 Cambrian Coast Rail Flood Repairs at Barmouth and Pwllheli to take months
20 January 2014
---
Repairs to the Cambrian Coast railway line after the tidal storms that hit the mid and north Wales coast at the start of the year are set to continue, and it is likely that the line may not fully reopen for another four months. The line is currently closed between Dovey Junction and Pwllheli in Gwynedd due to flood damage at Tywyn, Barmouth and Criccieth.
Engineers used a helicopter to conduct an aerial survey showing the line north from Barmouth to Pwllheli suffered the "most devastating damage."
Route Managing Director for Network Rail Wales Mark Langman said "This has been an extremely challenging period, but the rebuilding operation is under way and our priority is to safely reopen the railway as soon as is possible."
The route onwards from Barmouth to Pwllheli will take longer to repair, with engineers "working on a programme to re-open fully by mid-May 2014."
The line south from Barmouth to Tywyn could reopen by Monday 10th February 2014.
Network Rail have said efforts to assess the damage caused to the railway line had been initially hampered by continued severe weather and high tides.
All news
Share this post