Cardiff Bus Station Closure, from 1st August 2015
From Saturday 1st August 2015, Cardiff Bus Station has now closed in order for work to begin on the new Central Square Development. Work on Cardiff's brand new bus station is due to begin in April 2017 and is expected to open in Summer 2018.
During the closure, buses that were using the bus station and stops on the south side of Wood Street are now dropping off and picking up at nearby stops. These arrangements will continue until the new bus station opens, expected in Summer 2018.
If you need any help, advice or information, please contact us on 0871 200 22 33 where our Contact Centre staff will be on hand to help. Alternatively, you can contact us on 0300 200 22 33. 
Please see below information from operators on the various bus stop changes, and which services will be affected.
Cardiff Bus
Buses that were using the bus station and stops on the south side of Wood Street are now dropping off and picking up at nearby stops.
Cardiff Bus have issued a leaflet detailing which stops these will be and where they are located, as well as which of their services will be affected and where you can catch these from after the closure. Please see the leaflet here.
Routes on services 1/2, baycar (service 6), 7, 35/36, 38/38A, 44/44B/45/45B, 46, 49/50, 51, 52, 53, 57/58, 86 and X59 will NOT be affected by the closure of the bus station.
Timetable changes:
Some Cardiff Bus timetables are changing from Sunday 2nd August. Please click on the service numbers below to view the PDF of the new timetables:
9A, 21, 23, 24/24A, 25, 27, 61, 62/63, 66, 95A*
City centre times on services 11, 17/18, 28/28A/28B, 30, 92/93/94 and X91 will change to correspond with new start/end stops. 
*Park & Ride West (Leckwith Stadium) will be incorporated into the 95A timetable and will continue to run Monday - Friday but starting at the earlier time of 08:44. 
You can view the new timetable guides by clicking on the links below:
Cardiff timetable guide
The Vale of Glamorgan timetable guide
Cardiff Council
Cardiff Council have also issued a map detailing the changes to bus stops, where they can be located and where you will be able to catch your services from. Full details and a larger version of the map can be found in the link here.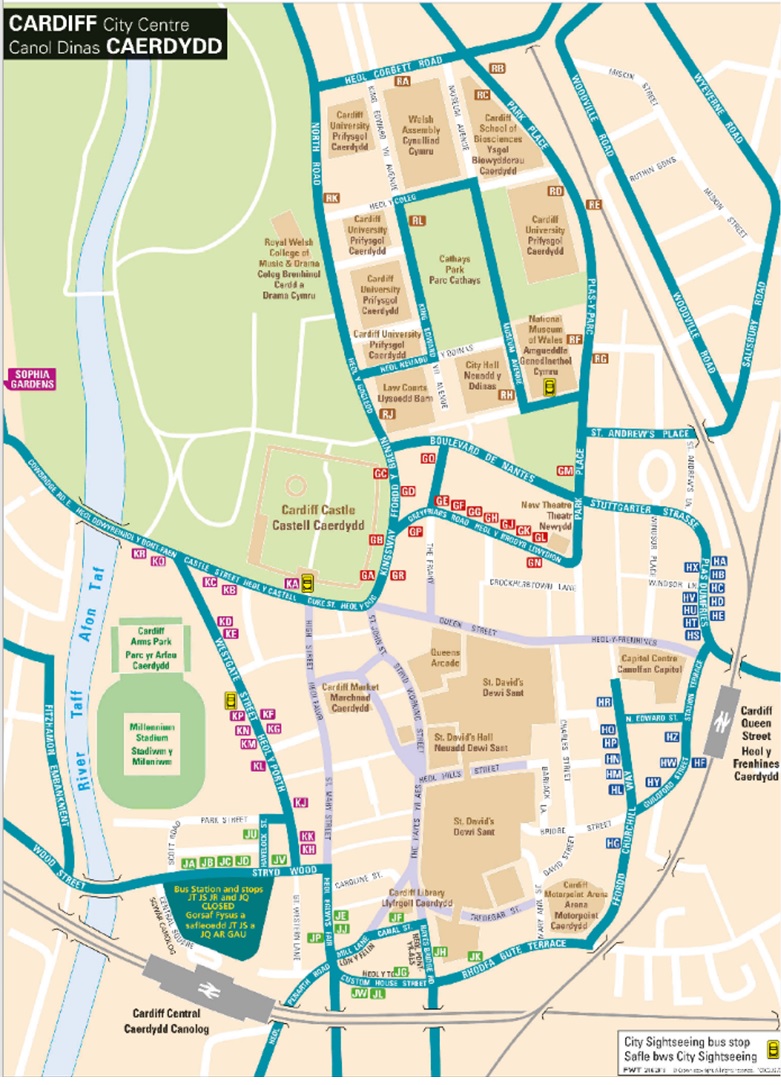 First Cymru
From Sunday August 2nd the following alternative stops will be in use:
Service X2 to Cowbridge, Bridgend and Porthcawl.
Services will depart from stand JB in Wood Street.
Greyhound Service X10 to Bridgend Designer Outlet and Swansea.
Services will depart from Custom House Street.
National Express
All coach departures and arrivals in Cardiff are made from/to Sophia Gardens. It's around a 15-20 minute walk to Cardiff Central train station from there. There is a council-run car park at Sophia Gardens (link takes you to prices on the council website), which is open 24 hours and costs £10.30 to park there for 24 hours.
Newport Bus
During the time of the closure, Newport Bus X30 and 30 services will depart from alternative areas in the City.
X30 will terminate and depart on Greyfriars Road, Cardiff at Stand GG
30 will depart from Customhouse Street, Cardiff at Stand JL
The 30 service will operate into Customhouse Street Via Station Terrace, Guildford Street, Churchill Way and Bute Terrace. When departing Customhouse Street the service will operate via Lower St Marys Street, Wood Street and re-joining its current route at Westgate Street.
Please note after 20:00 (8pm) Friday and Saturday the service will operate from Customhouse Street Via Mill Street, Canal Street, Bute Terrace, Churchill Way and Station Terrace to Newport Road, Cardiff.
For further information you can call the Newport Bus Travel Centre on: 01633 263 600
Stagecoach
Services previously starting from the Bus Station will depart from Lower St.Mary St (stop JP)
After 20:00 on Friday and Saturday evenings, due to the road closure of Lower St.Mary Street, these buses will start from the Royal Hotel, Westgate St. (stop KH).
No other stops will be served in Westgate St. as buses leave Cardiff.
Buses arriving in Cardiff previously serving the Bus Station will terminate in Westgate Street, stop KJ.
Route 122 will be unchanged, terminating at Greyfriars Road.
These arrangements apply from Sunday 2nd August 2015.
Traws Cymru
The following bus stop arrangements will apply to the T4 and T9 services:
T4 will serve Lower St Mary's Street (JP)
T9 will serve Customhouse Street (JL) and Penarth Road (JM) (rear of Cardiff Central Station) in Cardiff City Centre