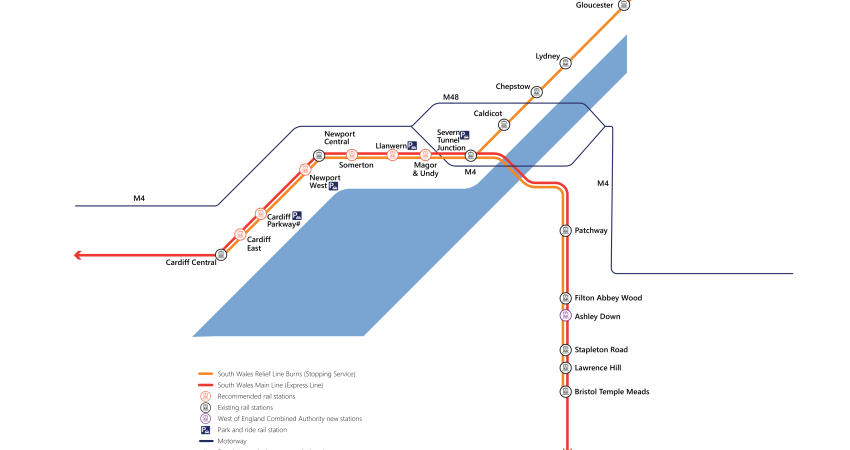 Plans for five new railway stations in South East Wales and more cross-border services
16 October 2023
---
Transport for Wales' ambitious plans to improve public transport move one step closer, with public consultation on designs for five new railway stations in South East Wales and new train services launched today.
Members of the public are being invited to share their views as part of a 13-week consultation which runs from today (16 October) to 14 January. The consultation is available on: Haveyoursay.tfw.wales/sew-new-stations-and-services
Transport for Wales is looking for feedback on the designs of potential stations at Cardiff East, Newport West, Somerton, Llanwern and Magor and Undy, including the types of facilities that people would like to see at each station.
Members of the public are also being asked for their views on new train services between Cardiff, Bristol and Cheltenham Spa that could provide the new stations with up to four trains per hour and increase frequencies at existing local stations on the route.
If funded, the proposals will create new opportunities for direct local and cross-border travel on both sides of the Severn by public transport.
The proposals are key recommendations of the South East Wales Transport Commission, delivered as part of the South Wales Mainline Programme, which aims to greatly improve how people access and travel on the railway.
A series of drop-in events are being hosted by Transport for Wales, to allow members of the public opportunities to discuss the designs and service proposals with the project teams behind them. These will take place on:
Somerton station at Lliswery Baptist Church on 23 October, 13:00 – 19:30
Llanwern station at Llanwern Village Hall on 24 October, 12:00 – 19:30
Cardiff East (Newport Road) station at St Peters Rugby Football Club on 26 October 2023, 12:00 – 19:30
Newport West station at Maes Glas Community Centre on 6 November, 12:00 – 19:30
Llanwern station at Glan Llyn Primary School on 7 November, 16:45 – 18:30
Magor and Undy station at Magor and Undy Community Hub on 9 November, 12:00 – 19:30
Geoff Ogden, Chief Transport Planning and Development Officer, said: "Our vision for Wales is one in which we all have more opportunities to live healthier and happier lives. For us, unlocking the capability of the South Wales mainline is key to changing how people travel in the region.
We're proud to share our proposals for five new stations between Cardiff Central and Severn Tunnel Junction that together with the new services will offer more people the opportunity to travel on the railway.
We know that these designs will improve with public feedback. That's why we're asking people to share their thoughts."
Information Source: TfW
All news
Share this post