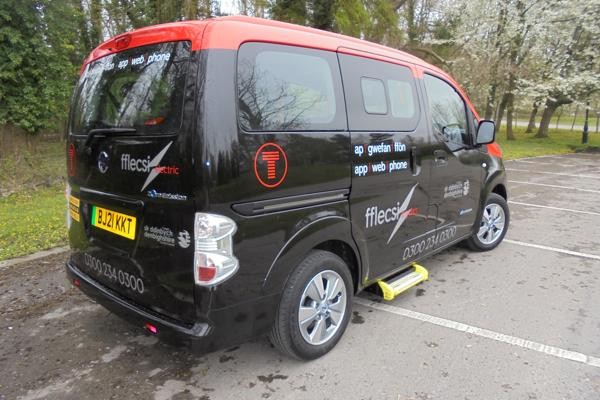 Denbigh fflecsi service expands to rural areas
14 July 2023
---
Denbigh's fflecsi service is being expanded, allowing more communities across Denbighshire to benefit from demand responsive transport, Transport for Wales (TfW) and Denbighshire County Council have confirmed.
Working in partnership, fflecsi will now operate in an area to the south west of Denbigh, as well as to the north west and north east of the town.
Launching on Monday 17 July, the new zones will cover largely rural areas, providing improved transport connections for communities to local shops, health centres, places of work and other key destinations.
In addition, the vehicle used in the rural area will be a fully accessible, electric four passenger seat vehicle.
The new rural area will operate between Monday and Friday from 9.30am to 2.30pm with service hours in the existing Denbigh zone remaining unchanged, to include Saturdays. Denbigh will see its existing fflecsi area expended to cover Castle Park and the Acar y Forwyn areas in town.
Fflecsi is a demand responsive bus service which does not have a fixed route and timetable but an operating zone which enables passengers to be picked up and dropped off anywhere within that fflecsi zone.
Rather than passengers waiting at a bus stop for a bus to turn up, they can book a journey in advance using the fflecsi app, or by calling 0300 234 0300. Passengers are informed where to catch the bus and at what time it will be arriving. The pick-up point will be as near as possible to the location of the passenger.
Lee Robinson, Development of Mid, North and Rural Wales Director at TfW, said: "The expansion of the fflecsi service to rural areas near Denbigh is another important milestone for demand responsive transport in this part of Wales.
"We know that fflecsi is a highly valued service in Denbigh town centre and its expansion will provide rural communities with an accessible and affordable transport alternative to help support everyday journeys and make onward travel connections.
"Fflecsi is a vital part of our ambitions to create a multimodal transport network that people in Wales can be proud of and we're pleased to be working alongside Denbighshire County Council to deliver this service."
Denbighshire County Council's Lead Member for Environment & Transport, Cllr. Barry Mellor, said, "Fflecsi serving rural Denbigh improves transport opportunities for Denbigh's villages. It replaces a number of irregular services, greatly extending the scope of public transport for the Denbighshire communities of Nantglyn, Prion, Peniel, Saron, Tremeirchion and Rhuallt.
"Thanks to funding from Conwy County Borough Council, the service will also be available for Llannefydd and Groes."
Information Source: Denbighshire County Council
All news
Share this post