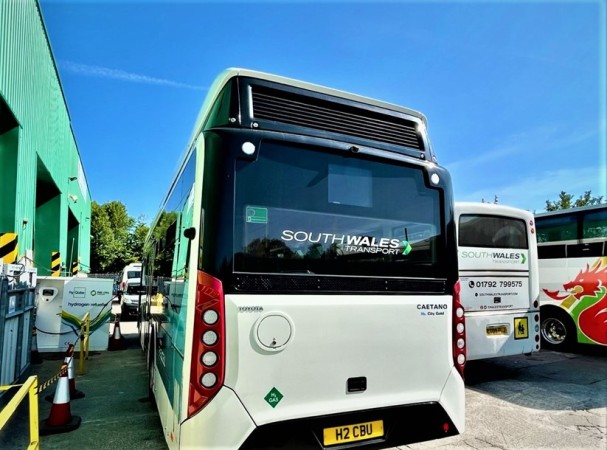 Hydrogen buses are being trialled in Neath Port Talbot and Swansea
01 June 2023
---
Bus operator South Wales Transport and private hire operator Hyppo Hydrogen solutions are providing transport services to the communities using locally produced 'green hydrogen' made from renewable energy and local water. 
The initiative is being delivered by a private sector consortium responding to the climate change emergency. The hydrogen fuelled H2 City Gold electric bus is being provided by Caetano Bus UK with a HyQube refueller being provided by Fuel Cell Systems.  
The hydrogen fuel is being produced and supplied by green hydrogen developer Protium, from its recently commissioned installation at the University of South Wales Hydrogen Centre in the Baglan Energy Park. 
Swansea University exam students have recently been travelling on the bus as part of the University's Park and Ride provision.  They have been able to experience a quiet and smooth journey to their exam hall with filtered air and no fumes. 
Neath Port Talbot Council's Cabinet Member for Climate Change and Economic Growth, Cllr Jeremy Hurley, said: "We are pleased to support these trials as the use of hydrogen is very much part of the council's Decarbonisation and Renewable Energy (DARE) strategy.
"Hydrogen fuelled buses offer a practical solution for communities to decarbonise public transport and immediately improve air quality. These trials are great news for our county borough and the rest of the region as they could lead the way for cleaner public transport."
Jayne Cornellius of Swansea University's sustainability team, said: 
"Decarbonising public transport is key to achieving our individual and collective commitments for net zero carbon."
The bus trial will continue to run on the exam route and will be adding an additional route running between Neath Bus Station and Pontardawe. The Neath route was chosen to see how the bus performs on long hills - a challenge for battery powered buses and a great demonstration of the advantages of hydrogen vehicles.   
Hyppo Hydrogen Solutions has established the first private hire operator in Wales that runs hydrogen fuel celled passenger cars such as the Toyota Mirai and the Hyundai Nexo.  
Bev Fowles, MD of South Wales Transport, said: "It's great to be able to test new technologies such as the Caetano City Gold bus in real world scenarios.  I'm confident that hydrogen will help us achieve a Net Zero public transport system in South Wales."
Chris Foxall, Founder and CEO of Hyppo Hydrogen added : "The fuel cell was invented by Swansea Bay resident Sir William Grove and so it is a fitting place to start a hydrogen services business.  Hyppo is looking to expand its operations beyond the trial, building a local hydrogen ecosystem that will help decarbonise communities and create local jobs."
Fuel Cell Systems is building on successful trials in Milford Haven where it supported Pembrokeshire Council and the Milford Haven Energy Kingdom project. The company was also integral in the design of the hydrogen producing Pioneer facility in Baglan developed by Protium, and sees big opportunities for additional production and refuelling sites in the region. 
The trials are operating ahead of the Western Gateway Hydrogen conference being held at the Celtic Manor on June 9th.  The bus and cars will be displayed at the event and feedback from the trials will be shared with delegates which include all of the local authorities within the Western Gateway region. 
Information Source: Neat Port Talbot Council
All news
Share this post