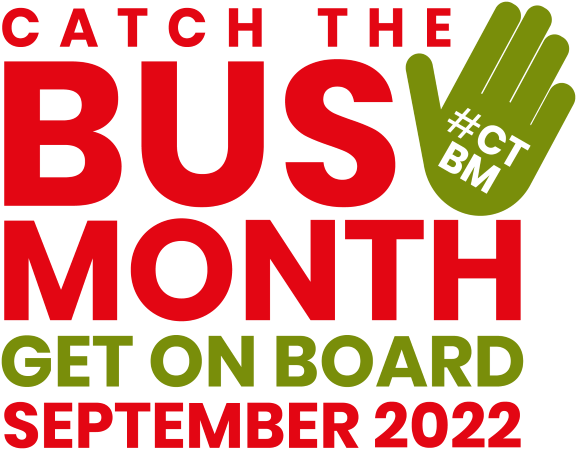 Stagecoach Marks Catch the Bus Month 2022 by Promoting the Benefits of Switching to Bus
21 September 2022
---
UK's biggest bus operator supporting Bus Users UK's Catch the Bus Month running throughout September
Data shows by switching to two bus journeys a week, up to £800 per year could be saved
New range of flexible bus fares recently introduced offering great savings
This week marks the start of 'Catch the Bus Month', a campaign led by Bus Users UK running throughout September to encourage people to take the bus. Stagecoach, the UK's biggest bus and coach operator, is taking the opportunity to remind people of the benefits of switching to bus.
Stagecoach has recently revealed statistics that show buses remain one of the cheapest transport options*. Data shows that average car journey costs have increased twelve times more than the cost of bus travel in the last six years. By mixing their commute and switching from train to bus train for just two days a week, people could save up to £800 per year on their travel.
There are also big environmental benefits to be made by switching to bus – swapping the car for the bus for just two journeys a week can save more than 900kg of CO2 emissions in a year, with train users saving over 1,500kh of CO2. Buses remain one of the most sustainable forms of transport with a double-decker bus able to take up to 75 cars off the road.
Stagecoach is making major investment in new zero emission buses, and as part of its Sustainability Strategy has committed to introducing a zero emission UK bus fleet by 2035. It has recently announced that it is set to become the first operator in the UK to introduce all-electric city bus networks, with 89 electric buses being introduced to operate on city buses in Inverness and Perth. Over the past year, it has introduced 80 electric buses in Scotland, the East Midlands, the West Midlands and London.
The bus operator is making it even easier for customers to travel more flexibly. It has recently rolled out a new range of flexible bus tickets providing great value bus travel for customers. The range of Flexi tickets offer great savings – customers buy Flexi in bundles of 5 or 10 and have up to 12 months to use them, whilst saving up to 30% on the cost. Flexi5 offers 5 DayRiders for the price of 4 (20% off) and Flexi10 offers 10 DayRiders for the price of 7 (30% off). Tickets can be bought easily and quickly via the Stagecoach Bus App, and payments can be made with a bank card, PayPal, Apple or Google Pay.
Carla Stockton-Jones, UK Managing Director of Stagecoach, commented: "As we mark the start of Catch the Bus Month, we wanted to take the opportunity to remind people of the benefits of using bus, and encourage people to give the bus a try.
"Our recent research shows that people can make a real saving on their weekly commute, even by just switching two journeys a week from car or train to bus, and it also offers huge environmental benefits. As Britain's biggest bus provider, we're proud that bus services are still one of the cheapest travel options, and we're offering some great savings with our range of Flexi tickets. We'd encourage everyone to use the opportunity during Catch the Bus month to mix up their commute."
Claire Walters, Chief Executive of Bus Users UK, the charity behind Catch the Bus Month said: "Buses make a huge contribution to all our lives socially, economically and environmentally. They are also a lifeline for communities providing access to education, work, healthcare, shops and leisure. We want to see more people get on board this September to protect these vital services for future generations."
For more information on Catch the Bus Month www.bususers.org/catchthebusmonth  or email catchthebus@bususers.org.
Information Source: Stagecoach Group
All news
Share this post