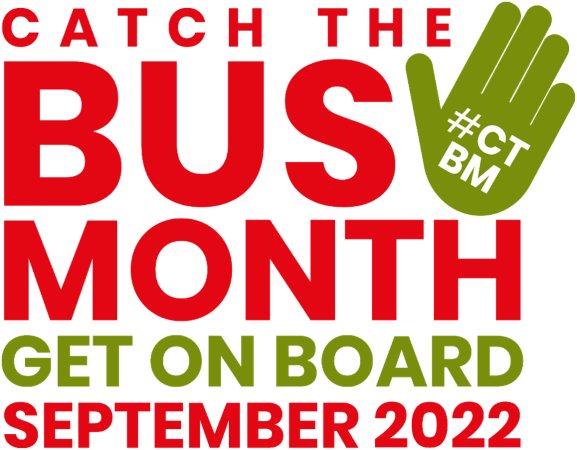 It's back! Catch the Bus Month relaunches for September 2022
27 June 2022
---
Bus Users is calling on passengers, operators, local authorities, passenger groups and community transport providers to get on board for 'Catch the Bus Month' this September. 
This will be the first year the charity has hosted the campaign since Greener Journeys handed over the baton in 2020. While many people have now returned to schools, offices and social events, bus passenger numbers have remained below pre-pandemic levels. 
Bus Users wants 'Catch the Bus Month' to celebrate the bus as a sustainable, inclusive and accessible form of transport that reduces congestion, improves air quality and provides access to life's opportunities. 
Launching the campaign, Claire Walters, Chief Executive of Bus Users said:
"As life returns to normal, we want people who used to travel by bus to get back on board. Research has consistently shown that buses are safe, despite what Government messaging said during the pandemic." 
Claire is also calling on people who have never tried the bus to give it a go:
"Most people would be surprised at what the bus has to offer now in terms of technology, comfort, affordability, and accessibility. All buses should provide low-floor access and most now offer free Wi-Fi, ticketing and real-time information apps, on-board audio-visual announcements and well-trained drivers who are on-hand throughout the journey to offer help and support. Catch the Bus Month is a great opportunity to promote the social, economic and environmental benefits of bus travel and protect services for the future." 
Claire Haigh, former Chief Executive of Greener Journeys who launched the original campaign in 2013 said:
"I am delighted that Bus Users is hosting Catch the Bus Month.  As life returns to normal there is so much to celebrate about the bus. The bus is such a powerful tool for bringing communities together and tackling loneliness and switching from car to bus is one of the best ways we can reduce pollution and support our economy." 
Bus Users will be running face-to-face and virtual events throughout the month alongside social media campaigns and partnerships with charities, transport bodies and passenger groups. Anyone interested in taking part can contact Bus Users on 0300 111 0001 email catchthebus@bususers.org 
For press enquiries contact Vicki Pulman on 07785 768580 
All news
Share this post