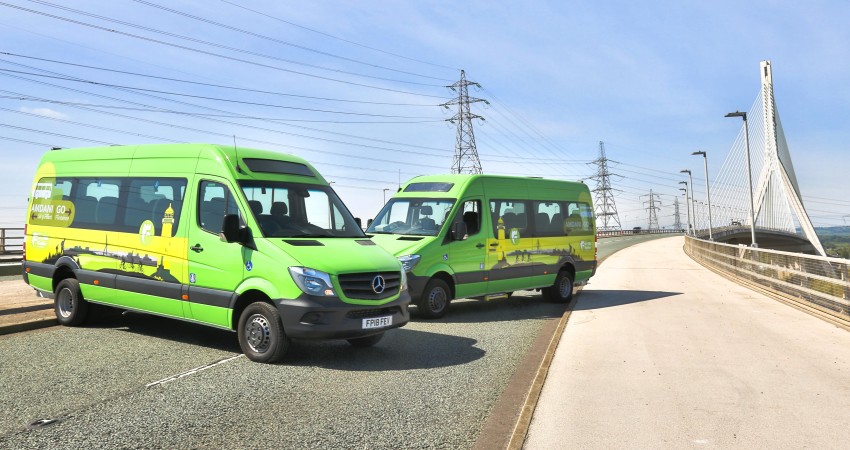 Fflecsi to launch in the Holywell area
31 May 2022
---
Transport for Wales is taking another step forward with its expansion of the fflecsi bus service, taking it to another part of Wales.
Working in partnership with Transport for Wales and P&O Lloyd Coaches, Flintshire County Council will be introducing the new flexible bus service on 21 June 2021.  
fflecsi will offer a far more convenient bus service for Holywell and the surrounding area.  You pay on the bus like any other service - the biggest difference is that you book the bus through the app, over the phone or by visiting the website.
The managed booking system means that fflecsi bus passengers are guaranteed a seat, which helps with physical distancing measures. 
Lee Robinson, Development Director for North Wales and Transport for Wales Lead on the fflecsi project, said: 
"fflecsi is an exciting project and we are pleased to be working collaboratively with local authorities and bus operators to transform public transport in Wales and try out new types of service.  We are now running fflecsi pilots throughout Wales and it's great to see it expanded to the Holywell area in Flintshire."
Flintshire's Cabinet member for Streetscene, Councillor Glyn Banks, said:
"We're delighted to be working with Transport for Wales on the new fflecsi service here in west Flintshire. As we emerge from Covid-19 restrictions and see an increased demand for public transport, fflecsi will offer peace of mind for passengers. The service will allow residents to get out and about, with direct links to Holywell bus station, the local shops, leisure facilities and medical appointments in a more convenient way." 
The fflecsi buses will be operating in a specific service area in and around Holywell and will enable residents without public transport services to connect with commercial bus services in both Holywell and Caerwys.  They will also offer transport to leisure facilities, retail outlets, after school clubs and medical appointments, eliminating the social isolation experienced by some more rural residents.
To find out more, including details of the services, a map of the area being served and how to book, please visit https://fflecsi.wales. 
All news
Share this post