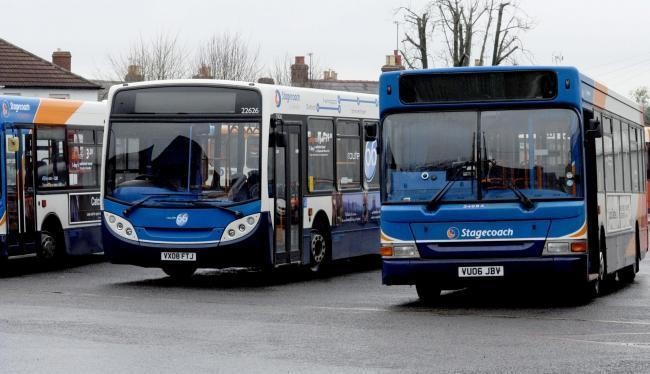 Stagecoach South Wales driver strikes to disrupt services in Blackwood, Bwynmawr, Pontypool and Cwmbran from Tuesday 19th October
18 October 2021
---
Services across Aberdare, Caerphilly town (except Service 26), Merthyr Tydfil and Rhondda Cynon Taf are not affected. 
Staff at Stagecoach's Cwmbran, Brynmawr and Blackwood depots are set to take action throughout October and November.
Unite Wales said members deserved "fair pay" of £10.50 per hour and would now strike after two rounds of "failed" talks with conciliation service Acas.
Stagecoach said staff deserved a pay rise and had "left no stone unturned in an effort to reach a settlement".
The propose strike dates are as follows:
19th October until 23rd October
25th October
29th October & 30th October
1st November until 6th November
8th November and 9th November
12th November
We will not be able to update our Journey Planner and Timetables page to reflect these changes, so please follow Stagecoach South Wales on Twitter @StagecoachWales and the Stagecoach South Wales website for the latest updates. We will also update our disruptions page with further updates. If you need any help planning your journey, please ring our Freephone number on 0800 464 00 00.
Unite regional officer Alan McCarthy said: "They keep talking about the fact that they'd love to give £10.50 an hour, but financially don't feel capable of doing so."
He added that the requested rate of pay was reasonable, given how essential workers have been in delivering services throughout the pandemic.
Stagecoach South Wales said it had already been able to give staff a "good pay rise" at other bus depots and was committed to reaching a settlement with Unite members.
"It is very disappointing that our positive and flexible approach at the talks at Acas over many hours has not been mirrored by regional representatives of Unite," it said.
"Our priority has been to try to reach an agreement that delivers a sustainable pay rise for our people right now, recognising their commitment throughout the pandemic.
"It also ensures the long-term sustainability of the bus network for local communities in what is a very challenging time."
Information Source: BBC News
All news
Share this post