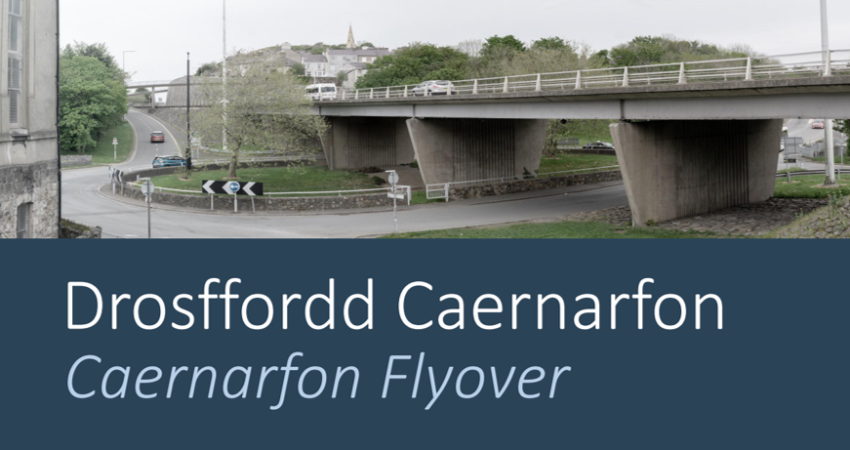 Have your say: Consultation on the future of the Caernarfon Inner Relief Road
01 October 2021
---
A public consultation will be open for comments until 1st November 2021.
The Caernarfon Inner Relief Road was constructed in the 1980's to relieve traffic congestion within the town. It consists of a multi-span steel and concrete structure and currently forms part of the Bangor to Fishguard Trunk Road route.
The inner relief road suffers from several defects and the road surface is nearing the end of its residual life. As a new bypass is opening in 2022, less traffic is expected to travel on the old route and plans for future use of the route are being considered.
Construction of the new bypass will reduce traffic numbers through Caernarfon, which may provide opportunities to:
Create new Active Travel provisions.
Improve pedestrian links into the town centre.
Enhance the landscape of the area.
Reduce financial obligations to the Council
Review the traffic arrangements in the Eagles Hotel area.
Gwynedd Council are considering several options for the future use of the old route, which they would like to gather public feedback on to help them make their decision. An overview of these plans are outlined below and full details are accessible here:
Retain the existing flyover and make no changes
Retain the existing flyover but make different use of it. For example, a green bridge for walkers and cyclists where trees and shrubs would also be planted.
Take down the flyover but retain the existing design for the roundabout.
Take down the flyover and create a new roundabout.
The online public consultation will be open until 1st November 2021 and can be accessed on the Gwynedd Council website.
Information Source: Gwynedd Council
All news
Share this post