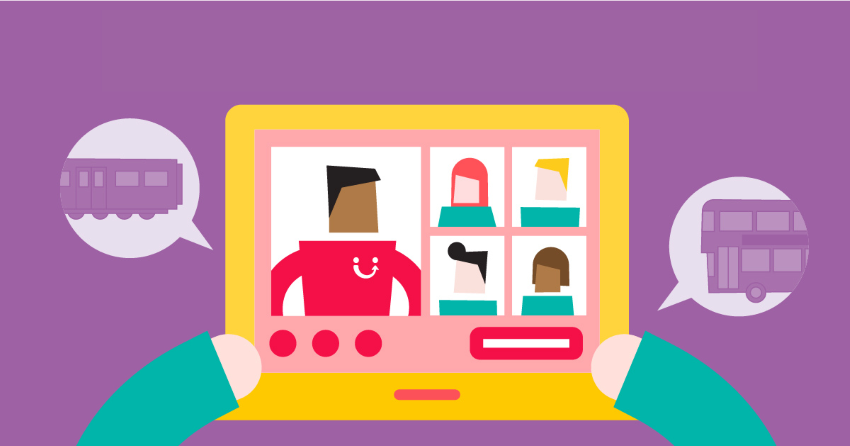 Can our new Traveline Cymru Business Services help your organisation?
17 September 2021
---
From online TravelineCymru+ training on how to use our information services, to a new Multi-Modal Journey Planner to install on your website.
Whilst our suite of services already provide up-to-date travel information, these new business service programmes will enable organisations to encourage their workforce to access the latest, safest and quickest travel options for getting to and from their facilities, whether that's by bus, rail, community transport or active travel.
TravelineCymru+
The first new service, TravelineCymru+ is not only targeted at company's welcoming their staff back to the office following easing of lockdown measures, but also the tourism and leisure industry in order to provide information to staff, visitors and volunteers.
As part of the project, quarterly digital sessions can be booked onto here to equip existing and future travel champions with the essential tools needed to publish public transport information and services across organisations.
As an extension to TravlineCymru+, Traveline's existing Train the Trainer programme has been enhanced to assist companies that are relocating and reintegrating staff back into the office. Companies including Job Centre Wales, Lexis Nexis, BBC and HMRC have previously taken part in the scheme originally developed to train champions within organisations who are then encouraged to disseminate information about Traveline Cymru services to staff, visitors and other interested parties.
Marketing Officer, Luke Williams has been working at Traveline for the past four years and is responsible for running these face-to-face 'Train the Trainer' sessions across Wales. The events themselves were piloted in partnership with homeless charity Llamau and the UK's leading disability specialist, Remploy back in 2017 and involves preparing staff to deliver the Traveline Cymru training sessions themselves.
On the launch of TravelineCymru+, Luke said:
"Having successfully run Train the Trainer over the last 5 years, I'm thrilled to be going digital with TravelineCymru+ and offering these free training sessions to even more businesses across Wales. Equipping businesses with the tools they need to encourage their staff, customers and visitors to travel by bus, train, bike and foot is key. I look forward to meeting future 'Travel Champions' and helping even more businesses make the public transport and active travel switch".
As part of the offering, partner companies can benefit from a resource pack including supporting slides, literature, and promotional material for future delivery of the training, as well as from a range of sustainable marketing collateral including leaflets, stationery and coffee cups enabling participants to further demonstrate the benefits of Traveline Cymru's services.
Multi-Modal Journey Planner Widget
Finally, Traveline will be launching a new journey planning widget allowing organisations to download a customised version of its journey planner on their own website. The tool, which will reflect the capabilities of the current journey planner on the Traveline Cymru website now comprises active travel planners as well as fully customisable fields such as Time mode, Max Changes and Walk speed and is free of charge.
Jo Foxall, Managing Director of Traveline Cymru, said:
"We are incredibly proud to launch these new services dedicated to those returning to the office following the pandemic to ensure they are able to plan ahead as best possible. For those companies whose staff and customers rely heavily on public transport these services will enable them to access the latest travel information including the quickest, cheapest and most efficient route for them.
"We hope these tools will not only instil confidence in our service provision by companies using the tools with their audiences, but that the companies themselves also benefit by having their workforce back in the office, as well as an increased customer footfall to their facilities."
All news
Share this post