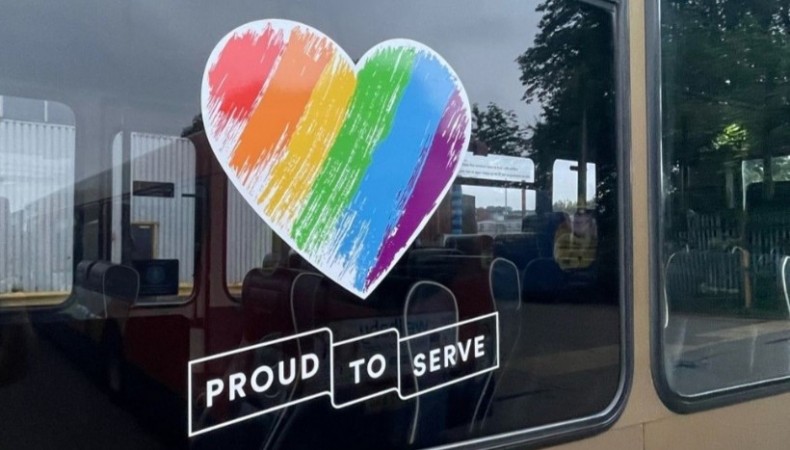 Stagecoach takes major step forward in its diversity pledge with launch of new employee networks
25 June 2021
---
Six new employee networks have been created to represent different groups of employees across Stagecoach.
Stagecoach, the UK's biggest bus, coach and tram operator, is taking a major step forward in its diversity pledge with the launch of new employee networks designed to continue to create a truly inclusive workplace and give its employees a bigger voice in the future of the business.
Six new employee networks have been created to represent different groups of employees across Stagecoach. The themes were chosen as part of a colleague forum involving employees from across the country and include Carers, LGBTQ+, Ex-Forces, Multi-cultural, Parents and Women@Stagecoach.
The new employee networks are designed to be a volunteer-led community within Stagecoach who are given the freedom to push boundaries, encourage change, support colleagues and be a collective voice to continue to make Stagecoach a great place to work. Stagecoach asked for applications from its 24,000 strong workforce to lead and be involved in the new networks and received an overwhelming response.
One of the first employee networks to get off the ground is the LGBTQ+ network, launched to coincide with Pride month which takes place during June. Jamie-Lee Harley-Thornton, a Stagecoach bus driver at West Ham depot in London, has been selected as the Lead for the new LGBTQ+ employee network.
Jamie-Lee, who is Transgender, started with Stagecoach in January 2020 after a 17-year career as a civil servant. She had always fancied being a bus driver and after feeling stuck in a rut in her previous role, made the decision to apply to Stagecoach. Since coming out as Transgender, Jamie-Lee's priority is to make sure that people feel they can be themselves and her aim as lead of the new network is to make everyone feel themselves and to provide support and encouragement.
Jamie-Lee said:
"I've been really lucky since coming to work for Stagecoach with the support I've been given by my manager and others in the team and feel really valued but there are always issues that need to be ironed out. When the chance came up to apply to be part of the new LGBTQ+ network, I saw it as an opportunity to help overcome any issues but more importantly to make sure that everybody felt they had the same support as I have been given and help to make a real difference within the business.
Stagecoach South Wales has been supporting LGBTQ+ during Pride month by:
Displaying heart shaped rainbow vinyls on vehicle windows displaying the words 'Proud To Serve' which reinforces our Stagecoach value to serve our customers and connect communities.
Driving staff have been given rainbow lanyards to wear whilst out on the road to show support for gender equality.
Porth driver, Leanne Lloyd has been busy making rainbow ribbon badges for staff to show support for the LGBTQ+ community.
Another of the new networks is the Ex-Forces (Veterans) network, launched to coincide with Armed Forces Week, which is currently ongoing and culminates in Armed Forces Day on Saturday 26 June.
Led by Kathryn Dawson, a bus driver in Manchester and Simon Tramalloni, Operations Manager at Merseyside and South Lancashire, this new network is looking to build on the work that Stagecoach has led with supporting our armed forces with charity work and events, supporting ex-forces applications and making courses for veterans easily accessible.
Simon Tramalloni said:
"This is the very start of something new and exciting for Stagecoach that will help to drive real change. We're not necessarily looking for people who have served in the forces, but we want to create a group of like-minded people who understand how important it is that we make our company inclusive for ex-forces personnel.
"Over many years, our business has provided support for ex-forces personnel in many different ways, but we now want to take that one step further and identify how else we can help those veterans already working for us and those that may want to come and join Stagecoach."
Stagecoach signed a diversity pledge as part of National Inclusion Week in late 2019 with a commitment to build an inclusive workforce that represents the customers and communities it serves. It has already taken steps to build a more gender diverse workforce with the number of female bus drivers increasing by 25% since 2014 and is targeting an increase in the number of women in leadership positions by 20%.
Clare Burles, People Director for Stagecoach, said:
"We're an inclusive company that welcomes talented people, helping them develop and to be the best they can be, whoever they are and wherever they're from.
"Our new employee-led networks are the next step in our journey and we want to go a lot further and give everybody a bigger voice in the future of our business.
"We are all individuals and it's important we all feel we can be ourselves at work and are supported every day. The more we understand each other, our different perspectives and the challenges we face, the quicker we can make positive changes that will benefit our colleagues and the customers we are proud to serve."
Information Source: Stagecoach South Wales
All news
Share this post