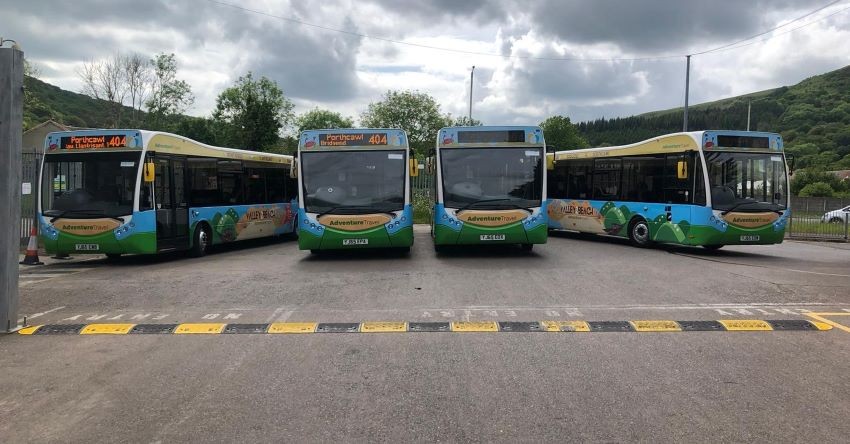 Adventure Travel extends 404 service to Porthcawl in response to rise in Welsh staycations
03 June 2021
---
Leading South Wales transport operator Adventure Travel has responded to the rise in Welsh staycations by extending its services to include a beach bus for summer.
The 404 service, which normally runs from Pontypridd to Bridgend six days a week, Monday to Saturday, will be extended to Porthcawl from 7th June, providing a direct route to the popular seaside town for customers from the Valleys.
The staycation trend that has resulted from lockdowns amid the coronavirus pandemic has meant that many UK residents are choosing to stay local this summer instead of jetting off abroad. With beach destinations proving incredibly popular, this additional service provides an opportunity for those living in more remote areas to visit the seaside easily and accessibly.
The service will run until mid-October on an hourly timetable Monday to Saturday and will be operated in specially branded vehicles to raise awareness of the new route.
Adam Keen, Managing Director of Adventure Travel, said:
"The extension of the 404 service to Porthcawl opens up more opportunities for passengers from the Valleys to visit the beachfront – something that many have been wanting to do throughout lockdown. Our summer extension to the 404 route will generate memorable days out with very reasonable fares and friendly drivers, which we think will be well received by families who have had a frankly dismal last 12 months or so.
"Now travel restrictions have been lifted, many people are getting their summer holidays booked right here in the UK, and we're happy to provide them with an easy transport option to get them to some of the superb destinations in South Wales."
You can access the full timetable for this service here.
Information Source: Adventure Travel
All news
Share this post