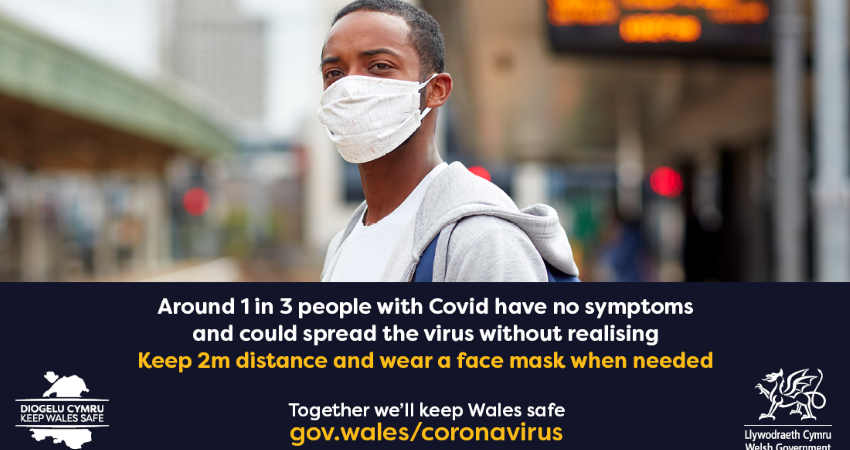 How to travel safely on public transport services across Wales
19 April 2021
---
As Coronavirus restrictions continue to ease, it's important that you all follow all travel safety rules and stay in the loop with the latest changes to service timetables across Wales.
We have put together the below guidance on current travel restrictions, what you can do to keep yourself and fellow passengers safe and how we can help you get safely back on board with our dedicated Coronavirus pages.
What are current travel restrictions?
As of Monday 12th April, there are now no travel restrictions for travelling within Wales or for UK wide journeys in and out of Wales. International travel is not permitted without a reasonable excuse.
Welsh Government are still asking everyone to think carefully about the journeys they take and the people they meet to help reduce the risk of spreading Covid-19.

How can I travel safely?
There are a number of measures in place to help keep you, your fellow passengers and transport staff safe on board public transport services, as well as guidance you will need to follow whilst travelling:
You must wear a face covering (unless exempt) for the duration of your public transport journey, as well as at bus stations, railway stations, airports and ferry ports. Please also respect those who are medically exempt from wearing a face covering.
Wash your hands before and after travelling and sanitise your hands frequently.
Keep your distance from other passengers whilst waiting to board your transport service, sit away from other passengers on board services or, where social distancing is not possible, face away from others.
Wherever possible, you should use contactless payment methods. If you do need to use cash, please ensure you have exact change. You can use our new fares tool on our Journey Planner to find fares information for most bus services.
Where you are able to do so, please book your journeys in advance. Where this is not possible, please ensure you leave plenty of time for your journeys.
Keep windows open to help with ventilation on board services.
Avoid eating and drinking if you can, unless it's for medical reasons.
Respect your fellow passengers and transport staff whilst travelling.
Please don't travel if you're feeling unwell, even if you're showing minor symptoms.
How can Traveline Cymru help?
Coronavirus Transport Service Updates: Our data team are currently working on a significant number of late notice timetable changes from operators across Wales. Before you travel, please check our dedicated Coronavirus Transport Service updates page to access the latest timetables from operators as we cannot guarantee our Journey Planner and Timetables will be up to date. Please rest assured that our data team are hard at work to update all service changes as soon as possible.
Transport for Wales FAQ's: We understand that you might be nervous about using transport if you haven't travelled for a long time. Transport for Wales have compiled a handy list of FAQs with lots of helpful guidance on what you can do to travel safely, what safety measures have been introduced on board services to help keep you and transport staff safe, cross border travel, active travel options and more.
Bus Operator Coronavirus Travel Guidance: We have also compiled a list of safe travel guidance from bus operators across Wales, outlining the measures they have put in place including the use of PPE, cleaning regimes, reduced service capacity, Coronavirus signposting and more.
If you have any questions or need help planning your journey, please ring our contact centre team for free on 0800 464 00 00. Our agents are available to take your calls from 7am to 8pm daily.
All news
Share this post