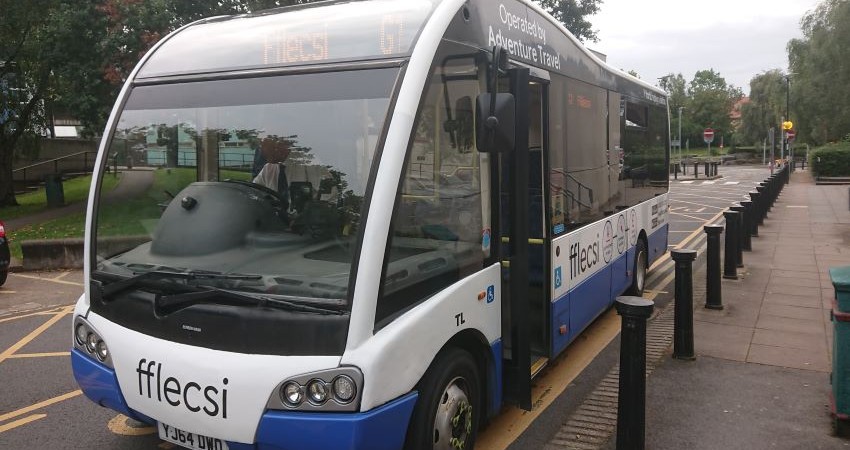 Welsh Capital's First Demand Response Transport Scheme Driving the Way Forward
19 October 2020
---
The first Demand Response Transport (DRT) scheme to be piloted in the Welsh capital is now halfway through its trial period and has welcomed more than 1,251 passengers aboard in that time.
G1 fflecsi Cardiff North was launched at the end of June by Cardiff Council, Transport for Wales and NAT Group – which also operates the scheme – and follows the successful fflecsi rollout in Newport, Rhondda and other parts of Wales. Passengers can request collection from anywhere along the route, which runs from Gabalfa to Gwaelod y Garth via Whitchurch, by pre-booking on the fflecsi app or calling the customer call centre and schedules and routes are altered according to demand. The scheme assists bus companies with physical distancing on public transport while also helping people make essential local journeys and has become a key component in the fight against Covid-19.
NAT Group Managing Director Adam Keen, said: "We have seen a huge shift in the way we operate this year and fflecsi is just one of the innovative developments introduced to help better the way we meet the needs of our customers and the current situation. By pre-booking journeys, we can manage passenger numbers and ensure social distancing across the service, while customers can ensure they are booked onto their desired vehicle at the time needed.
"The trial has had immense positive feedback so far from both passengers and drivers alike and is helping to shape the way we move forward with the scheme upon the completion of the trial."
James Price, Transport for Wales CEO, said: "fflecsi is a very exciting trial for us as we continue to transform public transport in Wales. The ongoing Covid-19 pandemic has had a direct impact on public transport and as we move forward the safety of our colleagues and customers continues to be our top priority.
"This new pilot scheme offers us the opportunity to look at a new way of operating public transport and in these current circumstances."
You can find our more information about the fflecsi scheme here.
All news
Share this post