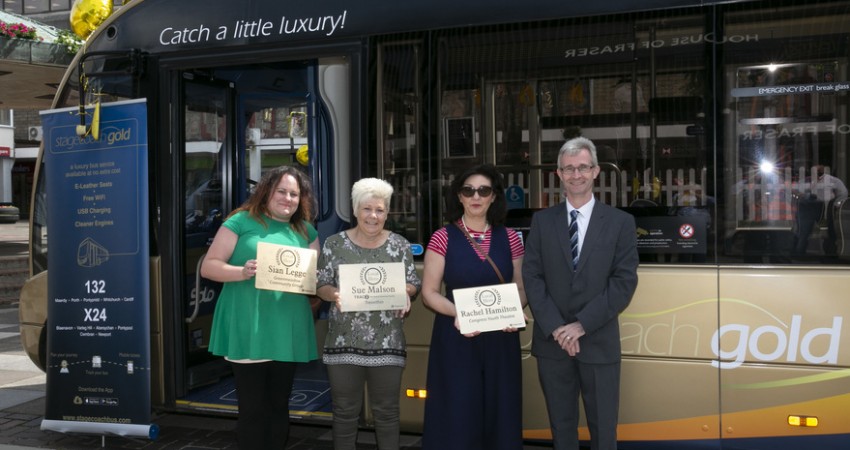 Stagecoach in South Wales celebrates local heroes in Torfaen
19 June 2019
---
Stagecoach in South Wales recognises that its staff, customers and the local communities are at the heart of our business therefore, a 'local heroes' campaign was launched to coincide with the introduction of a fleet of gold buses in Cwmbran town fitted with environmentally-friendly Euro VI engines with low carbon emissions, start/stop technology and the most up to date CCTV equipment.
The public were asked to nominate an unsung hero in the community who had gone the extra mile for a local charity or organisation. Following hundreds of nominations, St Cadocs and Penygarn Councillor Sue Malson was selected as the main winner. Stagecoach presented Sue with a cheque for £1000 towards her charity 'Trac2', which aims to tackle poverty in Trevethin and the honour of having a gold bus named after her as well as 1 month bus pass.
Three other local heroes were selected to each receive £100 for their organisation and have one of the gold town buses named after them. Sian Legge from 'The Greenmeadow Community Group/St Dials Hall', Rachel Hamilton from 'The Congress Youth Theatre' in Cwmbran and Gerald Sims from 'Cwmbran Otters' swimming group.
Mark Tunstall, Operations Manager for Stagecoach Cwmbran depot presented the winners with their named gold plaques which will be displayed at the back of the gold buses and the cheques on Gwent Square at Cwmbran Centre.
Sue said: "It was a shock to find out! I'm overwhelmed that so many people had nominated me. The money will be put to good use. We are there for everybody in Torfaen to help combat poverty throughout the borough."
Sian who organises litter picks and fundraises in the community commented: "I was surprised to receive the nomination. There are so many people out there that do such good work in the community, and I almost feel like I have done nothing special. It is nice to have Stagecoach donating money towards the community. We are currently renovating the park and we offer a range of free and low cost children's activities. We are also doing a 'grow your own veg' allotment with Fairhill Church."
Rachel who is part of 'The Congress Youth Theatre' which has offered youngsters a safe space to develop their confidence and performance skills said: "It was a total surprise I had to read the email twice! It is humbling to be recognised by Stagecoach but the real reward is in the job that we do. The money will support our next production 'Godspell', which we will be performing in July."
Gerald Sims, who was unable to attend the presentation, has spent upwards of 40 hours a week coaching the Cwmbran Otters swimming group for more than 30 years.
Rosa Williams, Marketing Manager for Stagecoach in South Wales said: "We're delighted to officially name the gold buses which operate on Services 1,2,5,6,7 around Cwmbran, Ty Canol, Fairwater, Thornhill, Croesyceiliog and Hollybush after our local heroes. The winners were nominated by local people for their outstanding contribution to the community and it's a real honour to present them with these awards as a thank you for their fantastic work.
The vehicles feature the latest tracking technology, allowing customers to access the Stagecoach mobile app to track their bus live wherever they are. Customers can ride in comfort with high-backed e-leather seats, increased legroom, free Wi-Fi and can charge their phones with multiple on board USB charging points. Bilingual audio and visual next stop announcements provide passengers with additional information on their journey".
All news